The White Lotus' Adam DiMarco Endured A Marathon Of Steamy Scenes For His Last Day Of Filming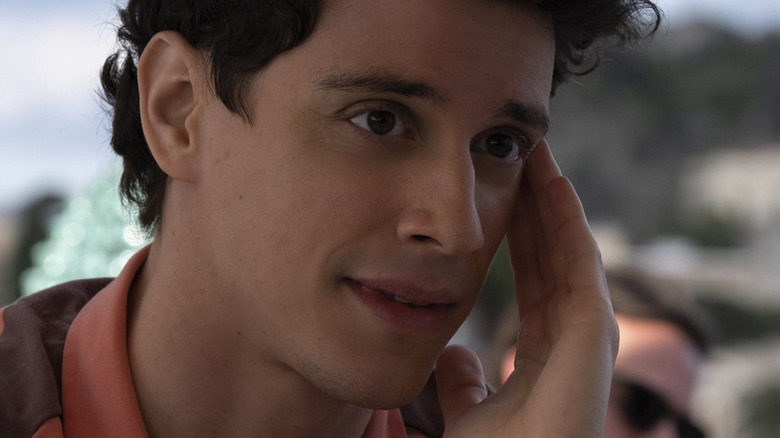 Fabio Lovino/HBO
One of the many unusual guests staying at "The White Lotus" for Season Two of the hit HBO series is Albie Di Grasso (Adam DiMarco). The son of Hollywood producer Dominic (Michael Imperioli), and grandson of Bert Di Grasso (F. Murray Abraham), Albie is a Stanford graduate looking to explore his Italian roots in Sicily.
Where Dominic and Bert are womanizers, Albie is sweet and tries to avoid becoming like his father – that is, until he eyes local sex worker Lucia (Simona Tabasco). DiMarco told Esquire that he wanted to emphasize how Albie "feels for other people," but he also shows a different, more ruthless side of the character with Dominic in the season finale.
DiMarco enjoyed working on the television set, saying that "with Michael [Imperioli] and Murray [Abraham] was preparation and then relaxation, willingness to try new things and a sense of play" (via Esquire). However, his final day of filming did involve a lot of simulated sex.
He had to shoot all of his sex scenes in one day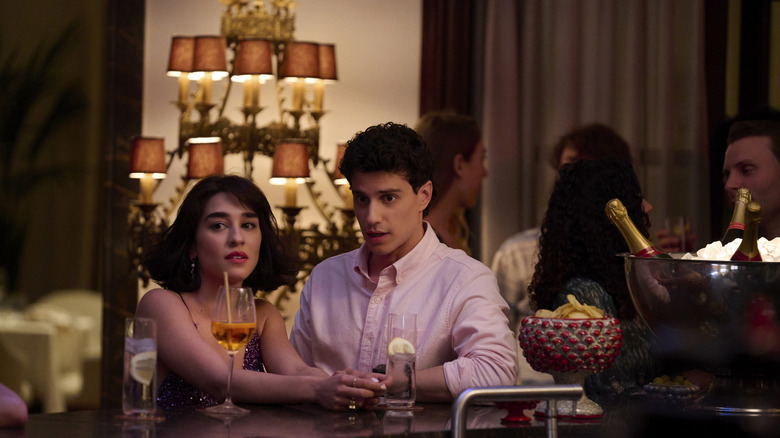 HBO
Adam DiMarco divulged some fun secrets about making "The White Lotus" Season Two while appearing on "The Jennifer Hudson Show." One of them was that all of his sex scenes this season were taped on his last actual day of filming.
DiMarco explained how these scenes work: "They put all these options in your room of, like, G-strings, a little pouch" for the actors' private areas. The co-stars in scenes also have a layer of protection, as well as an extra pillow between them to create more distance. Finally, there's an intimacy coordinator present on set for every sequence.
The actor uproariously said that shooting all of his sex scenes in one day ultimately meant "constantly faking orgasms." He got exasperated doing this at first, but said, laughing, "The more we went along, it's just like any other scenes – 'let's go again, I'm ready to go again.'" At least DiMarco has a sense of humor about it. It's all just part of the trials and tribulations of making a television show.