House Of The Dragon's Rhys Ifans Made Filming An Entertaining Challenge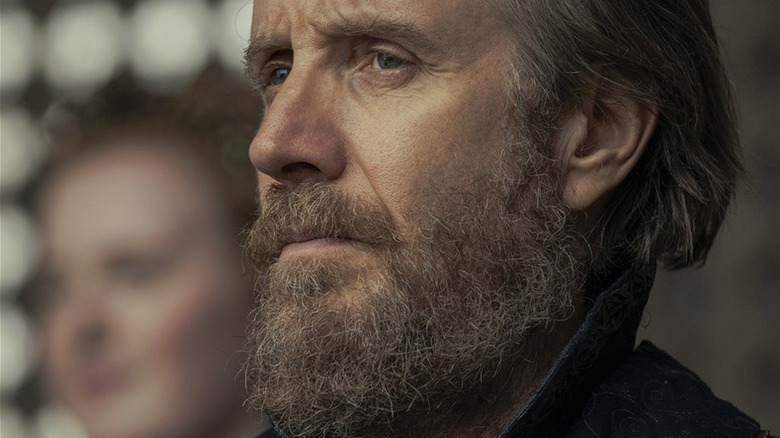 Ollie Upton / HBO
Rhys Ifans' roles can be summed up in one word: transformative. Whether he is portraying Luna Lovegood's (Evanna Lynch) strange and knowledgeable father, Xenophilius, in the Wizarding World of "Harry Potter," or becoming Rasputin in "The King's Man," the 2021 follow-up to "Kingsman: The Secret Service," or facing off against a certain Marvel superhero as doomed scientist Dr. Curt Connors in "The Amazing Spider-Man," the actor is almost unrecognizable from film to film. 
However, as far as cold-blooded advisors go, Rasputin is interestingly not the most malevolent character that Ifans has come to play. Rather, his tour de force came in 2022 with HBO's "House of the Dragon," where he took on the role of the king's Hand, Otto Hightower. Rasputin may have manipulated the Russian royal family for his own gain, but Otto goes even further. By the first episode of Season 1, he has already bartered his daughter Alicent (Emily Carey) to oblivious King Viserys (Paddy Considine) in a bid for more power. As the season progresses, his actions go from subterfuge to downright treason. 
But as terrible as Otto proves to be, the actor who portrays him posed a much more interesting (and humorous) challenge for his costars.
Fabien Frankel was a constant target for harassment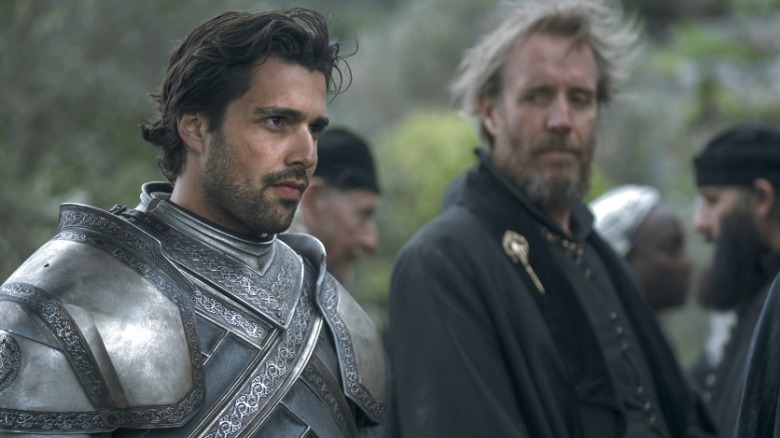 Ollie Upton / HBO
Onscreen, Otto Hightower pulls the strings of everyone around him — even his daughter. It is only well into adulthood when Alicent (Olivia Cooke) realizes just how much damage her father has done. But off camera, Ifans is ... well, just as subtle, but in a far more hilarious way. His reputation for being disruptive on set is so notorious that in a 2022 interview, BBC Radio 1 immediately asked about his behavior on set.
While many of the actors had stories to confess, there was one person in particular who seemed to receive the brunt of Ifan's pranks, and that was Fabian Frankel. "He would, like, scream obscenities on your close-ups so that you would, like, uncontrollably laugh during your takes," Fabien confessed. "So much so that at times they would have to be like 'Rhys ... we need you to kind of leave.'" 
Frankel's murderous Criston Cole scenes weren't the only ones Ifans enjoyed disrupting, however. "It's so important to have someone like that on set who is a disruptor," Olivia Cooke told Harper's Bazaar. "[I]t keeps you on your toes and makes it a joy coming to work. He made up so many nicknames for Fabien that he would say just before a take, like, 'Oi Tinder Swindler!' Or, 'Oi Justin Bieber!'"
But it was all in good fun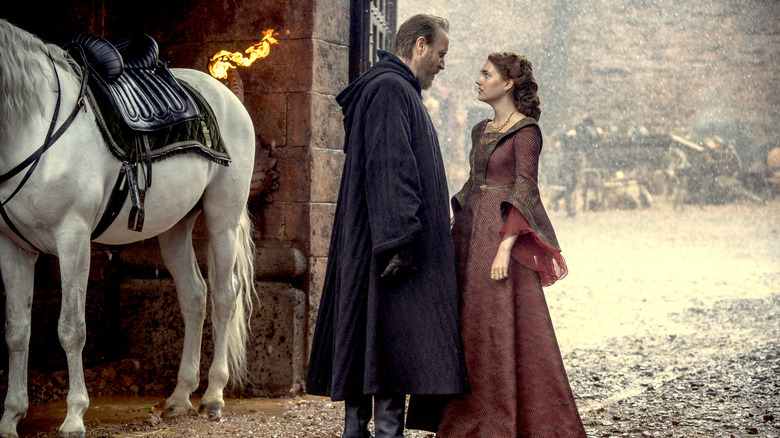 Ollie Upton / HBO
None of the cast harbored any ill will towards Rhys Ifans for his exploits. Quite the opposite, in fact. In addition to Cooke welcoming the breaks in the tension, the younger cast members also appreciated the actor. Milly Alcock and Emily Carey were seemingly spared from screaming during takes, but they found that Ifans didn't have to do much to garner a laugh.
"It's just a look he gives you," Carey explained to BBC Radio 1. "Or he nudges. He loves doing that in scenes where something goes slightly wrong that you wouldn't bat an eye at and he'd be like..." To a chorus of Alcock's laughter, Carey mimed how Ifans would nudge them playfully. Both agreed that his movements while sidling up to the craft table were hilarious.
According to all who were asked, Ifans' sense of humor was a constant on set — and was particularly obvious during an Entertainment Weekly interview with Olivia Cooke. The two actors shared a laugh when talking about their experiences in the hair and makeup chair. "I have a weave to make my hair longer," Cooke said, contrasting to the Targaryen who have to endure long silver wigs for their characters. Continuing, she indicated to Ifans sitting next to her in the interview: "It's all your hair, it's all my hair." Ifans, in response, said, "Your wig is my hair." 
For such a serious show, the behind-the-scenes production of "House of the Dragon" is evidently not lacking in humor.