AMC Is Gifting Better Call Saul Fans With More Bob Odenkirk In This Lucky Hank Teaser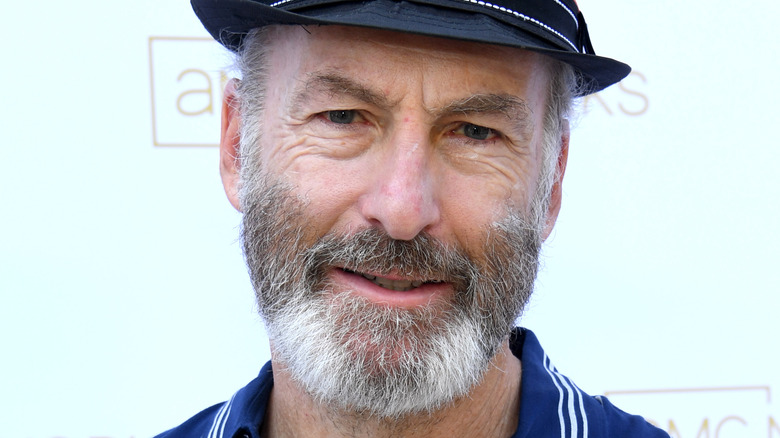 Jon Kopaloff/Getty Images
Since 2009, Bob Odenkirk has been quite busy playing one character: Jimmy McGill, AKA Saul Goodman. He first played the role in "Breaking Bad" from 2009 to 2013, and then in the Jimmy-focused spin-off "Better Call Saul" from 2015 to 2022, both of which aired on AMC. The character has become undeniably iconic, earning Odenkirk five Primetime Emmy nominations for Outstanding Lead Actor in a Drama Series.
With "Better Call Saul" now completed, Odenkirk is free to move on to other projects. And for his next move, he's sticking with AMC for a new series titled "Lucky Hank." The show is based on the novel "Straight Man" by Richard Russo and was adapted for television by Aaron Zelman ("Silicon Valley") and Paul Lieberstein ("The Office"), who also act as co-showrunners (via Deadline). The story of "Lucky Hank" centers on William Henry Devereaux, Jr. (Odenkirk), the unlikely chairman of the English department at an underfunded college in Pennsylvania. Along with dealing with the financial struggles of his department, he's also having a bit of a midlife crisis.
The first teaser trailer for "Lucky Hank" has just been released by AMC, giving Odenkirk's fans a glimpse at his next big project.
Bob Odenkirk looks gruff in the Lucky Hank teaser trailer
The "Lucky Hank" teaser trailer features a close-up of Odenkirk in character as English department chair William Henry Devereaux, Jr. His look includes a graying beard and clear square glasses, as well as a disgruntled and tough look on his face.
"Lucky Hank," as the teaser introduces him, narrates, "I've always been a difficult man. I specialize in minor strife and insignificant irritation. That's my lane." The teaser then cuts to a look at the inside of Hank's office, which has a bookcase on either side of the door and, intriguingly, a goose walking across the room.
Alongside Odenkirk, the series stars Mireille Enos ("The Killing") as Hank's wife, Lily, the vice principal of a local high school, who's going through her own midlife crisis (via Deadline). The show will also feature "The Office" alum Oscar Nunez as the dean of Railton College and "Twin Peaks" star Kyle Maclachlan as Railton's president. Tom Bower will play Hank's father, a retired academic with a prestigious reputation, and Chris Diamantopoulos will play Lily's ex, Tom Leska.
Finally, the teaser gives eager viewers a release date. AMC's "Lucky Hank" will premiere on March 19, 2023.