Ke Huy Quan Makes Loki Season 2 Sound Like A Lot Of Fun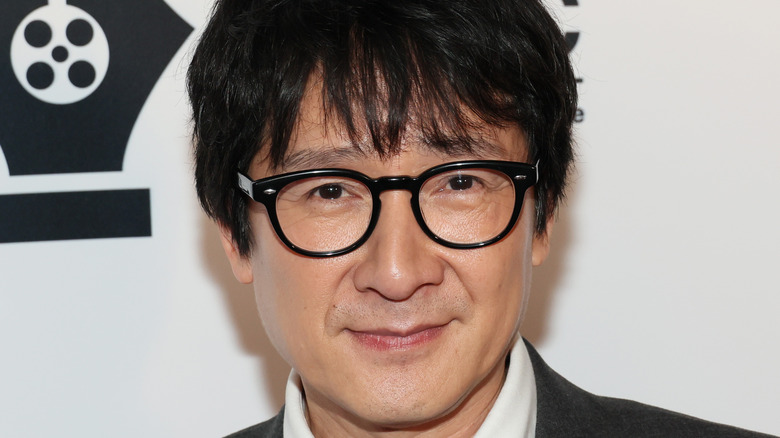 Dia Dipasupil/Getty Images
Ke Huy Quan had a massive 2022, and it looks like the actor's continuing his resurgence into the new year. The once-child star in "Indiana Jones and the Temple of Doom" and "The Goonies" famously took a break from acting, citing a lack of opportunities for an Asian actor as the reason for his transition to behind-the-camera work.
Everything changed for Quan last year when he made his return to the big screen in "Everything Everywhere All at Once." The A24 movie focused on Michelle Yeoh's Evelyn Quan Wang, a Chinese immigrant who travels across the multiverse to stop a powerful being. Quan plays Evelyn's husband Waymond, whose alternate reality self introduces her to the multiverse. The film was an incredible success, garnering the attention of critics worldwide, with many calling it one of 2022's best movies.
Quan's "Everything Everywhere All at Once" action-filled performance quickly got the attention of Marvel Studios. Shortly after the actor became a hot commodity in Hollywood, the studio snagged him up for the MCU with a role in "Loki" Season 2. Quan joins an all-star cast for Season 2, including Tom Hiddleston, Sophia Di Martino, and Owen Wilson. Marvel hasn't revealed much about his role, but D23 footage showed him as a TVA archivist. Quan recently spoke about his experience shooting an MCU project, which sounds just as fun as we imagined.
Ke Huy Quan loves his Loki costars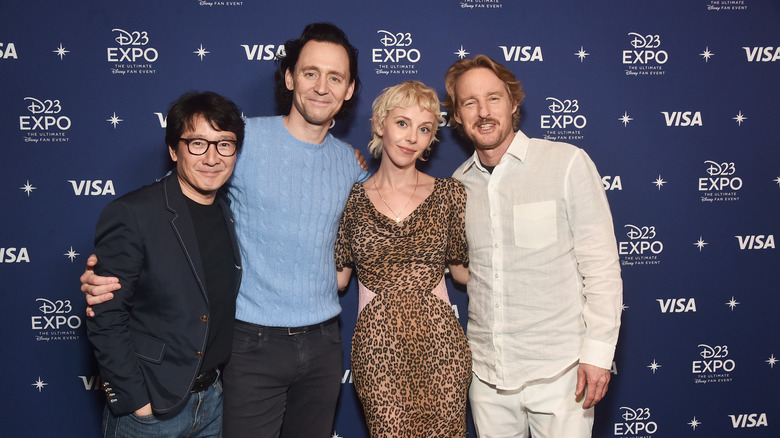 Alberto E. Rodriguez/Getty Images
It seems that joining the Marvel Cinematic Universe comes with a mandatory appearance on the "Happy Sad Confused" podcast, as Anthony Mackie, Scarlett Johansson, Tom Hiddleston, and more have been guests on the popular show. Joining the list is upcoming MCU newcomer Ke Huy Quan, and of course, host Josh Horowitz had to ask him about his time on "Loki" Season 2.
Quan started by praising Loki himself, Tom Hiddleston. He said he had "an amazing time" filming with him, Owen Wilson, and the rest of the "Loki" cast. He really couldn't stress enough how much he loved working with Hiddleston, though, as he brought up a specific on-set memory. "There was one particular day of shooting, and [Hiddleston] found something on set, and he said, he saw it, and he said, 'Oh my gosh! I cannot believe I'm working with Short Round from Indiana Jones and the Temple of Doom!' And he was so cute and so kind. And I was so excited I said, 'Oh my God! Did anybody get that on tape? Somebody say they got that on tape!' He was incredible. We laughed so hard, and we just, I didn't want that shoot to end." The entire experience was incredible for him, and he's hoping to go back for reshoots soon to see Hiddleston and the rest of the cast again.
Quan also revealed that he'd been a massive fan of Marvel Studios' work since the beginning. He loved "Iron Man" and the creativity behind "Loki" Season 1, so getting to be a part of Season 2 was an unbelievable opportunity. He can't answer if Marvel fans will see him in another project outside the Disney+ series, though, as he says to redirect those questions to Kevin Feige.