How The South Park Movie Marked A Turning Point In Matt Stone And Trey Parker's Careers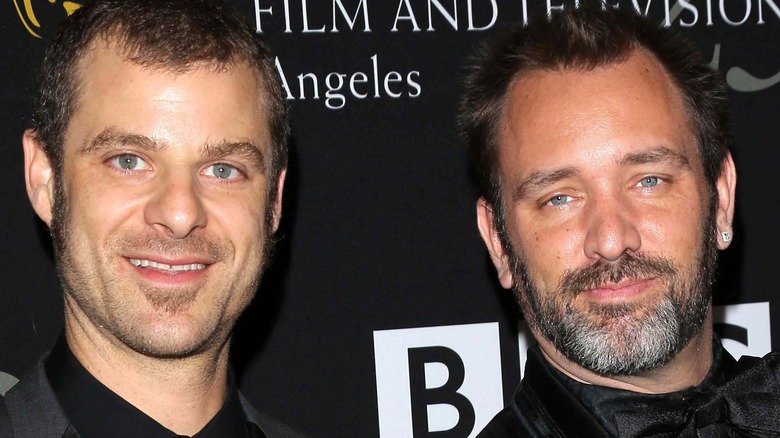 s_bukley/Shutterstock
Trey Parker and Matt Stone found overnight success upon the release of their now legendary Comedy Central series "South Park." After years of struggling to get their big break, the team made the low-budget indie "Cannibal: The Musical" and a viral Christmas card short distributed on VHS, which helped bring "South Park" to life and make them household names. Following the success of the foul-mouthed animated show, the next logical step came a couple of years later in 1999 when it came time to adapt the show into a movie.
The critically acclaimed "South Park: Bigger, Longer, & Uncut" was released in theaters on June 30, 1999. The film had to compete with huge summer releases like "Austin Powers: The Spy Who Shagged Me," "Wild Wild West," "Star Wars: Episode 1 – The Phantom Menace." Parker joked to The Los Angeles Times in 1999 that "Wild Wild West" made money off of his and Stone's feature since teenagers bought tickets to Will Smith's PG-13 western to then sneak into the very R-rated "South Park" flick. Even so, "South Park: Bigger, Longer, & Uncut" was a hit at the box office.
Ultimately, "South Park: Bigger, Longer, & Uncut" ended up being a huge win for the comedy team. In fact, it was such a success for them that they mark it as a major turning point in their careers.
The South Park movie was a surprise success
"South Park: Bigger, Longer, & Uncut" marked a real turning point for show creators Matt Stone and Trey Parker. The comedic duo spoke to Exclaim! in 2005 following the 2004 release of their adult puppet movie, "Team America: World Police." They said that the success of the feature film adaptation of their hit show gave them credibility in Hollywood.
When asked what were some of their career highs and lows up to that point, Parker modestly responded, "We're pretty even-keeled guys. We sort of see the bad in everything and the good in everything." Stone chimed in to say that he had a career high after the "South Park" movie was released. Although he didn't necessarily agree with it, press outlets and others were saying that the show was destined to hit a slump after coming out of the gate with such intense popularity and reception. Stone said, "And then the movie came out and it defied expectations and bought us years of legitimacy." 
He and Parker said that their lowest point came right before "South Park: Bigger, Longer, & Uncut" came out. They knew that everyone thought the movie was going to be bad and it was hard to make the movie under those conditions. Stone said "Now looking back it's kind of changed a little bit because 'Team America' was hard because the expectations were high. I think we need more low expectations." "Team America" ended up being a similar hit with critics and audiences alike, and Parker and Stone are now making several "South Park" movies for Paramount+.