Sylvester Stallone Talks Reuniting With Cop Land Co-Star Annabella Sciorra In Tulsa King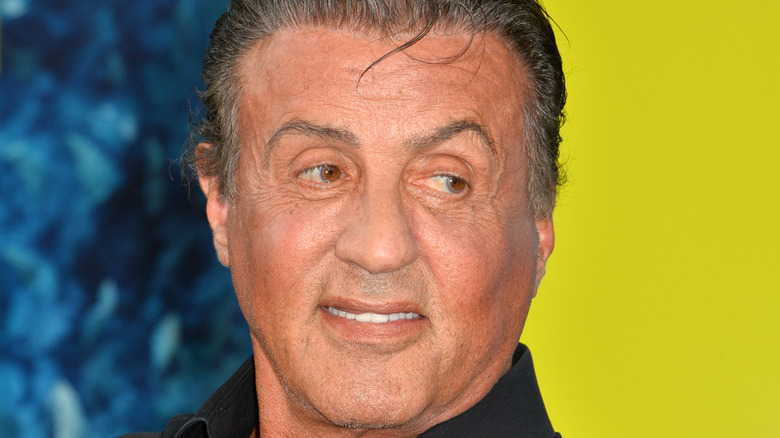 Featureflash Photo Agency/Shutterstock
Sylvester Stallone and Annabella Sciorra first worked together in James Mangold's 1997 crime thriller "Cop Land." Freddy Heflin (Stallone) is a small-town cop, who can't get a better job because he lost his hearing when he was younger after saving a woman named Liz (Sciorra). Heflin struggles with where his life now is and with his feelings for Liz, who is married to another cop. 
"Cop Land" currently holds a certified fresh rating on Rotten Tomatoes in part because it marked a departure for Stallone, the action star. In a retrospective review for Joe.ie, Stephen Porzio praised the film as Stallone's best because of his unexpectedly emotional performance as a man longing for a life and woman he can't have. The film relies in many ways on this tension between Heflin and Liz and while Sciorra went on to greater fame with her performance as Gloria Trillo on "The Sopranos," "Cop Land" remains one of her most beloved performances.
In August 2022, Deadline broke the news that Stallone and Sciorra were to be reunited on Stallone's new show "Tulsa King." Sciorra was tasked to play Joanne, the Brooklyn-based younger sister of Dwight Manfredi (Stallone). After Sciorra's casting was announced, Stallone talked about being reunited with his "Cop Land" co-star, and the "Rocky" star had nothing but positive things to say about working with her once again.
Sylvester Stallone thinks Annabella Sciorra has authenticity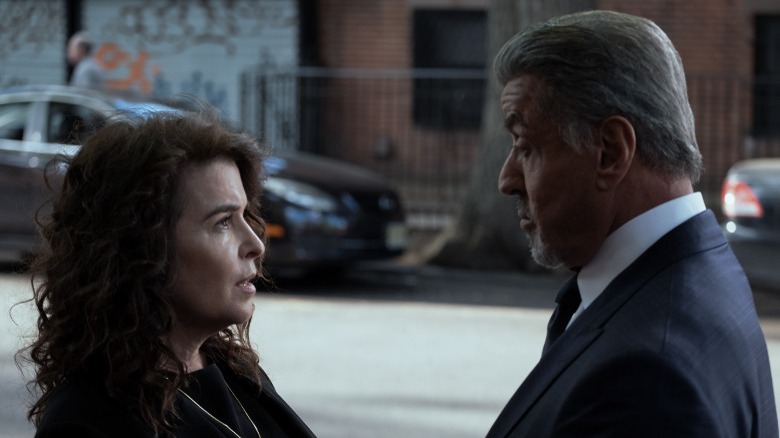 Walter Thomson/Paramount+
In a 2022 interview with Decider, Sylvester Stallone was asked about what it was like to reunite with Annabella Sciorra, and the veteran actor praised her for her authenticity. "I forgot how good she was," Stallone said about his "Cop Land" and "Tulsa King" co-star. "She was amazing in 'Cop Land;' we had a couple of great scenes together. She was fantastic. This time, I feel like I'm working with a real old school actress, the real deal." So, it seems like Stallone has a lot of respect for Sciorra, especially the second time working with her.
As for Sciorra, she has always had kind things to say about working with Stallone as well. In a 1997 interview on "The Late Show with David Letterman," Sciorra talked about how intimidated she was to work with some of the actors in "Cop Land" like Stallone and Robert De Niro. She admitted that she felt too nervous to address them by their names, so she usually just started conversations with them with "excuse me" because she "didn't know what to call them."
When asked if she had developed a rapport with Stallone, Sciorra said the famous action star was, "lovely. He's really, really lovely." Although now that Sciorra has had her own storied career, perhaps she had a little bit of an easier time calling Stallone by his name while they were filming "Tulsa King."