Why John Krasinski Was Once Almost Pummeled By Tom Cruise's Security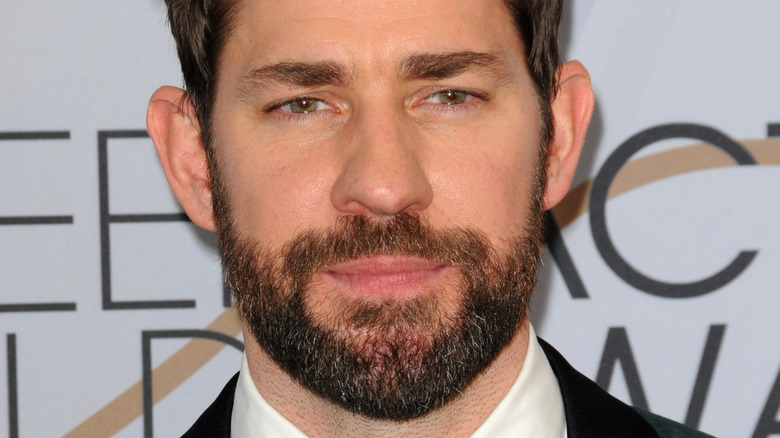 Kathy Hutchins/Shutterstock
It turns out that movie stars John Krasinski and Will Arnett are both really good friends and massive fans of the "Mission: Impossible" series. The two recently caught up on Arnett's podcast, "SmartLess," which he hosts with fellow comedic actors Jason Bateman and Sean Hayes.
On the podcast's most recent episode, Krasinski and Arnett reflected on seeing "Mission: Impossible III" in theaters together, and it seems like it was an event that shaped their friendship. The film introduces two new forms of spy technology to the series: tiny bombs implanted in people's heads and a small brown dot that knocks people out once it makes contact with their skin. 
Krasinski and Arnett had a field day watching "Mission: Impossible III," with Krasinski going so far as to make Arnett's contact picture in his phone a picture of Keri Russell's shocking death scene from the bomb implant. "When we saw 'Mission: Impossible III,' and Keri Russell has a bomb go off in her head and her eye twisted, we hit each other and laughed so hard," Krasinski told the podcast. "I mean just shaking each other. And I made it the picture so when Will calls, it's just [Keri's eye twisted]."
However, Krasinski and Arnett's "Mission: Impossible III" stories don't end there, as the two also had an interesting run-in with star Tom Cruise. In fact, it nearly ended with Krasinksi on the floor.
A Mission: Impossible joke gone wrong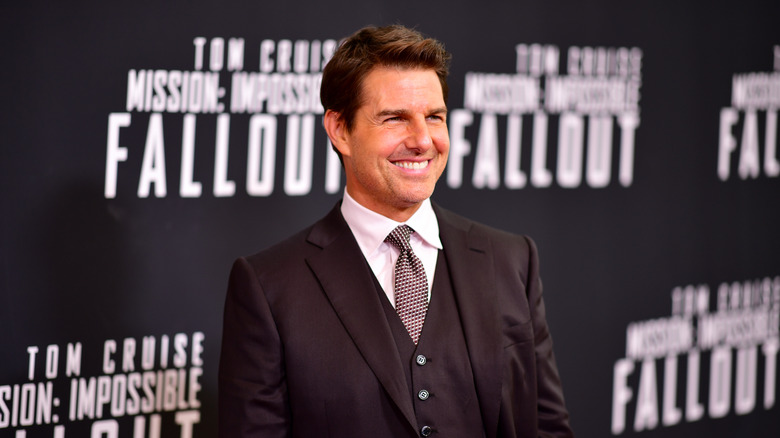 James Devaney/Getty Images
On the "SmartLess" podcast, John Krasinski reflected with Will Arnett about the time Tom Cruise's security detail nearly took him out. It turns out the two share more than just being actors who were almost avengers, and that's a relationship with producer and filmmaker J.J. Abrams. 
Krasinski spoke about when he and Arnett attended a party with Abrams, who had recently directed an episode of "The Office" and "Mission: Impossible III." The director offered him the chance to meet Cruise, which the 24-year-old Krasinski may have been a bit too excited to do. "I go up, and Tom's coming down the stairs with like four bodyguards," Krasinski told the other podcast hosts. "Will's watching me, and I don't know how I got the guts to do this, but I went up and pretended to put a brown dot on his wrist. The poison dart on his wrist. And the four bodyguards moved on me, and were going to kill me before I started mouthing to Tom ... He started laughing and gave me a hug and said, 'This guy's okay.' But for a second, they thought I was going to murder him."
Fast forward nearly 16 years later, Krasinski is now a massive star in Hollywood. His time on "The Office" not only connected him to Cruise through Abrams, but also propelled him into stardom. It even led him to a surprise cameo in "Doctor Strange in the Multiverse of Madness." While Cruise wasn't in "Doctor Strange 2," fans convinced themselves that the duo might appear together in the film, creating another surprising connection between the two actors.