Katherine Heigl Reveals Which Of Her Characters She Relates To Most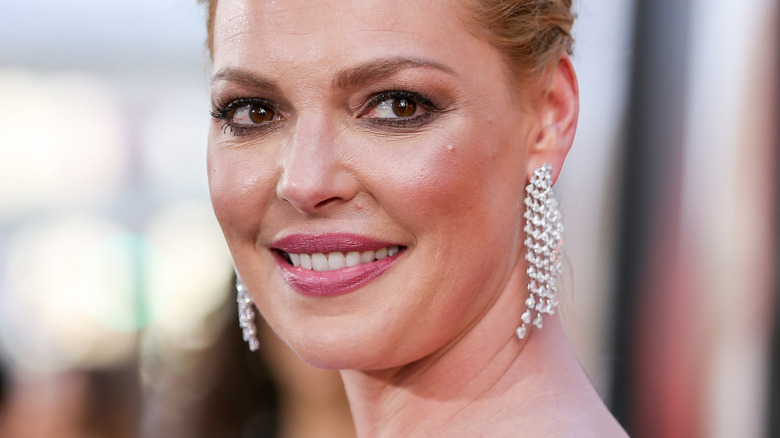 Rich Fury/Getty Images
Since 2021, Katherine Heigl has been appearing as Tully Hart in the Netflix drama, "Firefly Lane," but it's not the actress's only successful TV run. After all, Heigl's breakout role was her five-year turn as Dr. Izzie Stevens in the popular and long-running ABC series "Grey's Anatomy" – all in all, she has appeared in 120 episodes of the medical drama from 2005 to 2010 (via IMDb). To top it off, her performance even earned her a Primetime Emmy win for outstanding supporting actress. Since leaving "Grey's Anatomy," Heigl has returned to TV now and again, such as to portray Samantha Wheeler in "Suits."
Outside of television, Heigl has kept plenty busy with various film roles, especially in the romantic comedy genre. Beginning with 2007's "Knocked Up," Heigl went on to star in 2008's "27 Dresses," 2009's "The Ugly Truth" and 2010's "Life as We Know It." While her rom-coms had varying critical success, many of them remain comfort films for viewers. And, as it turns out, Heigl found comfort in some of these roles while she was filming them. 
Heigl recently opened up about which of her roles she relates to the most — alongside the fact that she has also revealed how much her character arc on "Firefly Lane" reflects friendships in her own life. For her answer, she lists some fan-favorite films, as well as one longtime role — here's what the actress has to say on the subject. 
Heigl named Izzie Stevens and a couple rom-com characters as who she related to the most
In January 2023, Heigl appeared in an Ask Me Anything interview for Elle, where she was asked which of the characters she played she relates to the most. Beginning with one fan-favorite rom-com, Heigl said, "Okay so I related to Jane in '27 Dresses' so much at that time because I was just a massive people pleaser. And most people pleasers are typically simmering with rage and resentment. So that was me at 27! Like, I was Jane!" The actress also listed "27 Dresses" as the rom-com of hers that she would most like to see a sequel to.
But, as for another character that she related to, Heigl listed another rom-com heroine because it coincided with a real-life milestone: "And then when I played Holly for 'Life As We Know It,' I had just become a new mother. And so I really, deeply related to that."
Of course, Heigl also brought up the character she spent the longest time playing: Dr. Izzie Stevens in "Grey's Anatomy." The actress said, "I feel like she was me and I was her. And then of course when you do a series like that, when it films for nine months like that, the writers get to know you as a person and spend so much time with you and you spend so much time in the character, inevitably parts of yourself kind of exhibit."