This Look At Michael Shannon As Spider-Man's Doc Ock Has Us Doing Double Takes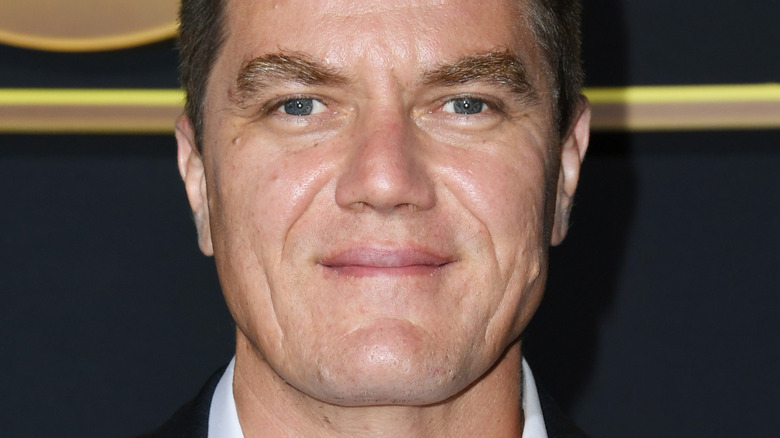 Jon Kopaloff/Getty Images
Whether you call him Doctor Octopus, Doctor Otto Octavius or simply Doc Ock, the ultra-intelligent villain has remained one of Spider-Man's most notorious adversaries since his debut in 1963's "The Amazing Spider-Man #3." The once brilliant scientist's experiments with a set of mechanical arms would go awry, leading the character to commit to a life of crime and villainy that has defined him for the last 60 years. From starting the Sinister Six to killing Captain George Stacy to eventually even swapping bodies with Spider-Man, the relationship between the eight-legged menace and the webhead is far more than just a simple good guy versus bad guy routine.
Outside of animated versions of the character, most notably the radically different version of the character in "Spider-Man: Into the Spiderverse" voiced by Kathryn Hahn, Doctor Octopus' live-action versions haven't seen a lot of variation. Other than a never-followed-up tease in "The Amazing Spider-Man 2," Doc Ock has, so far, only been portrayed in live-action by actor Alfred Molina in Sam Raimi's "Spider-Man 2" and "Spider-Man: No Way Home." As beloved as Molina's portrayal remains, it would be refreshing to see another actor slip into the mechanical harness. For one artist, their ideal choice has already proven himself fit to be a comic book villain. 
Michael Shannon looks menacing as ever as Doc Ock
While fans rejoiced in seeing Alfred Molina return as Doctor Octopus in "Spider-Man: No Way Home," there have also been plenty of suggestions of who could portray a new version of the character in the Marvel Cinematic Universe, from Mark Hamill to Gary Oldman. But artist Daniel Savage has another comic book movie alumni in mind for the iconic part. In August 2019, the artist, known by @savagecomics on Instagram, posted a piece of fan art of actor Michael Shannon as Doctor Octopus. 
It doesn't take long to look at the piece and be on board. The sleek design of the green-and-gold suit, along with the more simplified mechanical arms, is a solid choice. These characteristics help this Doc Ock to stand out from Molina's portrayal, while also keeping more true to some of his comic appearances. And Shannon, complete with a nifty pair of goggles, gives off a perfect combination of the character's wit, self-aware sensibilities, and menacing nature, which we can only imagine Shannon bringing to his performance in this fictional scenario. 
Of course, this wouldn't be Shannon's first go-around as an iconic comic book villain. While he has portrayed nasty antagonists in films such as "The Shape of Water," "Knives Out" and "Bullet Train," he elevated his evil-doer resume as General Zod in 2013's "Man of Steel." Shannon won the "Man of Steel" role over actors such as Viggo Mortensen and Daniel Day-Lewis.