The Office: Superfans Episodes Show That Andy Is Worse Than You Think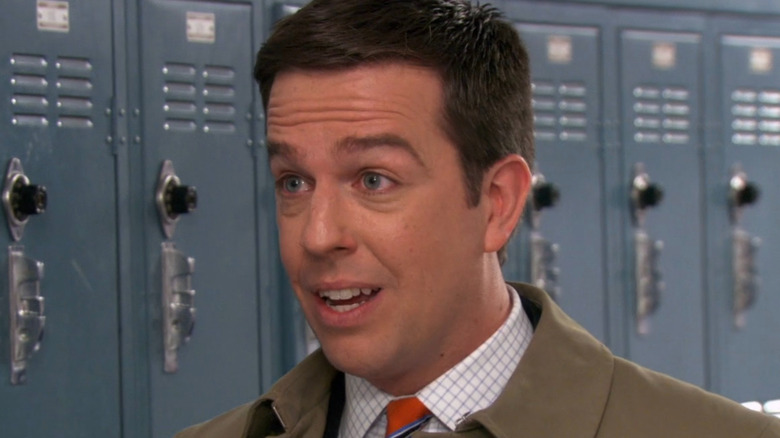 DFree/Shutterstock
NBC's "The Office" has no shortage of quirky, irreverent, but overall lovable characters. In the first two seasons of the series, we are introduced to the core cast members that comprise the office of Dunder-Mifflin Scranton. The show primarily focuses on Regional Manager Michael Scott (Steve Carell), Assistant (to the) Regional Manager Dwight Schrute (Rainn Wilson), sales representative Jim Halpert (John Krasinski), and receptionist Pam Beesley (Jenna Fischer). Audiences saw the characters develop and, eventually, become familiar with them enough to start picking favorites.
However, the series decided to shake things up in Season 3, which originally started airing in 2006, when Jim transferred to the Dunder-Mifflin Stamford branch in Connecticut. In a shocking story twist, the Stamford branch closes down and is absorbed into Scranton, with the employees relocating to Pennsylvania. Slowly but surely, all the Stamford branch members leave, with one last man standing. Introduced earlier in the season, Andy Bernard (Ed Helms) is an acapella-singing, opportunistic brownnoser, prone to fits of rage, who becomes the last remaining member of the Stamford and permanent part of the Scranton team.
Though initially an annoying suck-up, the character undergoes anger management courses, eventually becoming a lovable underdog who simply wants to do well by himself and his fastidious parents. During his arc, Andy is involved in ethically questionable scenarios. However, many fans recall one of the worst things he did was accidentally getting involved with an underage high schooler. However, this illegal relationship becomes horrifyingly worse when watching additional footage that didn't make it to air.
If you or anyone you know has been a victim of sexual assault, help is available. Visit the Rape, Abuse & Incest National Network website or contact RAINN's National Helpline at 1-800-656-HOPE (4673).
Andy is worse than you think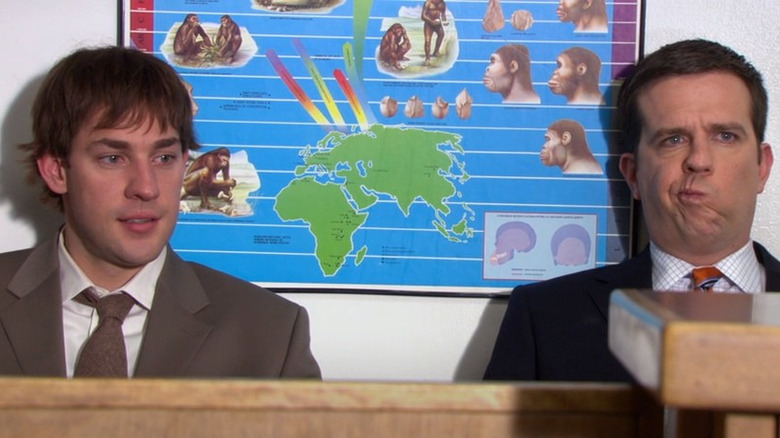 NBC/Peacock
In the episode titled "Product Recall," airing in 2007, Dunder-Mifflin scrambles after an obscene image is seen watermarked on papers sent out all over the county. Jim and Andy are tasked with quelling an angry principal at a local high school. Andy soon discovers that his girlfriend Jamie (Shira Scott Astrof) is a student, causing him to spiral. Though Jamie is obviously underage, Andy is disturbingly oblivious. By the end of the episode, Andy is pouting in front of the principal, deriding the girl for deceiving him.
On the streaming platform Peacock, audiences can watch longer episodes featuring unseen footage called Superfan episodes. The Superfan episode for "Product Recall" expands upon Andy's relationship. Upon discovering Jamie was a high school student, Andy recalls that she was well-versed in topics taught in high school, a clear sign of her age. While waiting to meet the principal, Andy reveals how he met Jamie, further incriminating himself, revealing that he purchased alcohol for her. By the end, he confronts Jamie while Jim awkwardly strikes up a conversation with Jamie's friend. Because audiences never saw these additional scenes, fans never got to see just how deplorable Andy can be.
Even without these scenes, it seems the Reddit community has pretty strong feelings about him, some believing he got worse every season. In a Reddit thread posted on "The Office" subreddit, user u/SarcasticGamer posted a diatribe expressing their hatred for Andy, so much so that they feel like the character ruins the show, questioning any development at all explaining, "...I think it's partly why I can't rewatch the show without getting annoying at some point... Did he even have any character growth at all? I feel like he's exactly the same from beginning to end except less angry..."