Helen Mirren Gives 1923 Fans Chills With Her Incredible Performance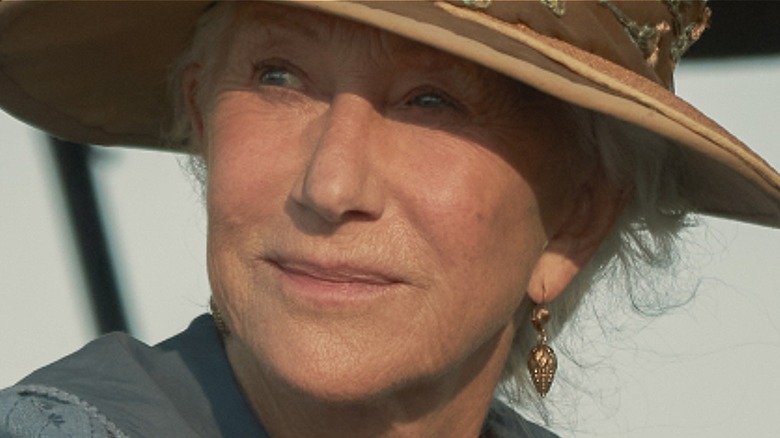 Emerson Miller/Paramount+
The bloody history of the Duttons stretches back to when the family first settled in Montana. While the modern "Yellowstone" family has to fight systems that want to do away with their way of life, "1883" shows how violence created this complicated family tree. And if you thought that the new Paramount+ series "1923" would be any different, that would be an exercise in self-delusion. Starring Harrison Ford as Dutton family patriarch Jacob, times are just as tough in the prelude to The Great Depression.
Unsurprisingly, Ford gives the exact kind of performance that we all expect from a film star of his standing. But the true brilliance of the series is the partnership between Ford and his scene partner, Helen Mirren. The two have been well-acquainted since starring in 1986's "The Mosquito Coast" together, and it shows. Jacob and his wife Cara (Mirren) are partners in every sense of the word, and that includes the bloody business of defending what is theirs. Mirren has wowed audiences for decades, but her introduction in the premiere is jaw-dropping as she shoots an interloper on her land. "Subsequently we find out why [Cara's] doing this terrible act," Mirren told Vanity Fair. "But it's a fantastic opening for any character, really."
This impressive opening was no fluke. Fans have continued to applaud the Oscar-winning actor for her contribution to the series.
All hail the queen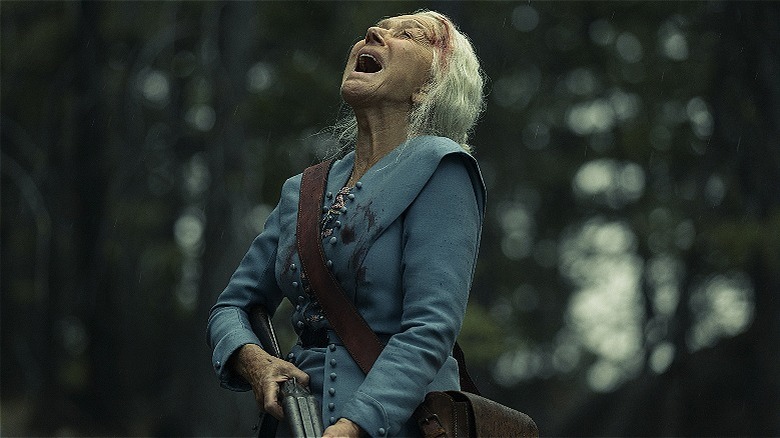 Emerson Miller/Paramount+
As Helen Mirren pointed out to Vanity Fair, Westerns typically have a gaping blind spot: Women are not usually shown in the greatest of lights, if they are even featured at all. But, as creator Taylor Sheridan forages ahead with the Duttons' escapades in "1923," it's obvious that this is not the case here. As much as Jacob is the head of the family, Cara is undoubtedly the most influential member of it. After her husband's brush with death, she seamlessly takes control. Cara's strength is only amplified by Mirren's superior acting ability, as fans noted on Twitter.
"Helen Mirren's cries of anguish at the start of the episode.. my goodness," @thom_ahs said. "Absolutely bone chilling. My gut twisted when she screamed out. I could feel that deep in my soul truly. She is the epitome of a never dimming star." This moment resonated with multiple viewers, with many people taking to Twitter to praise it. "Those cries," wrote @tiffeast. "Give Helen Mirren all the awards. Made me choke up."
If it is even possible, it seems that "1923" could very well eclipse "Yellowstone" in terms of popularity. While the flagship series has brought fans together, the casting of Mirren and Harrison Ford is a stroke of genius. Watchers of the series have rallied around the show with monumental fervor. "Dame Helen Mirren owned the 4th episode of #1923TV," wrote @fftcocoon. "Cara Dutton really is 'The Boss!' This is now my favorite show in the #YellowstoneTV universe!!"