Patrick Swayze Ended His Career With A Flop Instead Of A Bang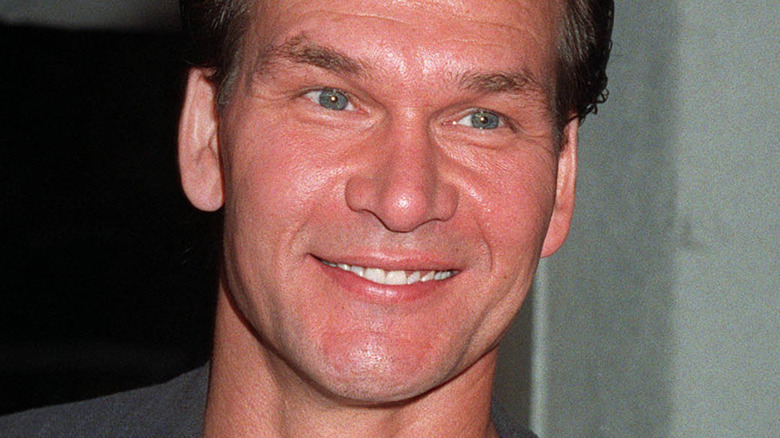 Featureflash Photo Agency/Shutterstock
Patrick Swayze literally rolled his way onto the Hollywood scene in the much-maligned "Skatetown U.S.A." in 1979. However, the actor's appearance in 1983's "The Outsiders" solidified his membership as the eldest constituent of The Brat Pack, which featured up-and-coming actors like Anthony Michael Hall, Molly Ringwald, Tom Cruise, and Robert Downey Jr. (per IMDb). Swayze and the group's popularity soared in the '80s. In addition to being part of a pack of performers who arguably brought about a cinema renaissance for teenage angst and coming-of-age movies, Swayze soon blazed his own trail thanks to the role of Johnny in "Dirty Dancing."
Swayze already had a certain level of notoriety thanks to films like "Uncommon Valor" and "Red Dawn," but the actor found an unprecedented tier of stardom when he and fellow Brat Packer Jennifer Grey danced their way into the heart of cinephiles in 1987. Following "Dirty Dancing," Swayze roundhouse-kicked Brad Wesley (Ben Gazzara) and his cast of cronies out of business in "Road House," and then the actor led the Ex-Presidents as Bodhi against Johnny Utah (Keanu Reeves) in "Point Break." 
However, Swayze's moniker of Hollywood A-lister was solidified when he starred alongside another Brat Pack alumnus, Demi Moore, in "Ghost." "It was a very difficult role for me to do," Swayze said in an interview with E! News. Nearly 20 years after Swayze kept Baby (Grey) out of that corner in "Dirty Dancing," he returned in a cameo as a dance instructor in "Dirty Dancing: Havana Nights." Unfortunately, even with all of the success Swayze achieved in his 30 years in show business, the actor sadly left behind one of the worst movies to end his illustrious career.
Powder Blue was lambasted by critics
Unfortunately, the latter part of Patrick Swayze's career seemed relegated to the proverbial backburner as the press focused more on his cancer diagnosis rather than his work as a thespian. Certainly, Swayze remains the epitome of Hollywood success thanks to his unforgettable roles, particularly in "Dirty Dancing" and "Ghost," but Swayze's swan song turned out to be an absolute flop.
Swayze starred alongside an unbelievably stacked who's who of talent in 2009's "Powder Blue," which included Ray Liotta, Jessica Biel, Forest Whitaker, Sanaa Lathan, Eddie Redmayne, and Kris Kristofferson. Despite featuring an all-star cast, writer and director Timothy Linh Bui's tale of maybe the worst Christmas ever couldn't find its footing, and the film only made $17,835 (via Box Office Mojo).
"Powder Blue" was harshly scrutinized by critics with a 25% Tomatometer rating, and it currently has a paltry audience score of 40% (per Rotten Tomatoes). Regardless of the stinker that "Powder Blue" turned out to be, the flop didn't have any bearing on Swayze's venerable career, which enabled an entire generation of moviegoers to have the time of their life.