House Of The Dragon's Steve Toussaint Believes Corlys Velaryon Shouldn't Sit On The Iron Throne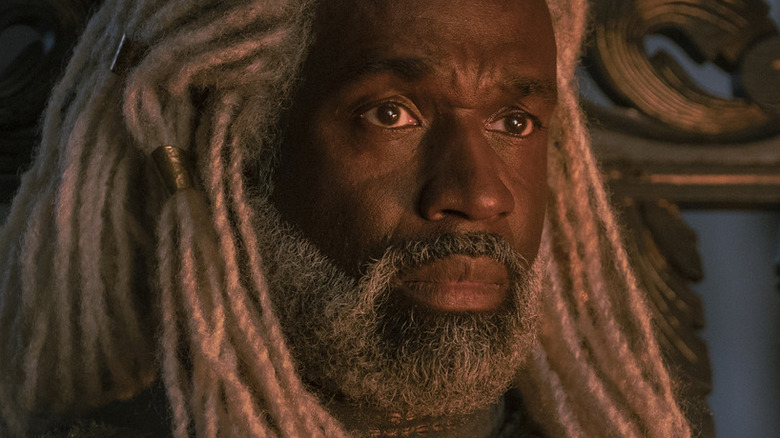 Ollie Upton / HBO
The quest for the Iron Throne is never-ending, with dozens of players trying to out-wit one another in the hopes of getting a chance to sit on it.
After the success of "Game of Thrones," HBO decided to drive deeper into George R. R. Martin's complicated world of medieval feuding and dragon-riding, commissioning a spinoff prequel series. With Martin at the helm alongside writer Ryan Condal, expectations were high, and they were largely met. The first season of "House of the Dragon" received a fire-breathing hot rating of 93% on Rotten Tomatoes, with audience reception equally positive. "House of the Dragon," the first of many intended spinoff projects, focuses on the downfall of the House Targaryen. Set roughly two centuries before Daensarys (Emilia Clarke) became the (short-lived) queen of Westeros, Martin's prequel follows the exploits of King Viserys I Targaryen (Paddy Considine) and how those around him seek his beloved throne.
One such player is Corlys Velaryon (Steve Toussaint), the husband of Princess Rhaenys Targaryen (Eve Best), or The Queen Who Never Was. While the first season of "House of the Dragon" largely follows Rhaenyra (Emma D'Arcy) and Daemon (Matt Smith) Targaryen, Corlys is often seen scheming in the background, forming alliances and cause conflicts in a bid to achieve as much power as possible. While the Velaryon leader has his fans, the actor behind the character thinks that he's in no position to rule Westeros.
Corlys Velaryon wants the throne for his wife, not himself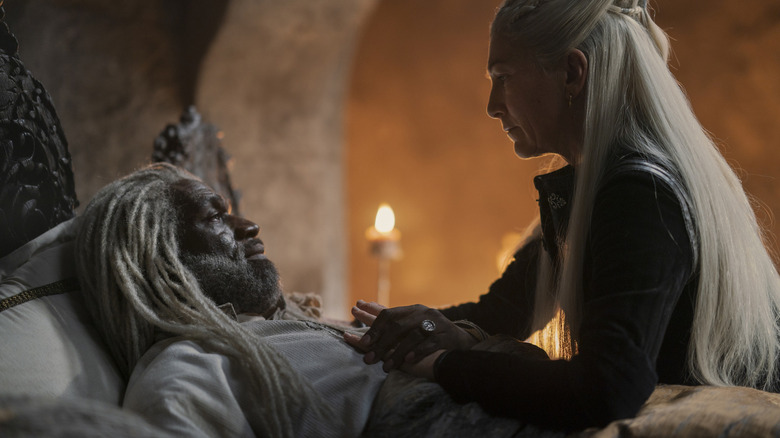 Ollie Upton / HBO
While promoting "House of the Dragon" (via YouTube), Steve Toussaint was paired alongside Princess Rhaenys actress Eve Best by HBO to ask one another questions. The pairing naturally made sense as both play one another's spouses in the "Game of Thrones" prequel. One query that the network had in mind for both to answer was "should your character sit on the Iron Throne?" When asked by Best if Corlys Velaryon should sit on the throne, Toussaint was wishy-washy at first, before saying a definitive no. "That's a very complex question, actually, for my character," he said. "... Today I'm going to say, 'no, he shouldn't' and he shouldn't because he really believes his wife [Princess Rhaenys] should."
Toussaint's answer shouldn't surprise fans as his character has always intended for Rhaenys to be Queen of Westeros. He previously alluded to his character's intentions while speaking with Hype Malaysia, saying Corlys' ambitions are largely influenced by wanting his wife to be successful and receive the throne she was once destined to sit on. "There are very few people who he will take advice from, and she's one of them," Toussaint said regarding the admiration Corlys has for Best's character. 
"But in terms of getting her on the throne, despite the fact that she says over and over again, "I'm fine with it. I've moved on..." he can't let it go," Toussaint told the outlet. The actor adds that Corlys' actual wants and needs are more ambiguous. "He keeps saying this is what he wants for her. The question for him is, does he actually want it for her or does he want it for himself?"