An 8 Mile Series Is Reportedly In Development From 50 Cent And Eminem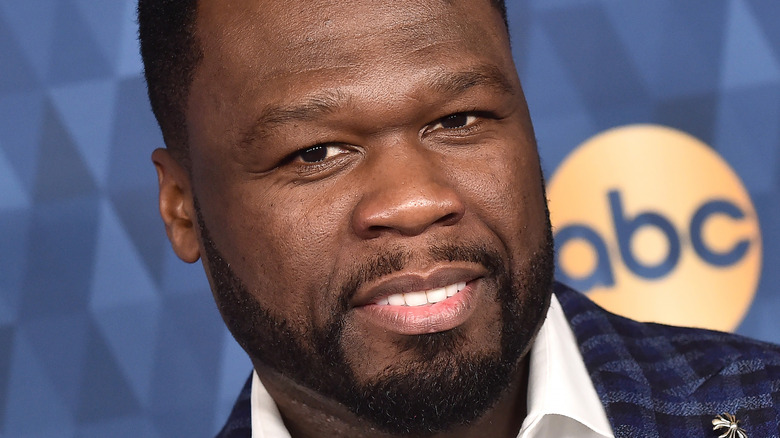 DFree/Shutterstock
Back in November 2002, Universal Pictures released "8 Mile," a biographical drama about the early career of Detroit rap superstar Eminem, who played himself in the movie. The film captures his beginnings on the Motor City's local hip-hop scene under the name B-Rabbit, alongside his burgeoning romance with a woman named Alex (Brittany Murphy) and his strained relationship with an alcoholic mother (Kim Basinger), with whom he lives in a trailer in a poor part of town.
Acclaimed by critics, who gave it a 75% fresh rating on Rotten Tomatoes, "8 Mile" was also embraced by audiences with a spectacular (for an R-rated drama) worldwide take of $243 million (per Box Office Mojo) — enough to land it at #3 on the list of top screen debuts by pop stars (via Pajiba). "8 Mile" also yielded a #1 single in "Lose Yourself" (per Billboard) — which won the Academy Award for Best Original Song, a first for a rap number — and a chart-topping soundtrack album that moved 3.2 million copies. The DVD also sold two million copies in its first day of release (according to EW).
The Curtis Hanson-directed "8 Mile" was a hit across the board, with Eminem making a credible transition from music star to actor in the film (albeit playing himself — not exactly a stretch). So it probably makes sense that someone would want to pick up the story again, in this case another rap powerhouse — and in more recent years, TV mogul — who wants to bring it back to the screen.
50 Cent wants the 8 Mile series to honor Eminem's legacy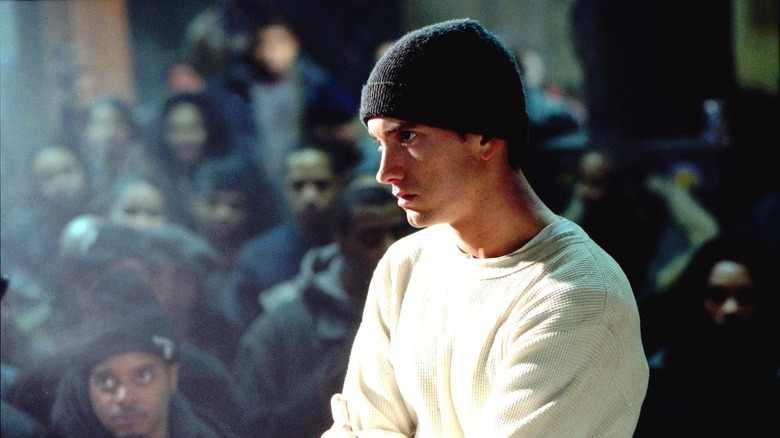 Universal Pictures
According to an interview with Big Boy TV (via Complex), Curtis "50 Cent" Jackson has revealed that he's developing a television version of "8 Mile," which he said is "gonna be big" and will feature the involvement of Eminem himself, although to what extent the latter will participate is not yet clear.
50 Cent explained that he wants to make the show as a testament to Eminem's legacy, suggesting that it could be done in the same manner as the current Peacock series "Bel-Air." That show, which begins its second season in February 2023, is a more serious reboot of "The Fresh Prince of Bel-Air," the smash 1990s sitcom in which Will Smith starred as a fictional version of himself in his own early years.
"It's important to me that they understand it," 50 Cent said about the Eminem story, adding that he's still also hoping to bring "A Moment in Time: Murder Was the Case," a series based on the real-life 1993 murder trial of rapper Snoop Dogg, to television as well. That show was announced by Starz in 2021, although 50 Cent (via Complex) said in April 2022 that it was no longer actively being developed by the network.
50 Cent was discovered by Eminem and signed to the latter's Shady Records imprint, becoming a star with his 2003 debut, "Get Rich or Die Tryin,'" and selling more than 30 million albums worldwide throughout his career. As an actor, he's appeared in films like "Home of the Brave," "Righteous Kill," "Southpaw," "Escape Plan," and "Den of Thieves," while also starring in and executive producing the hit Starz crime series "Power." He has similarly served as executive producer on the show's three spinoffs.