How Accurate Is Edgar Allan Poe's Portrayal In Pale Blue Eye?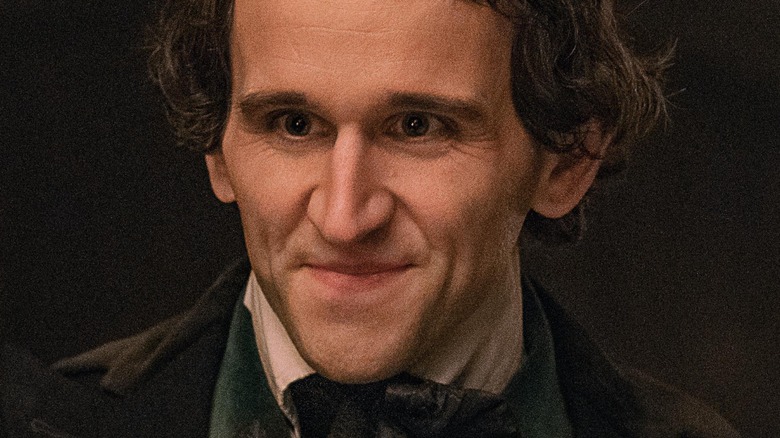 Scott Garfield/Netflix
When it comes to macabre literature, American author Edgar Allan Poe is one of the most revered scribes in the genre. The writer found fame in middle age with his acclaimed poem "The Raven," and went on to write more poetry in addition to short stories and one novel in 1838 titled "The Narrative of Arthur Gordon Pym of Nantucket" (via PBS). His writings helped lay the groundwork for the entire field of psychological horror and terror, with themes of insanity, isolation, paranoia, morbidity, and mystery becoming trademarks of his influential style. Despite the author's influence in the nearly two centuries since his untimely death, there have been next to no filmed biographies of the gothic storyteller.
The Netflix movie "The Pale Blue Eye" seeks to change that trend as it depicts Poe (Harry Melling) as an aspiring military soldier in the years before he became an acclaimed author. The central story revolves around Detective Augustus Landor (Christian Bale) as he investigates multiple murders at a military school in 1830 New York. Bale's character eventually meets the future scribe who goes on to assist him in solving the mystery behind the homicides. So just how accurate is the portrayal of Edgar Allan Poe in the feature?
The Pale Blue Eye is based on a novel about a young Edgar Allan Poe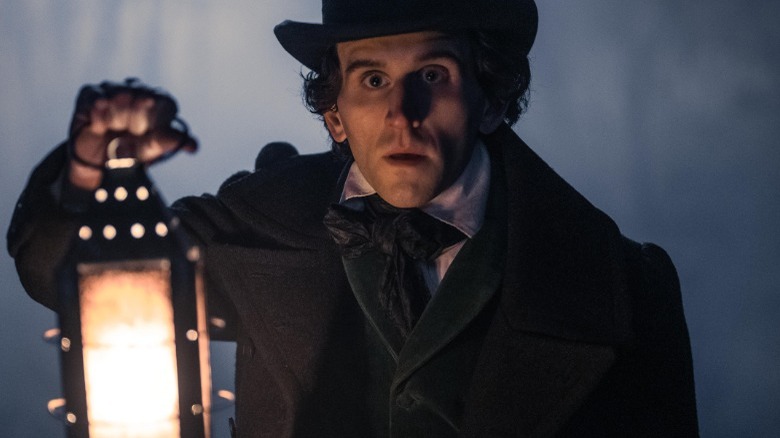 Scott Garfield/Netflix
Thankfully, reviews for "The Pale Blue Eye" are pointing out that the film is not a direct biographical work depicting the life story of Edgar Allan Poe. The movie is based on a 2003 novel by Louis Bayard and is completely fictitious in its portrayal of the writer. According to The Conversation, there's a fair share of inaccuracies along with some superficial details about Poe's life in the early 1830s.
The publication points out that one major inaccuracy is how the film depicts the author as a studious soldier at West Point in 1830. In reality, Poe did not last a full year at the prestigious academy, and was eventually court-martialed and dismissed from the institution in 1831. On the other hand, the feature is accurate in depicting the poet's taste for alcoholic beverages, his love of books, and his genuine interest in investigative law enforcement, as depicted by his interactions with Bale's character. The scribe of "The Tell-Tale Heart" also had a penchant for making foes due to his aloof mannerisms, which were considered odd for the era.
Speaking to Tudum, the feature's writer-director Scott Cooper explained his approach to adapting Bayard's portrayal of Poe. "Of course, this is a work of fiction," he reasoned, adding that what's depicted in the film shapes the eventual type of writer the storyteller would become, and all the dark and intriguingly morbid themes he would explore.