The Slasher Genre Tackles COVID With Peacock's Chilling Trailer For Sick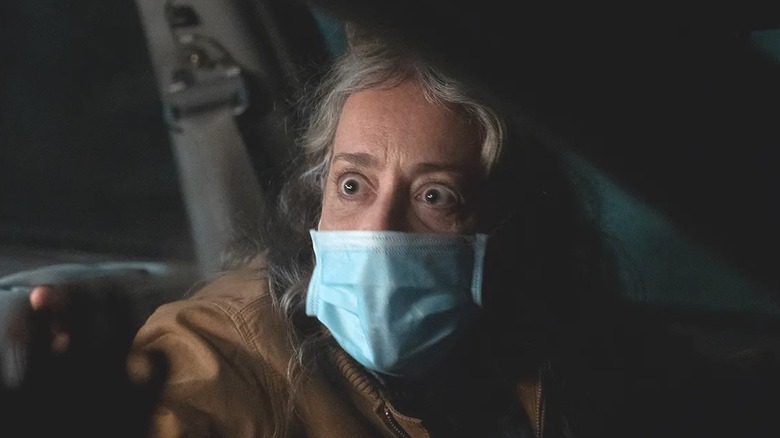 Peacock
The COVID-19 pandemic continues to directly influence modern filmmaking. Several films released over the last year have directly mentioned the pandemic. Examples include Anya Taylor-Joy's thriller "The Menu" and Cate Blanchett's "Tár," both films which reference the events of the pandemic in passing. Other films, like Rian Johnson's "Glass Onion" and the Zoë Kravitz-starring "Kimi" are explicitly set during the pandemic, each tackling the world-changing event in a unique way. Others, like the Michael Bay-produced "Songbird" are about COVID-19. 
Now, it's time for the slasher genre to tackle COVID. 
As the world continues to reel from the pandemic, it's no surprise that filmmakers are finding inventive ways to tell stories set during the early days which defined 2020. Peacock is on track to release "Sick," a slasher-thriller which takes place during the start of the COVID-19 pandemic. Early word on "Sick" has mostly been positive. Described as "an effective thriller" by /Film, critic Rafael Motamayor praised the upcoming horror flick for featuring "great and smart characters" and "creative camera work that uses its one location in inventive ways."
With the film set to release in January 2023, Peacock has released a chilling trailer for "Sick," a film which could become a definitive entry in the COVID-19 film canon.
Sick releases on Friday the 13th
Peacock has debuted the first trailer for their upcoming slasher flick "Sick." Directed by "Alone" helmer John Hyams, the film follows a group of young adults who decide to quarantine at a remote cabin during the early days of the COVID-19 pandemic. Though they assume that they're alone, their lives are turned into a hellish nightmare when an outside force breaks into their quarantine bubble. Weaving horror and comedy together, the trailer features playful banter about masking and shots of the principal players sanitizing while partying.
The COVID slasher comes from Kevin Williamson, one of the principal writers behind the "Scream" franchise. Peacock's "Sick" features "Blockers" star Gideon Adlon and Bethlehem Million as the youths who end up quarantining. The cast also includes "Ozark's" Marc Menchaca and "Hacks" star Jane Adams. "Sick" is just the latest horror film hitting Peacock. The streaming service was most recently home to "They/Them," a slasher flick set at a conversion camp, and "Halloween Ends." 
"Sick" will be released exclusively on Peacock on January 13 aka Friday the 13th.