Yellowstone's Piper Perabo Had Some Concerns When Joining The Show As Summer
In a sea of traditionalist Duttons and conservative ranch folk, Summer Higgins from "Yellowstone" is one of show's biggest black sheep characters. An environmental activist who has dedicated her life to saving the Earth, Summer (portrayed by Piper Perabo) is willing to go to considerable lengths for the sake of her cause and even winds up in jail at one point before John Dutton (Kevin Costner) frees her. Of course, her progressive mindset doesn't always mesh well with her fellow characters, and her adversarial relationship with Beth (Kelly Reilly) in particular is a sight behold — especially with regard to their visceral brawl in Season 5.
While Summer comes across as a character who's unapologetically herself and has an abundance of confidence to boot, Perabo was actually far less confident about her portrayal of the character when she first joined the cast in Season 4. It took having some faith in "Yellowstone" creator Taylor Sheridan to convince the actress that Summer would be done justice in the series.
Perabo worried about Summer's portrayal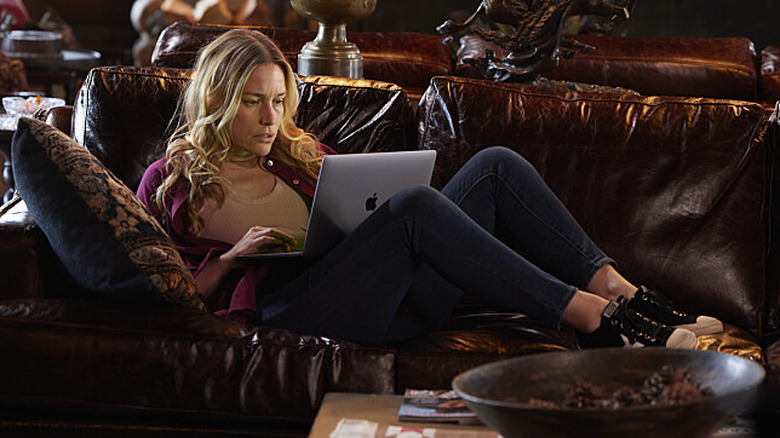 Paramount Network
When Piper Perabo first joined the "Yellowstone" cast, she was nervous that Summer might fall into the stereotype of the hypocritical liberal activist. "I was concerned a little, because that's how Beth views Summer at the beginning, and the audience is so in love with Beth that her view of someone tends to sway them," the actress told Variety.
Despite this apprehension, Perabo trusted that Taylor Sheridan would do right by the character and craft a three-dimensional figure. "I knew he wouldn't write me something flat because that's just not what comes out of his typewriter, but it requires trust because it takes time to build a smaller character," the star said. "I think if I hadn't known Taylor Sheridan, it would have been a different story, but I know him pretty well, so I can walk into moving traffic for him."
Not only did Sheridan deliver for Summer, but he even incorporated elements of Perabo's real-life experiences with activism. For example, Summer's sentencing at the end of Season 4 was actually inspired by Perabo's own arrest in 2018 while engaging in a political protest. "I told Taylor all of my stories and also stories I knew of other women activists who were arrested for civil disobedience," she told The Hollywood Reporter. "And then he kind of goes off and rides horses and is out mending fences, or wherever he goes when he's thinking about it. And then it all comes back at you."