CSI: Vegas Fans Are Loving The Spotlight On Chris In Season 2 Episode 10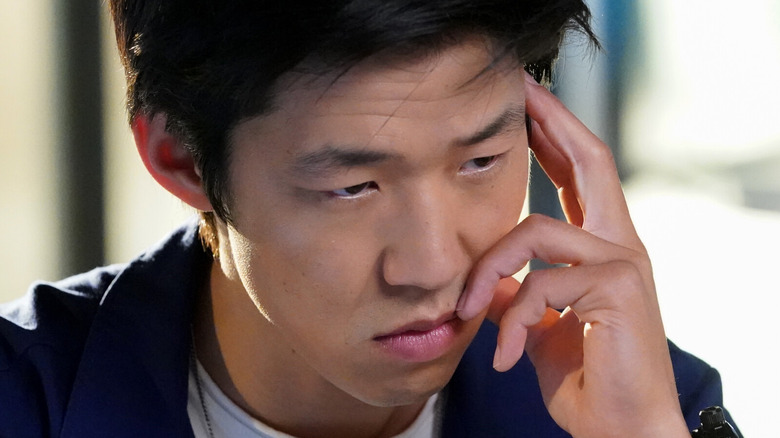 Monty Brinton/CBS
"CSI: Vegas" Season 2 Episode 10 is both a cautionary tale and a scathing indictment of society's obsession with fame and social media. In the episode, the team must investigate the mindless slaughter of some notable Gen-Z influencers, and they suspect that one of the fame-obsessed social media enthusiasts is the killer. Fortunately, Chris Park (Jay Lee) knows a thing or two about this too-online culture, and his knowledge proves to be imperative.
The episode is also a commentary on the generational gap. For example, one key moment sees Joshua Folsom (Matt Lauria) and Ahalya (Mandeep Dhillion) ruminate about the appeal of social media, with the former revealing that he stopped using it after MySpace stopped being all the rage. As such, the more established members of the team are arguably out of their element when it comes to understanding the minds of depraved influencers.
In short, Chris is the most capable forensics expert in the department to handle a case of this ilk, as he's young and his colleagues just aren't as up-to-date with Gen-Z trends and hobbies. This allows him a rare opportunity to lead a murder investigation, and fans of the show are here for it.
CSI: Vegas fans want more Chris-centric episodes
Michael Yarish/CBS
Chris Park is the rookie on the team, so it's understandable why he's often relegated to the role of a supporting player. However, the response to "CSI Vegas" Season 2 Episode 10 may encourage the creators to promote him. So, what did viewers have to say about the episode in question?
Some fans enjoyed that the episode revolved around a supporting character, but noted that the social commentary highlighted the dark side of a certain fandom. "Loving this Chris-centric episode, but it does highlight this toxic side of the true crime community," @capmarvelsidle wrote.
Elsewhere, some viewers are excited at the thought of the rookie crossing paths with a "CSI" franchise veteran down the line. "Chris getting the lead in this murder? Heck yeah. Love my little forensics nerd," @LostLoVer90 gushed. "I cannot WAIT for him to meet Greg Sanders." In one scene, Chris revealed that he spoke to the aforementioned CSI veteran through DM, and "CSI: Vegas" fans are also excited over the Greg Sanders namedrop.
It seems that many fans thought a Chris episode was long overdue, and they loved seeing him front and center, collaborating with his colleagues. "This episode of #CSIVegas was amazing! It's great to get an episode centered on Chris. Det. Chavez being concerned for Max and the CSIs' teamwork helping Chris with the case are my two favorite things from this episode," @Caitlin_schafft stated.