Why Tom Hanks Doesn't Always Watch His Own Films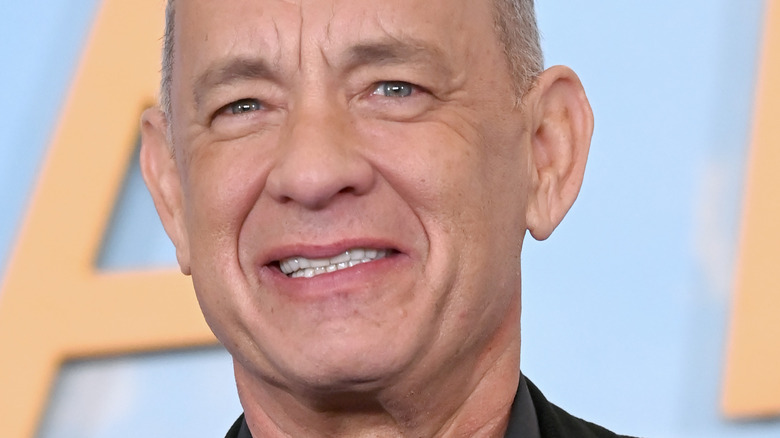 Dave J Hogan/Getty Images
Tom Hanks is considered one of Hollywood's most prolific and acclaimed stars. The actor's collective work spans multiple decades and includes pop culture gems like "Forrest Gump," "Cast Away," and "Toy Story," just to name a few. Hanks is an Oscar-winning performer whose impressive range of roles suggests he's capable of playing any type of character in just about any genre thrown at him. We're honestly shocked that this national treasure has yet to appear somehow in the MCU. Still, the actor kept plenty busy with other projects, despite now reaching his '60s.
Last year, fans saw Hanks portray manager Colonel Tom Parker in Baz Luhrmann's "Elvis" biopic. And to close out 2022, Hanks also starred in the comedy-drama "A Man Called Otto." With both "Elvis" and "A Man Called Otto" earning high audience scores on Rotten Tomatoes, it's clear that Hanks's talent in acting is still going pretty strong. The actor may continue to add more potential big-hit films to his already-stacked catalog. Just don't bank on him necessarily watching them himself. As Hanks recently noted, he doesn't always watch his own movies.
Hanks said he feels he didn't go far enough in some roles
Tom Hanks appeared on the latest episode of "The Great Creators with Guy Raz" podcast, and it's a fascinating listen. On the podcast, Hanks went into important details on his early inspirations for acting, his experience working with directors like Ron Howard and Baz Luhrmann, and why the actor considers himself a professional storyteller. If there is one major takeaway from the interview, it's that Hanks greatly loves his craft. And because of that deep love, he takes his responsibility as an actor captivating audiences seriously to the point of probably being his harshest critic. When the conversation shifted to Hanks's battle with self-doubt and authenticity, he revealed he hasn't watched his biggest movies due to personal honesty about his performances.
"There's movies I don't watch of my own...some of which you mentioned now as big hits because I see the falsehoods in them," Hanks said on the podcast. "I see the loss. I see that one time, 'Oh man, I missed that opportunity.' And it's not because, at the moment, I chose not to — it's because, after it was done, I realized I didn't go far enough. I didn't go to the place that I could have gone."
Later in the same podcast, Hanks compares reaching that crucial level in acting to that of a professional athlete striving to give their best performance. And perhaps that better explains the standard he holds himself to in acting. It might not be too surprising to hear all this from Hanks. After all, he once told People that he considers only four out of the many films he's made "pretty good."