Family Guy's Mike Henry Explains Why Cleveland Was The Perfect Choice For A Spin-Off
Mike Henry certainly made an unprecedented and lasting impression, starting his voice acting career as Spooner Street's own Cleveland Brown. Many performers struggle for years before finding their niche, to say nothing of gaining notoriety, but Henry's remarkable journey as a voice performer on Seth MacFarlane's zany animated series "Family Guy" remains what Henry is best known for. While Arif Zahir has since replaced Henry as Cleveland's voice actor (via Variety), Cleveland remains one of the best characters on "Family Guy," and he has appeared in 384 episodes of the show (per IMDb).
But enthusiasts of the adult animated comedy might be surprised at the genesis behind Peter Griffin's slow-talking and kindhearted pal. "We were fleshing out Peter's group of friends, and I had literally just played basketball with this dude in Virginia from Maryland," Henry said during an interview with the North Station Media Podcast Network. Henry emphasized the word "Maryland" using Cleveland's voice, which is how the guy on the basketball court spoke when he conversed with Henry, and it was that chance encounter that led to Cleveland's creation. "And, so, I started talking like Cleveland in the writer's room," Henry continued.
Along with the typically nice and neighborly Cleveland, "Family Guy" is loaded with a slew of unforgettably irreverent characters (many of which are voiced by Henry), including the perverted Herbert, the cleaning lady Consuela, and Bruce the performance artist. However, did you know Henry wasn't at all surprised when it was Cleveland who was offered the very first "Family Guy" spin-off?
The Cleveland Show was the logical Family Guy spin-off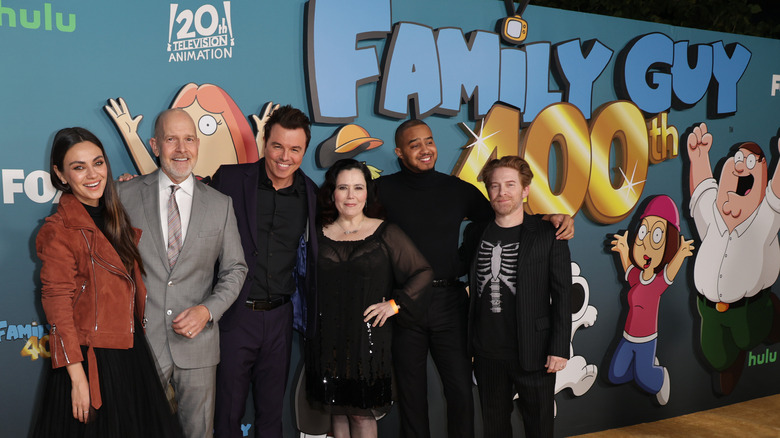 Momodu Mansaray/Getty Images
Cleveland Brown first appeared on Spooner Street in the "Family Guy" series premiere, "Death Has a Shadow," in 1999. However, it was obvious from the get-go that he was a unique character worthy of his own spin-off series. "Everyone there, number one, is different rhythmically," Henry said in an interview with Backstage. Henry then pulled Cleveland's voice out of his back pocket in order to contrast his slower manner of speech with the show's other more boisterous characters. "And Cleveland, as Seth [MacFarlane] will say, '[He's] the only decent guy among them,'" he quipped.
Henry then explained to Backstage that a spin-off wouldn't have worked with a character like the sex-crazed Glenn Quagmire, who, like Peter Griffin, is also voiced by MacFarlane. Quagmire is quite set in his taboo-loving ways, and, at the end of the day, a narcissist like Glenn isn't likely to grow as a person or even learn anything courtesy of a script's character arc. "'We couldn't do a show about a rapist,' is what Seth would say," Henry told host Jenelle Riley during the same interview.
"Cleveland was always a more thoughtful, introspective, sensitive kind of a guy," Henry continued. "And he was the perfect guy to spin off." In retrospect, a Cleveland spin-off may not have been the best choice when one considers "The Cleveland Show" only lasted four seasons before it was canceled. The series currently has an audience score of 64% (per Rotten Tomatoes) and has been lambasted by many IMDb users.