Chicago Med Fans Are Happy For Dr. Charles' New Romance
Contains spoilers for Season 8, Episode 10 of "Chicago Med"
NBC's "Chicago Med" is a show that pivots between drama and tension-filled medical interventions at breakneck speed. But the series has also become known for its romantic pairings over eight seasons, with super fans having their own favorite pairings. Season 8 gave viewers an emotion-filled return to "Chexton" as Dr. Choi (Brian Tee) and April (Yaya DaCosta) reunited after a long interval apart. The power couple rekindled their heartwarming romance and eventually tied the knot in an emotional, bittersweet wedding ceremony that also marked Dr. Choi's official exit from Gaffney Chicago Medical Center. Chexton may be gone once again — albeit, with a happy ending this time — but there is still no shortage of romance arond the corner in the "Chicago Med" repertoire.
Psychiatrist Dr. Daniel Charles (Oliver Platt) is a beloved "Chicago Med" character that has had his fair share of heartbreak and unsuccessful relationships. But in Episode 10, the mental health professional may have finally found a new stable partnership with Liliana Wapniarski (Alet Taylor), the lounge singer he had coffee with in the previous episode (via Monsters and Critics). This revelation has fans of the series happy and overjoyed for the doctor, with many hoping that it all turns out well.
Fans are hopeful Dr. Charles' romance develops positively with no drama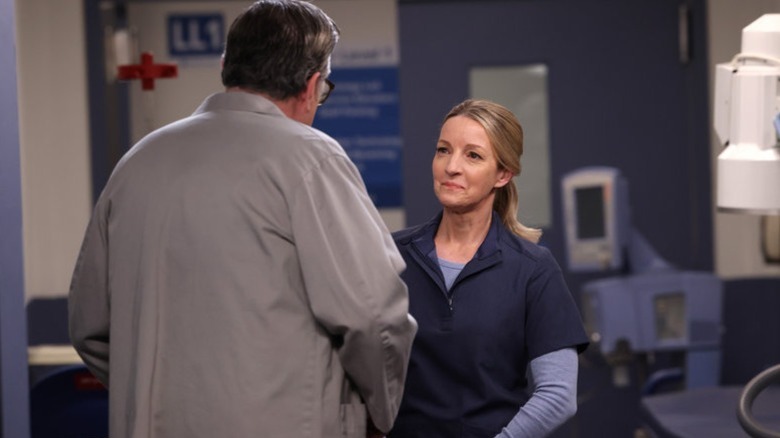 George Burns Jr/NBC
In Season 8, Episode 9 of "Chicago Med," the majority of the episode centered on Dr. Choi and April's wedding, but there was also a unique meeting between Dr. Charles and hospital custodian Liliana (per TV Fanatic). The two went for coffee and got to know one another, which became the makings of a potential relationship in the following installment. The chemistry that transpired between Daniel and Liliana was quickly noticed by fans who took to Twitter to share their excitement. Referring to the way the doctor reacted to Liliana's anecdotes, @KennadiTv tweeted, "Dr. Charles smitten asf [and] I'm not mad at him #ChicagoMed."
Replying to another tweet, @peacewyns93 stated, "I'm so happy that Dr. Charles has a love interest #ChicagoMed." In a discussion of the episode on the "Chicago Med" subreddit page, fan u/Rtsp1345 shared, "I loved the very end. It's good to see Dr. Charles so content." Another fan, u/DARphotography10 also shared this sentiment, but also warned, "I hope this relationship develops in a positive way without drama and plot twists."
This is all welcome news and it is important to remain hopeful the character can finally find a stable relationship. Oliver Platt has said in the past that he believes intimacy is the biggest issue Dr. Charles faces so here's hoping he can find stability with Liliana Wapniarski.