Why The Bear's Ayo Edebiri Claimed To Be The Kominsky Method's Showrunner
When "The Bear" premiered last summer on Hulu, it was a fast hit for the streaming service and still boasts an impressive score on Rotten Tomatoes. "The Bear" is also a contender in the upcoming awards season, having earned two Golden Globe nominations, including one for Best Television Series – Musical or Comedy (via IMDb). Despite the show being labeled a comedy, it's an anxiety-inducing watch — the seemingly breezy 30-minute runtime acts more like a pressure cooker inside the walls of the Chicago sandwich shop.
"The Bear" stars Jeremy Allen White as Carmy Berzatto, a beleaguered chef who takes over the family restaurant following his brother's tragic death. Ayo Edebiri has received critical acclaim for her role as Sydney Adamu, the restaurant's new sous chef. "The Bear" is the most dramatic, nuanced role yet for Edebiri, whose credits also include "Big Mouth" and "Dickinson." But Edebiri's resume contains one major embellishment.
Edebiri thought the Kominsky lie was a funny bit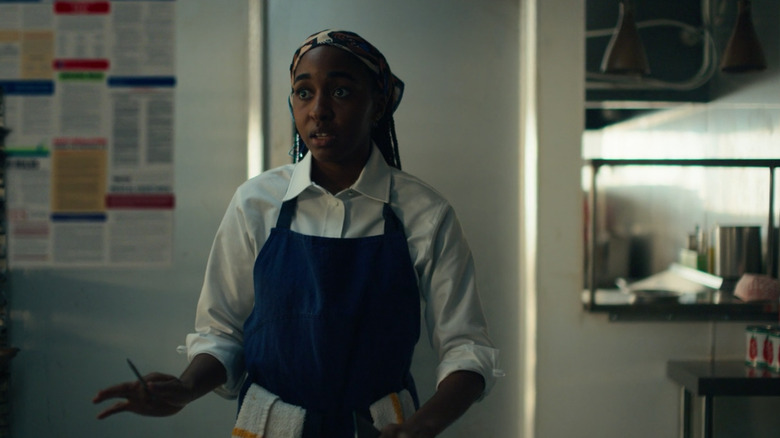 Hulu
A Twitter bio can be a universe unto itself. Most are straightforward resumes in miniature. Others require a bit more digging to uncover the truth. ("The Office" producer Michael Schur operates his account under the alias Ken Tremendous. Real heads know, as they say.) Ayo Edebiri's Twitter bio simply reads, "Showrunner of 'The Kominksy Method' — now streaming on Netflix, Vudu, and the ITV app."
"The Kominsky Method" aired between 2018 and 2021 and starred Michael Douglas as an acting coach. It was created by Chuck Lorre, who, notably, is not Ayo Edebiri. In an appearance on "The Late Show with Stephen Colbert," the actress explained why she started telling the fib. "I just sort of started saying that I was, 'cause I thought it would be funny." She continued, "I just thought, what an incredible world that would be, if a young Black woman in her mid-20s created this show where Michael Douglas and Alan Arkin are acting. Have I watched a single episode? No. But I already get the gist, you know what I mean?"
Edebiri may not have had a hand in "The Kominsky Method," but the bit persists. She will, however, return as Sydney for Season 2 of "The Bear."