Gilmore Girls' Keiko Agena Wonders What Would Have Become Of Lane And Dave Had Adam Brody Stayed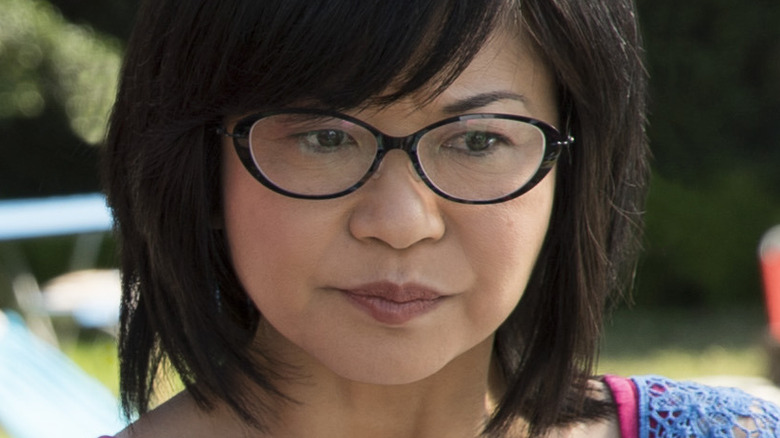 Neil Jacobs/Netflix
While the love lives of Lorelai (Lauren Graham) and Rory Gilmore (Alexis Bledel) are very much at the forefront of "Gilmore Girls" – after all, the question of which of Rory's boyfriends was the best is still debated amongst fans – the other characters also get their own romantic storylines.
Lane Kim (Keiko Agena), for example, goes through plenty of romantic woes before getting her happy ending. For starters, her very strict mother, Mrs. Kim (Emily Kuroda), makes it almost impossible for Lane to date. Thus, she has to resort to sneaking around — which is how she ends up dating her bandmate, Dave Rygalski (Adam Brody). Despite the two seeming to be well-suited for one another, Dave ends up going away to college, and the two break up. Shortly after, Lane begins dating her other bandmate, Zach (Todd Lowe). Lane and Zach eventually get married and, soon after that, Lane gets pregnant with twins.
While Lane does end up happy with Zach and their kids at the end of the series, some fans think that Lane should have ended up with Dave. In reality, Brody left "Gilmore Girls" in order to star in "The OC," so the fact that their characters didn't end up together was more logistical than anything (via ET). Still, fans are not the only ones who wonder what could have been — Agena has wondered about Lane and Dave as well.
Agena is curious if Lane and Dave would have made it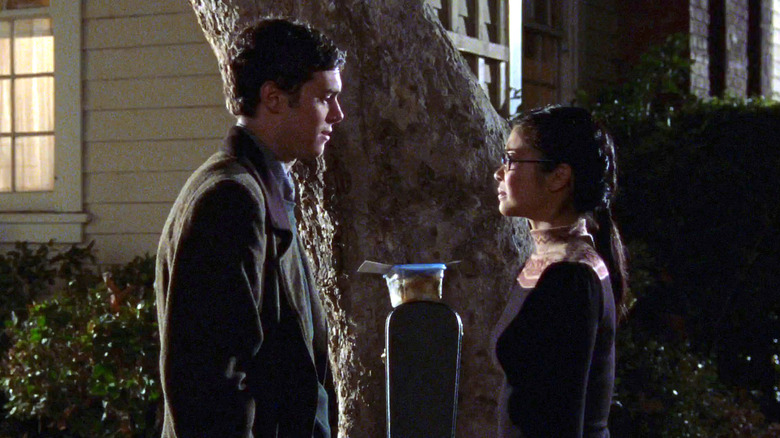 The WB
In late 2022, Keiko Agena participated in a Reddit AMA (ask me anything). During the discussion, she answered a question that many fans have wondered about: u/avatufo asked, "Who do you personally prefer for lane, Dave or Zach?"
Agena answered, "Oh I think I answered this in another comment but I guess I am a little curious about what would've happened if Lane could have stayed with Dave. He was such a great guy huh!" Many fans would definitely agree with Agena's opinion about Dave. After all, he went above and beyond to, firstly, sneak around with Lane to avoid her mother's wrath, then, secondly, to impress Mrs. Kim so that they wouldn't have to be secretive anymore. Plus, who could forget about the many sweet moments they shared, such as their meet-cute (during which they bonded over their love of music), and their first kiss (which was also Lane's first kiss ever)?
The two actors even addressed the fact that fans wanted Lane and Dave to end up together. Adam Brody and Agena reunited in an Instagram Live to raise awareness for the organization, Vote Forward (via ET). During their conversation, Brody said, "I've seen just on my end some people wanted our characters to end up together and they did not. Shame." Agena responded, "Well, in another universe."
Brody loved his time in Stars Hollow despite some difficulties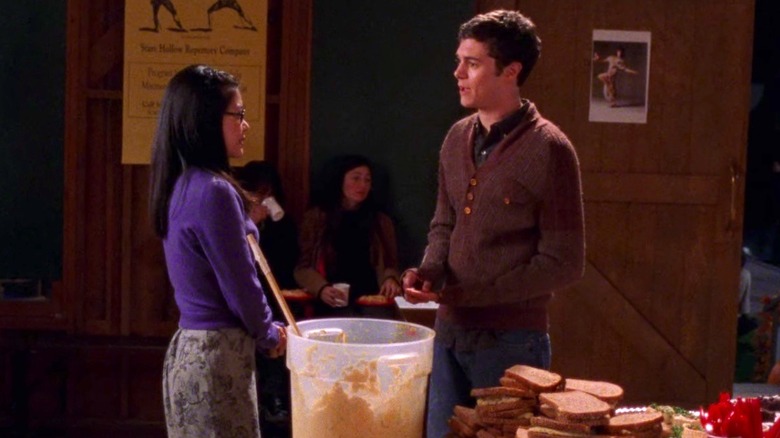 The WB
In a March 2021 interview with The AV Club, Adam Brody discussed the most notable roles of his career — which, of course, includes playing Dave on "Gilmore Girls." And, for his part, Brody had a whole lot of good things to say about his time on the show, even if it was a bit short.
Brody said, "It was a joy. It was phenomenally well written." The actor then admitted the one detail that he found himself struggling with at the time: the dialogue. He explained, "I remember at the time chafing a little at how exacting they were with the dialogue. They had two script supervisors. I've never seen that before or since. One for continuity's sake and the other purely to go through dialogue and after every take go to every actor 'You missed the pause.' I thought that was ... I didn't love it." However, in retrospect, Brody admitted that he now realizes how well-written the dialogue — and the show as a whole — really was. He continued, "If they wanted it word-for-word perfect, they're writing at such a high level, they deserve it. Who was I to chafe at that?"
He also, once again, commented on the fact that Lane didn't end up with Dave, but that she should have. When asked if he's thought about what would have happened between the characters had he been able to stay on longer, Brody responded, "I'm sure it would have been lovely. It was based on one of the writers and his wife and their relationships, and they got married in real life, those two characters. So they were definitely destined to be together on the show."