The 1988 Jeff Goldblum Sci-Fi Flop That's Still Worth Checking Out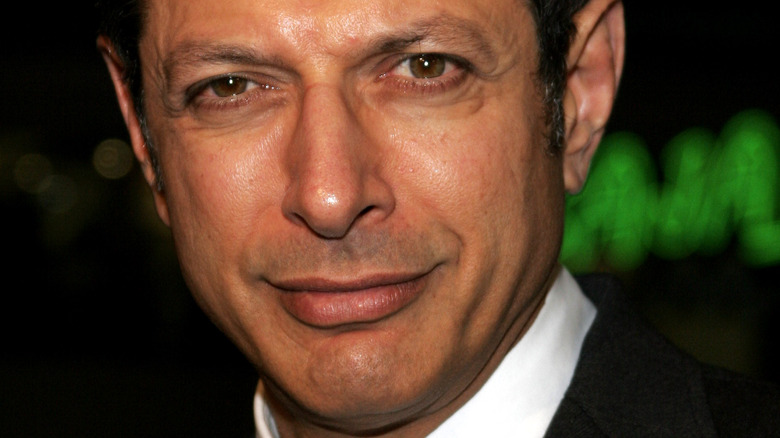 Tinseltown/Shutterstock
Over the years, Jeff Goldblum has gone from an A-List movie star all the way to a pop culture icon. With his unmistakable cadence and his undeniable swagger, Goldblum has created a legacy that is all his own. In 1987, at the beginning of his rise in star power, Goldblum had just come off of working on two movies, "Transylvania 6-5000" and "The Fly," with his then-wife Geena Davis, and after "The Fly" they began working on their third project together. The result was the box office flop turned bonafide cult-classic "Earth Girls are Easy," which also starred Jim Carrey, Damon Wayans, Charles Rocket, and Julie Brown.
"Earth Girls are Easy" was based on a song by multihyphenate Julie Brown who, along with co-starring in the film, co-wrote the screenplay as well. The movie premiered at the prestigious Toronto International Film Festival in September 1988 to a generally favorable reception. The movie was scheduled to be released in February of 1989, but financial troubles at the De Laurentiis Entertainment Group, which was originally distributing the film before rights went to Vestron Pictures, led to it being pushed back to May of 1989 (via AFI Catalog). 
The delay slowed down the film's momentum coming out of Toronto, and it led to the film fizzling at the box office. Film fans discovered the movie years later on cable and on VHS, which has led it to become the cult classic it is today.
Critics actually liked the film when it was released
"Earth Girls are Easy" follows Valerie (Geena Davis) on her quest to find love after her fiancé (Charles Rocket) is caught cheating on her. Meanwhile, a trio of colorful, furry aliens (Jeff Goldblum, Jim Carrey, and Damon Wayans) crash land in Valerie's pool while they were on an intergalactic cruise to find women. After the aliens are shaved they spend their time hitting all of the clubs in Los Angeles and interacting with the locals. Several musical numbers later, Valerie finds love with Goldblum's Mac, the leader of the trio of aliens.
At the time of its release, top critics seemed to enjoy the film, and as of this writing, the film currently stands at a positive 68% on Rotten Tomatoes. Roger Ebert called the film, "A lighthearted and goofy musical comedy." Peter Travers said the film was "An entertaining trifle." A writer at the Pittsburgh Post-Gazette even totally fell head-over-heels for the film. He said, "['Earth Girls are Easy'] is so cheerful about so many stupid things that you cannot, in good conscience, endorse it, but you may be tempted to adopt it." While the film was a critical success, it only made $3.9 million at the box office on a budget of $11 million, designating it as a flop.
Audiences found the film years after its theatrical release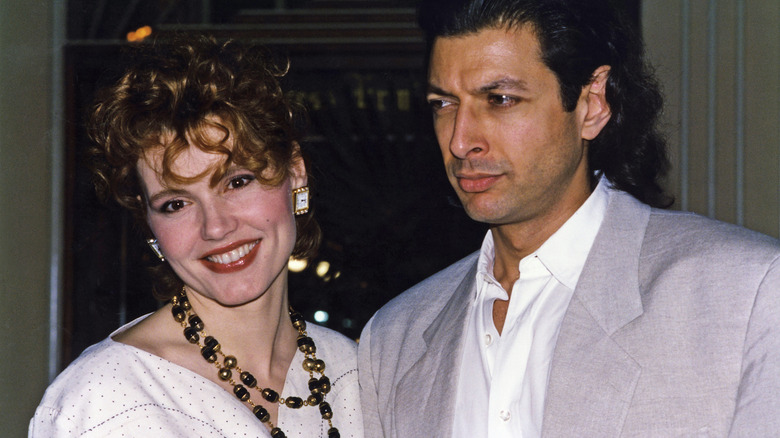 Vicki L. Miller/Shutterstock
Fans found the movie later through VHS rentals and through constant play on cable, particularly on Comedy Central in the late '90s and early 2000s. In a Reddit thread in support of "objectively bad" movies that fans still love, "Earth Girls are Easy" received a lot of support from film aficionados. Redditor u/thutruthissomehere said, "I love this movie so much and I'm so glad others have seen it. This movie has everything! Camp, musical numbers, a hot Jeff Goldblum." It sounds like everything you could ever want in a motion picture. 
Another user, u/frenchmix, said they use the film as a sort of litmus test. They said, "GOD I love this movie to death. Forced every partner to watch it as a bit of a personality test lol. If you like it, we'll get along just fine." It seems as if the film is finally finding its audience, solidifying it as a cult classic artifact of absurdist '80s cinema.