Ridiculousness Got Machine Gun Kelly To Talk About His Greatest Fear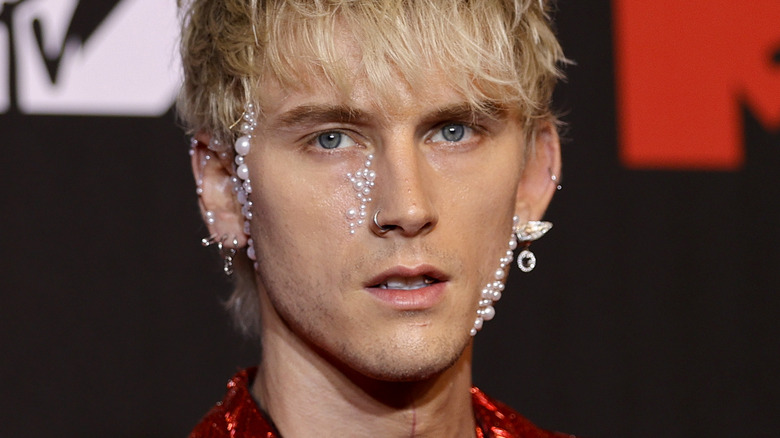 Jason Kempin/Getty Images
The ubiquity of MTV's "Ridiculousness" has become something of a punchline. Rob Dyrdek's clip show series seems to be on the air at all hours of the day. Indeed, Variety reported that "Ridiculousness" once aired for 113 hours of the network's 168-hour programming block. Even MTV seems to be in on the joke, electing to air a 24/7 "Ridiculousness" marathon to mark the network's 40th anniversary, much to the chagrin of music video fans. And why not? A mixture of "America's Funniest Home Videos" and the pop culture-inflected rhythms of talk shows like "The Soup," "Ridiculousness" has been a boon for the network since it first aired in 2011.
Helping matters is the series' deep bench of celebrity guests and guest hosts. "Ridiculousness" has hosted the likes of Johnny Knoxville, Snooki, and Snoop Dogg, some of whom get surprisingly vulnerable on the show. One such guest was musician and actor Machine Gun Kelly.
Machine Gun Kelly has a fear of elevators
In addition to his rapping career, Machine Gun Kelly has made a number of on-screen appearances, including "Bird Box," "The King of Staten Island," and a stunt in "Jackass Forever" (via IMDb). In 2015, he appeared in an episode of "Ridiculousness," where he revealed his fear of elevators. "I've been stuck four times. One [was] during an earthquake in Oakland." The "weirdest" experience, he recalled, was being trapped in the Cosmopolitan Hotel's elevator with P. Diddy on New Year's Eve. "No one sent help because they all thought we were drunk idiots," he called. Rob Dyrdek followed up the soul-baring interview with a video reel segment called "Sky Coffins."
Kelly's phobia doesn't seem to have affected his everyday life, though the rapper-turned-actor did joke that his character in "Nerve" wouldn't have been so lucky. The 2016 thriller focuses on an increasingly escalating online truth-or-dare game. "The game learns everything about you via all of your other profiles," he told Fuse. "I've tweeted that my biggest fear is elevators, so the game would have found that out and dared me to blank blank blank in an elevator."