Stephen Amell's Green Arrow Will Don His Hood One Last Time In The Final Season Of The Flash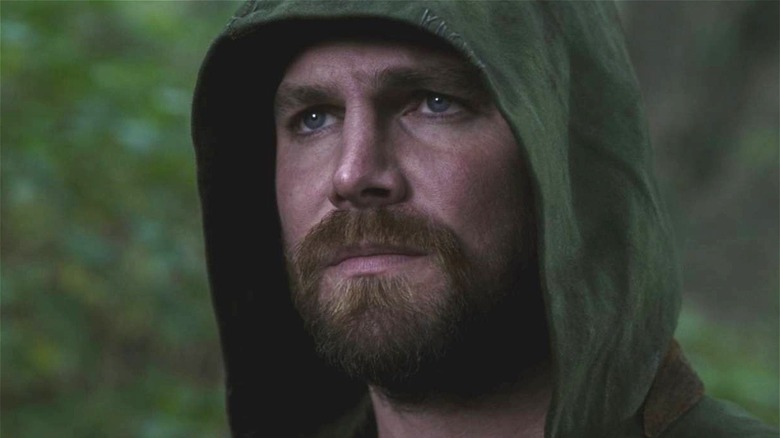 The CW
When The CW came out with a little show called "Arrow," no one could have imagined just how far it would go. It wasn't the first time the network dabbled with superheroes, and "Arrow" felt like a continuation of what had been accomplished before. It followed a young, attractive Oliver Queen (Stephen Amell) who would eventually take on various mantles as the protector of Star City, eventually settling on Green Arrow. 
While he began his journey as a lone vigilante, it wasn't long until other heroes began cropping up, many of whom went on to spearhead their own TV series. The most notable example of this is Barry Allen, a.k.a. The Flash (Grant Gustin). After getting a backdoor pilot on "Arrow," he soon became the lead in his own TV series, which is about to embark on its ninth and final season.
Despite numerous shows spinning off from "Arrow," "The Flash" is the last one standing and will conclude The CW's Arrowverse. As such, it's only appropriate to bring the shared continuity full circle and have Stephen Amell return to reprise his character of Oliver Queen in the last season of "The Flash."
Superheroes never die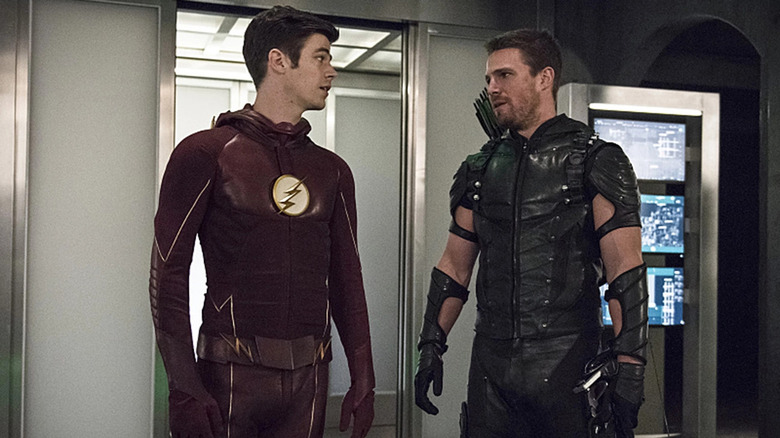 The CW
Despite going on the record saying he wouldn't return as Oliver Queen in the Arrowverse, it's been confirmed that Stephen Amell will, indeed, return to lend his old friend a helping hand in the final season of "The Flash." ComicBook.com reported on the news that states Amell will be back for Season 9, Episode 9 of "The Flash." Eric Wallace, the showrunner for "The Flash," put out a statement expressing his excitement of the return: "As soon as our final season was announced, we knew we wanted Stephen to come back and reprise his iconic role as Oliver Queen. After all, it was Oliver who originally launched Barry Allen on his heroic path. That's why everyone on Team Flash felt so strongly that it was important to create a full-circle moment with Oliver's return in the final season of The Flash."
Now, we know what you might be thinking: "Didn't Oliver Queen die in the Arrowverse?" Yes, that's true. Oliver died in the "Crisis on Infinite Earths" storyline, but as tends to be the case with superheroes, they never stay dead for long. It's possible "The Flash" could play around with time travel as it's prone to do, or we could get an Oliver Queen from an alternate universe. Anything's possible in this world.
Stephen Amell won't be the only familiar face returning to the world of "The Flash." It's also recently been confirmed that Season 9 will bring in David Ramsey to play John Diggle, Keiynan Lonsdale to play Wally West, and Sendhil Ramamurthy to play Bloodwork. It certainly seems like the last season of "The Flash" will reward long-time viewers with characters who played pivotal roles in the titular character's journey.