Kumail Nanjiani Struggled To Break Character At Home While Filming Welcome To Chippendales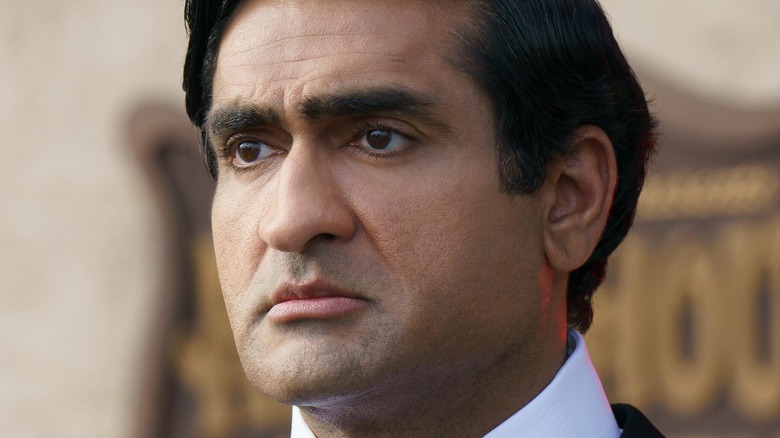 Erin Simkin/Hulu
Following up guest arcs on both "The Boys" and "Obi-Wan Kenobi," as well as his starring role as Kingo in 2021's "Eternals," actor Kumail Nanjiani's latest endeavor is the biographical drama miniseries "Welcome to Chippendales." The new miniseries premiered on Hulu on November 22, 2022, and the final episode will air on January 3, 2023, wrapping up the eight-episode run. Created by Robert Siegel — and based on the book "Deadly Dance: The Chippendales Murders" by K. Scot Macdonald and Patrick MontesDeOca — the series focuses on Indian immigrant Somen "Steve" Banerjee (Nanjiani), who, in pursuit of an American dream, founds the largest male strip joint, Chippendales. Over the course of the next decade, however,  Banerjee ends up being an accessory to a murder during the downfall of his business and a rivalry with the club's choreographer Nick De Noia (Murray Bartlett). 
One look at the trailer and it's clear that "Welcome to Chippendales" is full of intense scenes — there is a murder involved in the plot, after all. So, it's not too surprising that Nanjiani might have a bit of difficulty not thinking about work after filming for the day. Here's what the actor had to say about having a hard time breaking character at home while in the midst of filming the drama series.
Nanjiani admitted that the intensity made it hard to unwind
Jessica Brooks/Hulu
During an interview on the podcast "Lights Camera Barstool," which is hosted by Jeff Lowe and Jack Kennedy, Kumail Nanjiani discussed his new show, "Welcome to Chippendales." Specifically, he talked about how he found it difficult to get himself out of work mode while he was at home because of the intensity of the content.
Nanjiani said, "The last month and a half of shooting, two months of shooting were really, really intense for me. I don't want to bring my work home, I'm not one of those actors who's like, 'You have to call me Somen on set.'" However, the actor admitted that he was not good at being able to turn it off when at home — at least not with this specific role. As a result, his wife Emily V. Gordon (with whom he wrote 2017's "The Big Sick") had to encourage him to separate his home life from his work life.
Nanjiani continued, "Sometimes I'd come home and my wife would be like, 'Hey, don't. I don't need this s*** here. Be you' ... She's like, 'This is so uncool. Don't be angry at home.'" He then went on to explain how easy it is to feel the same emotions as your character because you have to do the same scene several times over, which engrains the feeling into your body. Nanjiani concluded, "In real life, I started having those feelings where I was like, 'The studio! The studio producers, they're all trying to f*** me over' and all this stuff. And Emily was like, 'Hey! Is it a coincidence that your character and you are feeling the same things right now?'"