Ben Foster Originally Turned Down Emancipation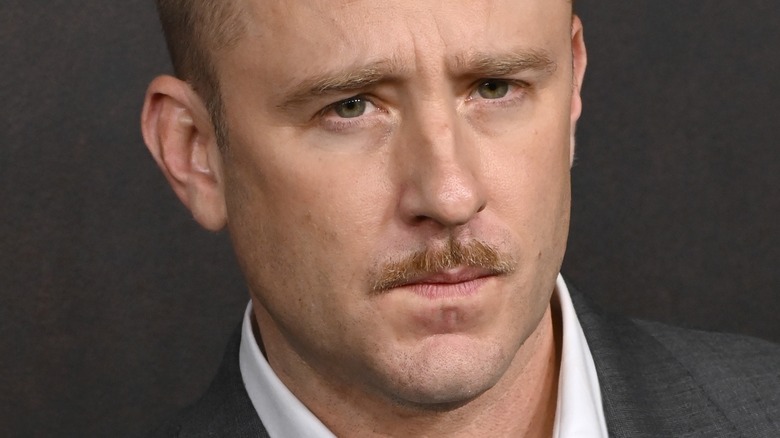 Featureflash Photo Agency/Shutterstock
Throughout his nearly 30-year acting career, Ben Foster has made a name for himself by playing plenty of rugged, unhinged villains with a penchant for violence. This includes his role in Taylor Sheridan's "Hell or High Water," in which he plays a self-destructive and murderous bank robber named Tanner Howard, and his role in "3:10 to Yuma," in which he plays Charlie Prince, the bloodthirsty right-hand man to gang leader Ben Wade (Russell Crowe).
Another notably volatile performance from Foster is his appearance in the 2017 Western "Hostiles," in which he stars as a sadistic soldier condemned to death for his heinous crimes. As one might expect, Foster's character in the 2022 drama "Emancipation" is very much in line with the sadistic villains he's played in the past. Foster stars as a malicious slave catcher named Fassel, a savage murderer whose hatred for slaves is rivaled only by his own immense ego.
Although Foster has demonstrated time and time again that he possesses an innate talent for bringing these chaotic kinds of villains to life on the big screen, it seems that he had to think twice about playing a slave catcher, as he initially turned down his role as the main villain in "Emancipation," which also stars Will Smith, who nearly ruined his career after slapping Chris Rock at the Oscars, and was directed by Antoine Fuqua. 
Foster was tired of exploring the uglier side of humanity
During a recent interview on Marc Maron's "WTF" podcast, actor Ben Foster admitted that he at first down his role in "Emancipation" after reading the script, having decided that he was done playing characters immersed in the uglier side of history. "I wanted nothing to do with that movie," Foster said, explaining that he was already filming the Holocaust drama "The Survivor" when he first got the call. "Antoine Fuqua calls me up and he says, 'I want you to essentially play a manhunter of slaves, the enslaved.' And I just didn't want to look at those things anymore. I didn't want to look at the atrocities of man."
Foster went on to note that Fuqua tried to convince him that making this kind of movie is necessary to "lift the veil," which prompted Foster to spend the rest of the night worrying about whether or not it was important to make this movie. Foster said he eventually realized that he was afraid of starring as this character — Fassel, who chases escaped slave Peter (Smith) across Louisiana — which convinced him that it was important and necessary for him to star in the film. In the end, he called Fuqua back and expressed his desire to root the character in the Midwest rather than the South, and "explore how a man learns to hate," something that the Fuqua readily agreed to, saying "I'm game. Let's go ask those questions."
The result is an undeniably charismatic villain, one who indeed rips back the veil on America's racist history and presents a chilling look at how such hatred can change a man into a monster.