Here's Where You Stream The Menu At Home
"The Menu" premiered to theaters in the United States in November of 2022, just in time for the year's holiday season. Rather than a lighthearted holiday-friendly romp, however, "The Menu" tells a decidedly dark story that culminates in some surprising twists. In fact, the film is full of enough unsettling moments to justify a ranking of the 12 most disturbing scenes in "The Menu."
When "The Menu" opens, Margot (Anya Taylor-Joy) and Tyler (Nicholas Hoult) arrive at a restaurant in a remote destination headed by celebrity chef Julian Slowik (Ralph Fiennes). There they join a group of diners who soon find their night out going in some unexpected and perhaps dangerous directions.
Among various trivia about "The Menu," Taylor-Joy revealed that Hoult — whose character is an enthusiastic eater — actually ate his fair share of food on set, meaning that for scenes requiring multiple takes, Hoult was eating the same things however many times it took to finish shooting. Taylor-Joy and Hoult also improvised plenty in "The Menu," which Taylor-Joy attributed to a tendency by director Mark Mylod to treat the film's set like a stage play.
"The Menu," then, differs from a typical drama in at least a few notable ways. For those interested in the film's unique offerings who may have missed or opted out of its initial run, here's where to stream "The Menu" at home in the wake of its theatrical release.
The Menu is available on HBO Max and major digital marketplaces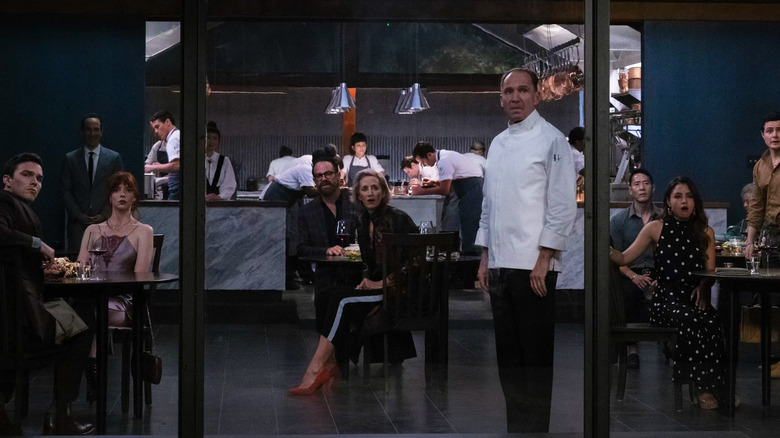 Searchlight Pictures
Fortunately for those who were unable or uninterested in watching it in theaters and still want to see the film, "The Menu" premiered to digital platforms on January 3, less than two months after its theatrical debut.
Currently, the most direct option for streaming "The Menu" is HBO Max, where it became a part of the service's catalog as of its January 3 streaming premiere. HBO Max also offers subscribers access to a 13-minute long featurette titled "HBO First Look: The Menu," which serves as something of an extended preview for the film, albeit including cast and crew interviews unique to the featurette.
As is typically the case, since "The Menu" isn't an HBO original, it's also available on digital marketplaces, including iTunes, Vudu, and virtually each other major platform. However, the film is priced at $14.99 as of its release, and won't become available to rent until later on in January. Even without an existing HBO Max subscription, then, subscribing to the service for one month may be the most economical option for those with no interest in adding it to their personal digital collection and simply viewing the movie at home.