Hurricane Sandy Served As Major Inspiration For Netflix's Kaleidoscope Heist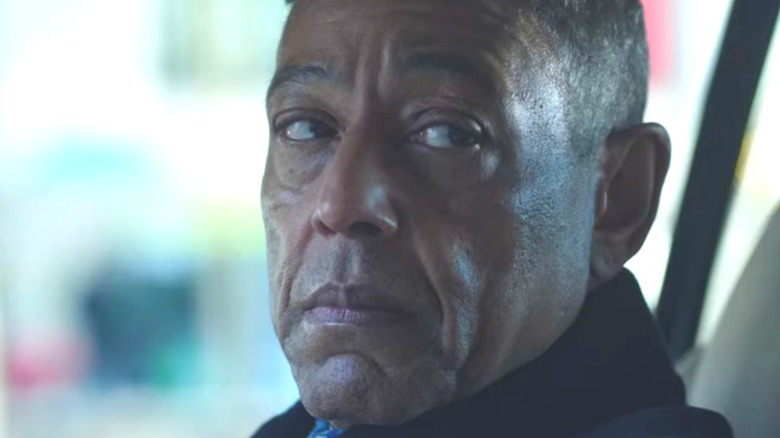 Netflix
One might not think that natural disasters and heist-based entertainment go together, but then again, this style of genre is always looking for ways to elevate and obfuscate their elaborate plans and distractions. Netflix's latest miniseries, "Kaleidoscope," is an interesting foray into the world of professional thievery. Though some rogues may think of simply robbing a bank or casino, "Kaleidoscope" goes after billions. Following Leo Pap (Giancarlo Esposito), a professional rapscallion and leader of a group of thieves, "Kaleidoscope" plays out with all of the twists and turns that one might expect from the heist genre.
The trailer for "Kaleidoscope" on YouTube highlights what viewers can expect from this recently released series, and that is plenty of well-timed distractions, specialized equipment, sly comments, and facial expressions, and of course, a security expert known as Roger Salas (Rufus Sewell) who promises that a newly designed vault is the most secure in the world — the perfect challenge for Leo Pap and his crew. As the trailer progresses, it is revealed that the heist is for seven billion dollars, which will be split evenly, and that Leo and Roger know each other from a previous heist, though Roger betrayed Leo. In other words, Leo's planned attack on the vault is both lucrative and personal. Interestingly enough, it seems like a real-life natural disaster acted somewhat as a muse for "Kaleidoscope," but how and why?
The Kaleidoscope showrunner believes a hurricane is perfect cover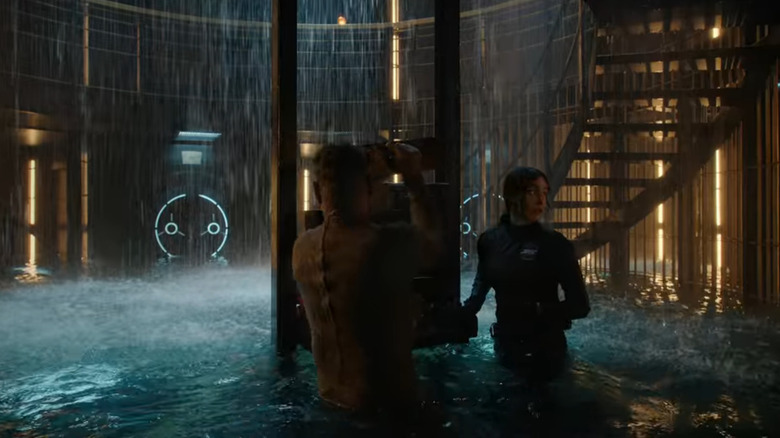 Netflix
According to Britannica, Hurricane Sandy was a powerful weather event that occurred from mid to late October 2012, and it caused over $70 billion worth of damages and killed 147 people. Most famously, when Hurricane Sandy slammed into New Jersey and New York, the storm had sustained winds of 80 mph. Not only were the winds of Hurricane Sandy exceptionally dangerous, but the accompanying rains saw New York City face 14-foot storm surges that caused the Hudson River to spill over its boundaries and sections of Manhattan to become submerged. It seems though the chaos caused by this particular storm also gave "Kaleidoscope" showrunner Eric Garcia the perfect inspiration.
Speaking with Netflix's Tudum, Garcia explained that "Kaleidoscope" is something that may have happened and added, "That's a perfect cover-up for a heist. If I'm doing a heist, I'm going to use Hurricane Sandy as my excuse." Of course, Garcia is referencing the real-life issues that arose from Hurricane Sandy slamming into New York City — the Depository Trust & Clearing Corporation's vaults flooding. Supposedly, there was $70 billion worth of bearer bonds in these flooded vaults, which took some time to recover. "Kaleidoscope" star Giancarlo Esposito explained the appeal of these types of bonds and said, "They can be used as cash to buy anything from stolen jewels to stolen art. If they're unmarked, they can't be traced. If you have them in your possession, they are yours." In other words, it seems as if showrunner Garcia believes that a natural disaster makes for the perfect cover for a daring heist, or at least an interesting issue that must be dealt with by utilizing skill and guile.