Here's When Black Panther: Wakanda Forever Is Coming To Disney+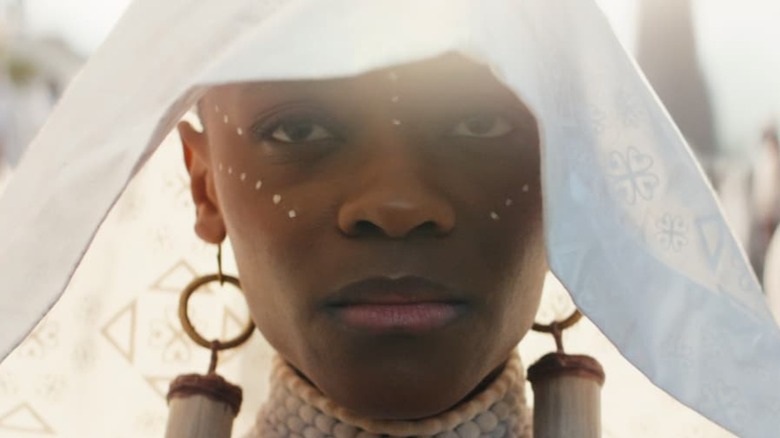 Marvel Studios/Disney
"Black Panther: Wakanda Forever" caps off Phase Four of the Marvel Cinematic Universe in an epic and emotional way. Following the devastating death of titular "Black Panther" star Chadwick Boseman, the film grapples with his loss both behind the scenes and within the world of Wakanda. As unforeseen threats challenge the kingdom, namely Tenoch Huerta's Namor, new and familiar heroes rise to protect the vulnerable yet still powerful nation and its valuable vibranium resources, including Riri Williams, aka Ironheart (Dominique Thorne).
With this, "Black Panther: Wakanda Forever" even sets up future Marvel projects, like the highly anticipated "Ironheart" series starring Thorne, prompting die-hard viewers to revisit the film as they search for important clues and Easter eggs. Lucky for us, we'll soon be able to enjoy "Black Panther: Wakanda Forever" in the comfort of our own homes alongside other MCU fare as Disney+ continues to add to its library of content.
Black Panther: Wakanda Forever begins streaming February 1 on Disney+
Among high-flying "Star Wars" shows, beloved classic Disney treasures, and exclusive original programming, Disney+ also hosts an impressive catalog of recent theatrical releases. Soon, this will include "Black Panther: Wakanda Forever."
According to ComicBook.com, the official release date appeared on the film's page on Disney+, revealing that it will be available to stream starting February 1. That release date has since disappeared, replaced with the line "Coming Soon to Disney+," but the outlet was able to capture a screenshot before it was taken down. While this is later than the rumored release date of January 20, you can still catch "Black Panther: Wakanda Forever" on the big screen until then.
The sequel will also be one of the select Marvel films available in an IMAX Enhanced version, which expands the film's aspect ratio "during select sequences" to fit the unique formatting and gives at-home viewers a chance to witness the breathtaking cinematic scope of IMAX, making for an unforgettable watch that will be available when the film hits Disney+ on February 1.