Why Gil Birmingham Compares Yellowstone's Portrayal Of Native Americans To Dances With Wolves
Gil Birmingham has been an actor for some time with credits that go as far back as 1982 (via IMDb). After all these years, he has some intriguing opinions on how "Yellowstone" portrays Native Americans, especially when placed in comparison with the Academy Award-winning film "Dances with Wolves."
While he may not be a household name to some viewers, Birmingham has lent his acting skills to several critically acclaimed titles throughout his career (via Rotten Tomatoes). Some of the actor's most noteworthy projects include "Under the Banner of Heaven," "Unbreakable Kimmy Schmidt," and the "Twilight" movies. He is also a frequent collaborator with Taylor Sheridan, appearing in "Wind River" and "Hell or High Water." 
Birmingham currently stars in Sheridan's series "Yellowstone" as Thomas Rainwater, the chief of the Broken Rock Indian Reservation. The Dutton family has had their fair share of enemies through the course of the show's run, but many would argue that Rainwater is one of the most formidable foes the ranch-owning family has gone up against. With a few decades of experience under his belt, Birmingham has seen many attempts to showcase Native Americans on screen. Out of all the jobs he has had, it does seem like what he has gone through on "Yellowstone" has been different, and he isn't shy about voicing his opinions on how Native Americans are represented in the series.
Gil Birmingham belives the industry has improved the way Native Americans are portrayed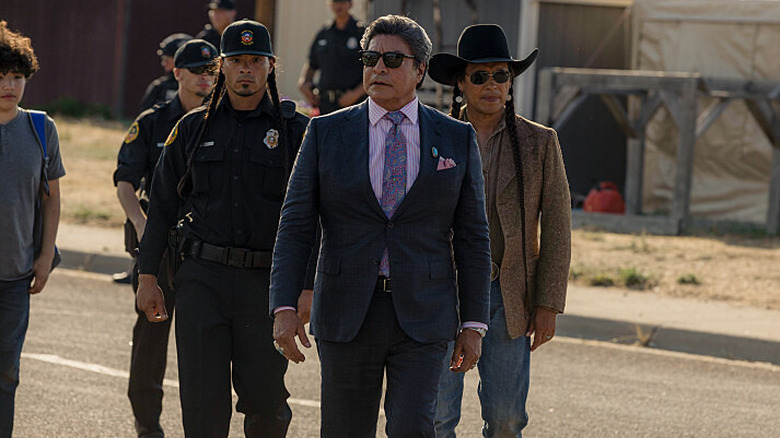 Paramount Network
Hollywood hasn't always had the greatest reputation when it comes to indigenous representation (via Variety). But things have changed, and steady progress is being made to rectify the situation. It hasn't gone unnoticed by Gil Birmingham, who is thrilled that "Yellowstone" provides a refreshing and respectful take on Native Americans, as compared to previous Hollywood projects like "Dances With Wolves." Birmingham told The Playlist, "You'd be shocked to know that the majority of people think that Native Americans don't exist, so to be able to tell their own stories as the writers and the producers and directors — it gives it a level of inherent experience that no other writer or artist could bring to it. And people are really coming to appreciate and be exposed to a real authentic portrayal of the Native community."
The praise from Birmingham should not be that surprising given how Taylor Sheridan is known for accurately portraying Native Americans in his projects. Sheridan has also been vocal about his desire to change things up. "I don't think that there is a more misrepresented group in American cinema than the Native American," Sheridan said. "And what little I can do to correct that historical perspective in fiction, I'm gonna do" (via Whiskeyriff.com). 
Sheridan's mission to change the narrative in Hollywood for indigenous representation seems to be going well, and from Birmingham's account, it would appear that "Yellowstone" is a successful part of that endeavor.