Robin Williams Ended His Career With A Flop Instead Of A Bang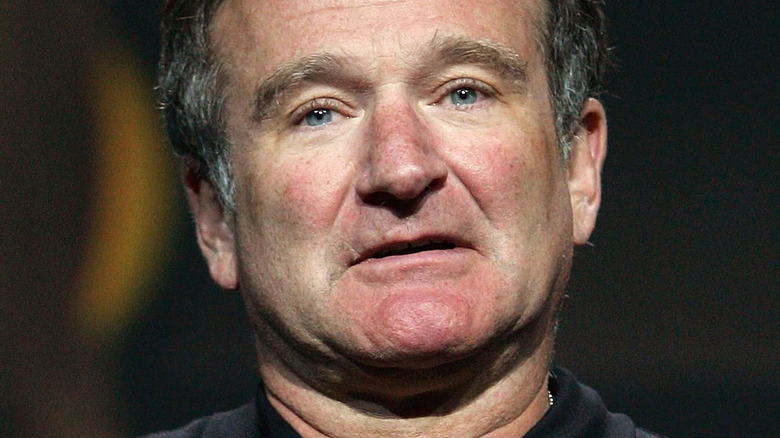 Ethan Miller/Getty Images
Although his entertainment career began in the San Francisco Bay Area stand-up comedy scene in the 1970s, Robin Williams became one of the most successful and prolific actors of the late 20th century before dying by suicide in 2014. He left behind a tremendous body of brilliant film and television work in comedy and drama, with some of his most memorable performances including elements of both. 
Williams brought Mork from Ork to life for the first time in a 1978 episode of "Happy Days" before starring alongside Pam Dawber and Jonathan Winters in "Mork & Mindy" until 1982 (via IMDb), where he then focused on movies. His energy, improvisational genius, and melancholic depth made him a star in roles both madcap and soulful. He had an extraordinary ability to combine those divergent elements of his powerful personality in the characters he played. Wiliams won three Emmy Awards, one in 1979 as Outstanding Lead Actor for playing Mork and two others in 1987 and 1988 for variety specials. He received an Oscar for his performance in "Good Will Hunting" (via IMDb) and added five Grammy awards for various comedy albums.
The Chicago-born and Julliard-educated actor (via CBS News) also earned Oscar nominations as Best Actor for "Good Morning, Vietnam," "Dead Poets Society," and "The Fisher King." Later he voiced the genie in "Aladdin," but Disney violated an agreement with Williams regarding merchandising, which led to a rift between Williams and the studio that was only repaired after Jeffrey Katzenberg's departure as CEO (via The Los Angeles Times).
Robin Williams' last role was voicing Dennis the Dog in Absolutely Anything
Williams' last film was the comedy "Absolutely Anything," directed and co-written by Terry Jones of "Monty Python" fame. It stars Simon Pegg as a schoolteacher named Neil Clarke, who is given the power to accomplish anything instantly with a simple wave of his hand. His power is granted to him as a litmus test for humanity's worthiness by aliens who are planning to destroy the earth.
The aliens are voiced by Jones and fellow Python alums John Cleese, Michael Palin, Terry Gilliam, and Eric Idle (via IMDb). Williams voices Neil's dog Dennis, who convinces Neil to transfer his newly granted abilities to Dennis since his human caretaker is squandering or abusing his immense power. Needless to say, Neil fails his test, and it's left to Dennis to save the earth. Despite the clever premise and strong cast (which also featured Eddie Izzard, Rob Riggle, and Kate Beckinsale), "Absolutely Anything" made just over $7 million at the box office (via The Numbers) and earned just 20% approval from critics and 32% from audiences on Rotten Tomatoes. 
The movie was released in the United Kingdom about a year after Williams' death and didn't make its way to the United States until 2017 (via CNN). The trailer, available on YouTube, features the slogan, "With great power comes total irresponsibility," and shows Neil granting Dennis the power to speak, along with other misguided and/or selfish requests Neil makes that almost doom the world. 
Reuniting the Monty Python crew didn't bing back their legendary magic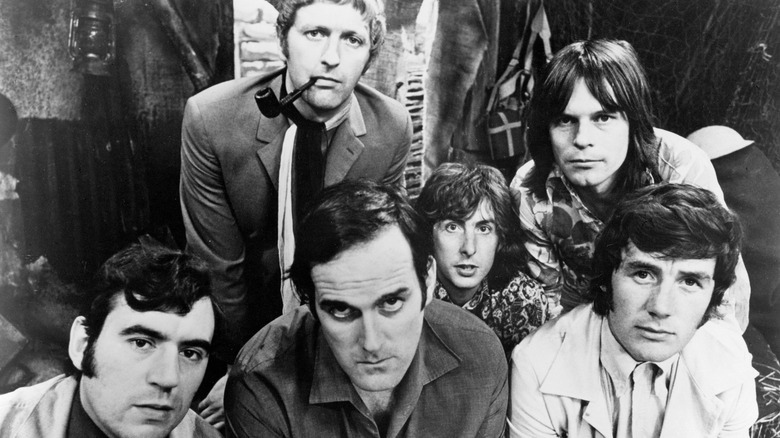 Michael Ochs Archives/Getty Images
"Absolutely Anything" was Terry Jones' first film in 18 years. "We started it more than 20 years ago, but gave it up when 'Bruce Almighty' came out with a similar premise," he told Screen Daily. While the release of a film with a similar theme may have dinged the marketability of "Absolutely Anything," critics found as much fault with the film's script and performances as they did its suddenly unoriginal story. 
Stephen Dalton of The Hollywood Reporter called the film "a flabby misfire full of labored slapstick, broad caricatures and groaningly absurd plot twists." Andie Angulo-Chen of Common Sense Media singled out Williams' performance in the disappointing film, writing,"[The] crass comedy's only redeeming feature is Robin Williams." Giles Hardie of Flicks encapsulated the misused potential of the wasted story and cast perfectly, writing, "There is only one thing worse than a bad film. That is a bad film that should have been a great film. 'Absolutely Anything'  ... is likely to go down in history as Robin Williams' final cinema release. As the voice of a dog. In a dog  ... of a film." 
Questionable puns aside, "Absolutely Anything" was a disappointing capstone to Robin Williams's remarkable career, leaving a bitter aftertaste in the mouths of fans and critics alike.