The Chicago Fire Character Death That Hit Fans The Hardest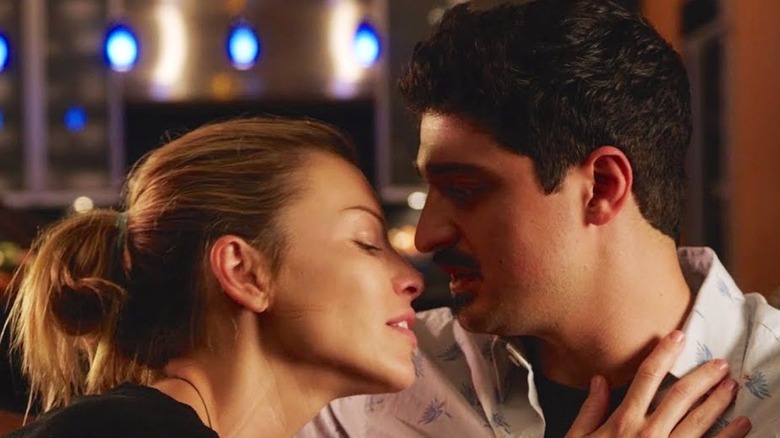 NBC
Death on NBC's action-drama "Chicago Fire" comes in a variety of shapes and forms and, as Chi-Hards know all too well, can strike down even the most beloved characters with virtually no warning. Formulated as the opening volley in producer Dick Wolf's One Chicago slate of high-intensity procedurals, the hit series dishes up a slice-of-first-responder-life that is often harrowing, occasionally funny and warmhearted, but always engaging for its loyal army of weekly viewers.
As the heroic firefighters based out of the show's Firehouse 51 respond to the latest alarm and race to board the team's assorted fire engines and rescue trucks, they all know the potential risks they could be called on to face. From blazing skyscrapers to collapsing buildings, toxic chemical spills, and even bio-weapon attacks, every professional on the team understands that any call could result in severe injury or worse. And, as a series airing to generally red-hot ratings since launching in 2012, audiences of the show have had plenty of time to become emotionally tangled up with any number of recurring and regular characters. So with all of the above to consider, which death of a firefighter or paramedic on "Chicago Fire" was most devastating for fans of the series?
Otis' death was the worst loss for many Chicago Fire buffs
As noted above, long-time viewers of "Chicago Fire" can cite a distressingly extensive list of favorite characters who have been written off into one kind of oblivion or another on the show. But according to a recent, unscientific Reddit poll conducted by Chi-Hard fan u/Choice_Ad_9735, the one death that viewers found toughest to take was that of firefighter Brian "Otis" Zvonecek, portrayed by Yuri Sardarov. Out of more than 260 ballots cast in the informal poll, the likable, good-natured Otis garnered a total of 126 votes or 47.2% of those participating at the time. Perishing from injuries suffered as he gave his life to save his fellow firefighters during a mattress factory fire in Season 8, Otis is fondly remembered for his dying words, spoken in Russian to BFF Joe Cruz (Joe Minoso): "Brother, I will always be with you" (via One Chicago Center).
Coming in next in the polling was another much-beloved character, Lauren German's paramedic Leslie Shay, with 94 votes and 35.2% of the total cast. Notably, German and Sardarov shared a touching scene on the couch together in Season 2, Episode 4, "A Nuisance Call," when Otis comforts a crying Shay. Farther down on the list of most-mourned losses are Chief Evan Hawkins (Jimmy Nicholas) at 43 votes, and lastly, Benny Severide (Treat Williams), the father of another fan-fave, firefighter Kelly Severide (Taylor Kinney), getting only four votes. Summing up the peril faced by the entire cast every week on "Chicago Fire," a fan posting on the same Reddit thread concluded, "It shows how dangerous firefighting really is, that it could happen to anyone."