Who Played Jamie Hoskins On Law & Order: SVU?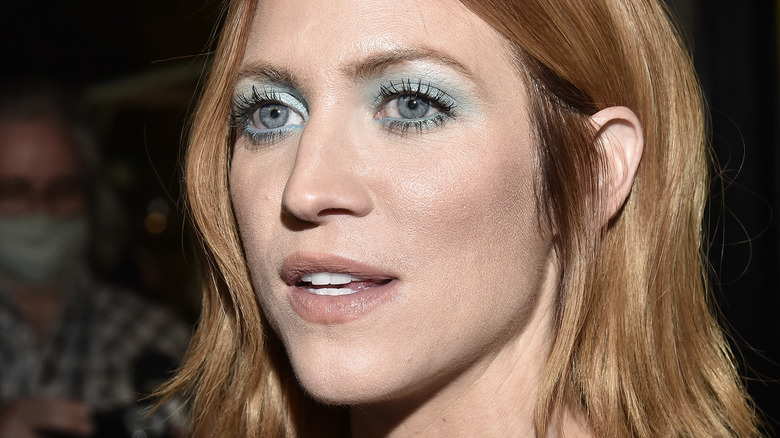 Tim Mosenfelder/Getty Images
"Law & Order: Special Victims Unit" Season 7, Episode 22 ("Influence") is a notable episode, not only for its focus on a complex situation involving mental illness, but also for Norman Reedus' portrayal of rock star Derek Lord four years before he'd become "The Walking Dead's" beloved Daryl Dixon. After Jamie Hoskins goes off her medication to treat her bipolar disorder, she goes into a manic phase. As a result, she acts hypersexually and attempts to cover it up by accusing two classmates of rape. She then attempts to kill herself, but instead runs over seven people, killing 14 year-old Elena Ramirez.
Reedus portrays Lord, a rock star who is very vocal about his belief that psychiatric medication is destroying today's youth. Jamie falls under his spell, which leads her to stop taking her medications. Lord arrives at the courthouse after Jamie goes to trial for the murder of Elena and offers to pay for Jamie's defense "on behalf of all victims of psychiatric abuse." Brittany Snow's nuanced performance as a scared teenager who's being pulled in multiple directions while dealing with uncontrollable, overwhelming emotions is frighteningly realistic. The actress responsible for the portrayal has turned up in some memorable films, and it's likely you're already familiar with her work.
Brittany Snow is best known for her work in Pitch Perfect
NBC
Brittany Snow first began acting as a child, and by 13 she'd secured a role on the soap opera "Guiding Light," playing Susan LeMay. She was recognized for her work on the show in 2001 when she received a Young Artist Award for Best Performance in a Daytime TV Series in the Young Actress category. But by then Snow was moving onto bigger things, having secured a starring role on the series "American Dreams" which she followed with her first film, "The Pacifier," starring Vin Diesel. But Snow refused to be pigeonholed, and her next unexpected role came on Ryan Murphy's edgy FX drama "Nip/Tuck," where she portrayed racist teenager Ariel Alderman.
Snow starred in several popular films like "John Tucker Must Die," "Hairspray," and "Prom Night," but the constant working was burning the actress out, and she took a year off. When she heard about "Pitch Perfect," she knew she needed to be in it. "That was my first thing back after taking a long time off [from] acting, and so I was just grateful to be there. I mean, every morning I was just grateful and excited to be a part of it," Snow told Collider. Snow has now played the role of Chloe three times, but is already changing things up.
She's jumped back into the horror genre, first with 2022's "X" and the upcoming "Stripped."