Star Trek: Discovery Season 2 Will Explore Spirituality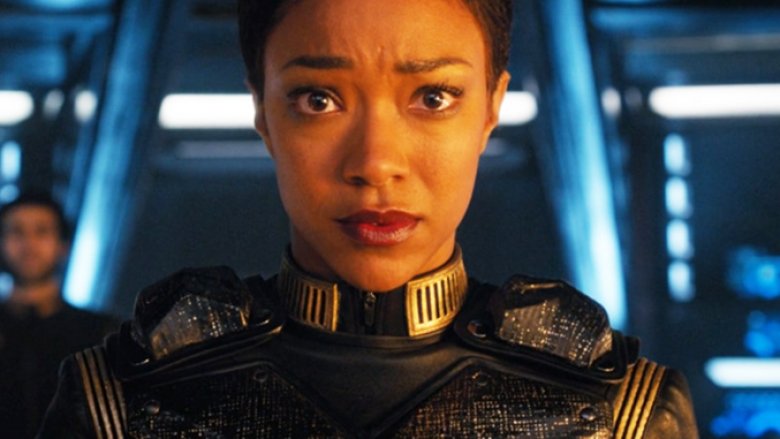 Star Trek: Discovery season 2 will differ from season 1 in a major way. 
During this weekend's WonderCon, TrekMovie took part in various roundtable interviews with Star Trek: Discovery creatives, including executive producers and showrunners Gretchen J. Berg and Aaron Harberts. The pair revealed that the upcoming season of the sci-fi prequel series will center on a new theme: spirituality. 
"Last season was [about] war and finding a way to peace. So ... this season, for lack of a better word, is sort of about 'spirituality' in Star Trek. What is the role of serendipity versus science? Is there a story about faith to be told?," Harberts explained. "We are dealing with space. We are dealing with things that can't be explained, and you have a character like Michael Burnham [the science specialist played by Sonequa Martin-Green] who believes there is an explanation for everything."
Harberts continued, clarifying that spirituality in this context isn't limited to religion. Star Trek: Discovery season 2 will explore "patterns in our lives," the "connections you can't explain," and the journey you embark on. "[It's about] who enters your life and who leaves your life and these indelible impressions people make, and the journey you take ... That is one of our biggest ideas now and it is threading through all of our characters' lives," said Harberts. "We've talked about how the Federation is an interesting organization and how everybody had managed to come together and put aside differences, but that is one area that we felt hadn't necessarily been explored."
Berg then chimed in to mention that Star Trek: Discovery will never present a theme or an idea in one particular way and ignore all over viewpoints. The second season's central focus on spirituality is no exception. "When we get good debates in the writers' room or just walking by the casting room or the kitchen, when we are talking about things in a certain way, it tends many times to lean into storytelling for the show. What we love to present [are] many different points of view. We are never wanting to say, 'This is the one way things have to be,'" stated Berg. "One of the joyous things about the Federation and Starfleet is so many different points of view are represented, and that is what we are going to continue to do on the show."
Though Star Trek is a sci-fi franchise, all of its series installments haven't shied away from looking into the complexities of spirituality. The Vulcan race as a whole is exceptionally spiritual, with Vulcan Lieutenant Tuvok (Tim Russ) was one of the most spiritual characters on the 1995 series Star Trek: Voyager. Additionally, the Klingon religion has always stood as a passage into the spiritual aspects of Star Trek. 
Considering the franchise's history, it's understandable that Star Trek: Discovery would take a nuanced approach to spiritualism. When you remember that the show's star, Martin-Green's Michael Burnham, was raised as a Vulcan and has a psychic bond with her adoptive father Sarek (James Frain), it makes perfect sense.
Star Trek: Discovery also features Doug Jones as Lieutenant Saru, Shazad Latif as Voq, Jason Isaacs as Captain Gabriel Lorca, Anthony Rapp as Lieutenant Paul Stamets, Mary Wiseman as Sylvia Tilly, and Michelle Yeoh as Philippa Georgiou, among others.
A release date for Star Trek: Discovery season 2 hasn't been announced.