Tom Cruise Jumps From A Plane At 25,000 Feet For Mission: Impossible Stunt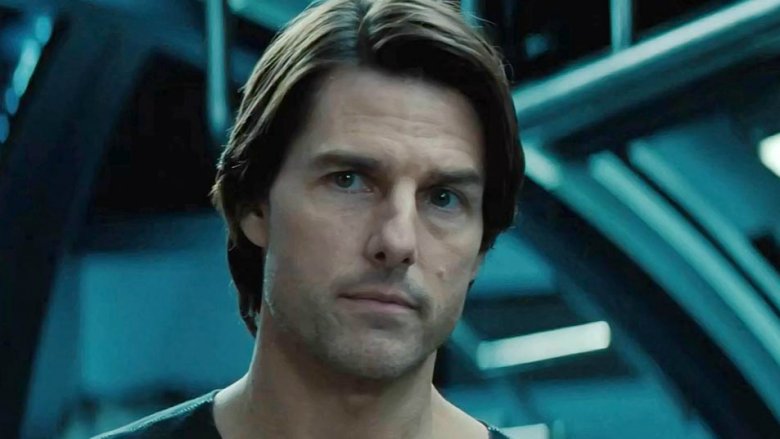 Tom Cruise definitely has his own ideas about what is or isn't the definition of possible.
Over the weekend, Mission: Impossible – Fallout director Christopher McQuarrie shared a photo on Instagram of Cruise getting ready for one incredible stunt, and it involves leaping from a plane at an astounding height. "Just one shot left. At 25,000 feet. At 200 mph. At dusk. Three minutes of available light. Two minutes of action. One chance per day," McQuarrie wrote in the caption.
McQuarrie has been posting photos from the shoot throughout production, and some look to be from the same plane stunt. Cruise also shared his own photo that shows the moment he made the jump. Take a look at everything below.
Last month, Cruise tweeted about another dangerous aerial stunt for the movie, in which he had to fly a helicopter. Producer Jack Myers pointed out, "It takes someone like three months of eight-hour days just to become a novice helicopter pilot. Tom needed to work 'round the clock to reach the level of skill the sequence needs."
It sounds like that could be the stunt that producer David Ellison previously alluded to when he said Cruise had trained an entire year for just one sequence in the movie. "What Tom is doing in this movie I believe will top anything that's come before," Ellison said. "It is going to be, I believe, the most impressive and unbelievable thing that Tom Cruise has done in a movie, and he has been working on it since right after Rogue Nation came out. It's gonna be mind-blowing."
Of course, Cruise is no stranger to putting himself in harm's way for the Mission: Impossible franchise. He clung to the side of the tallest building in the world for 2011's Mission: Impossible – Ghost Protocol, then dangled from the side of a plane in mid-air for 2015's Mission: Impossible – Rogue Nation.
And everything doesn't always go exactly as planned. While working on Fallout, Cruise broke his ankle while filming a stunt in which he jumps from one building to another. That prompted a temporary shutdown of production while he recuperated, but Paramount didn't change the release date. The movie — which co-stars Rebecca Ferguson, Ving Rhames, Simon Pegg, Michelle Monaghan, Henry Cavill and Alec Baldwin — is still slated to land in theaters on July 27.