Why Pelé Is Responsible For One Of Sylvester Stallone's Lowest Points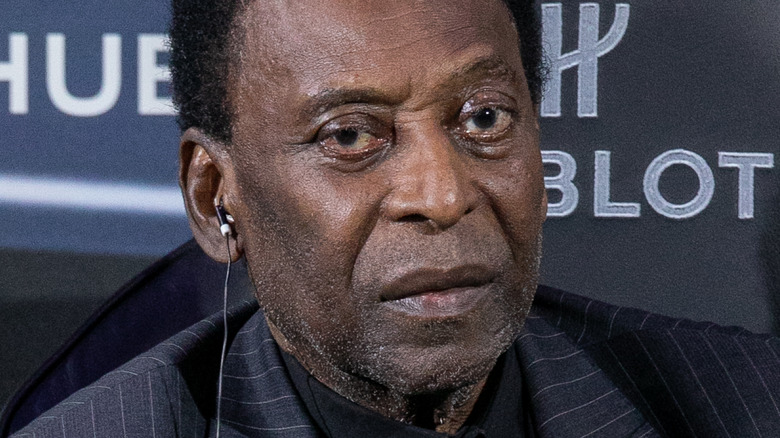 Marc Piasecki/Getty Images
A lot of safety measures are in place to ensure big-name Hollywood actors don't get hurt while shooting a potentially dangerous scene. Stunt doubles help to an extent, but sometimes, an actor wants to guarantee a level of realism. Occasionally, this has a habit of backfiring, resulting in a serious injury, which is bound to put everyone on set on edge. After all, what if production has to shut down to give the actor enough time to recover? It's a serious gambit, and it's one plenty of actors have learned about all too well. 
Everyone from Tom Cruise to Charlize Theron has suffered injuries while shooting, and fortunately, they've managed to get back on set relatively unscathed. As it turns out, you can add Sylvester Stallone to that list, as well. He's no stranger to action-oriented films, having starred in the "Rocky" and "Rambo" franchises. However, an injury he described as "one of the low points" of his life came while filming "Escape to Victory." And he got it from none other than the late, great football legend, Pelé. 
Sylvester Stallone broke his finger trying to block a kick from Pelé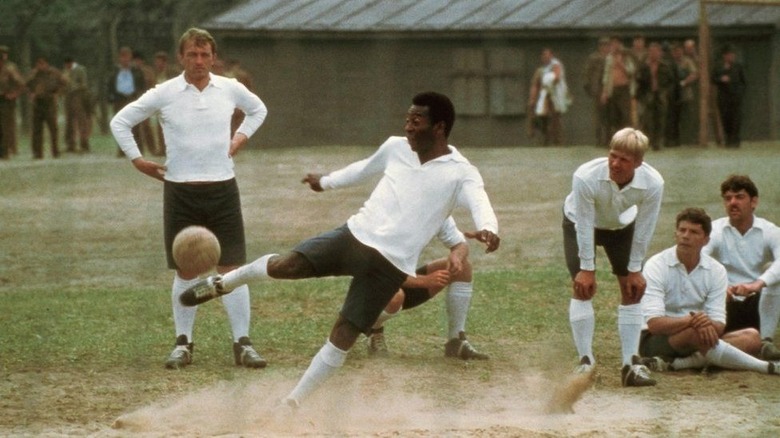 Paramount Pictures
"Escape to Victory" is a 1981 film about a group of Allied prisoners of war during World War II. They're assigned to play an exhibition football match against the German team, and one of the most intriguing aspects of the film is that it stars real-life footballers as the players. There's also sufficient star power in the form of Sylvester Stallone and Michael Caine, but arguably, it's Pelé who steals the show. 
Years later, Stallone recalled one particular interaction with the football legend where he ended up with a broken finger. The actor related, "What a butt-kicking I got! I still have a broken finger from trying to block a penalty by Pelé" (via Fox Sports). Apparently, Stallone didn't think trying to block a kick from the greatest footballer in the world would hurt so much, but he went on to elaborate, "He put on a pair of World War II shoes, which were steel-tipped, and the ball was like a cannonball — it was twice as thick and heavy as footballs are today. He was telling me he was going to take a shot and I thought 'It's soccer, what's the big deal? It's easy.'"
Unfortunately, blocking a kick from Pelé is nowhere near as easy as he should've imagined. Pelé called his shot and put the ball exactly where he said it would go. He kicked the ball again; this time, it ripped through the net and broke a window. Stallone may be experienced in the boxing ring at this point, but it looks like he still had a thing or two to learn about soccer.