NCIS Hired A Famous Impersonator To Play President Bush In The Show's First Episode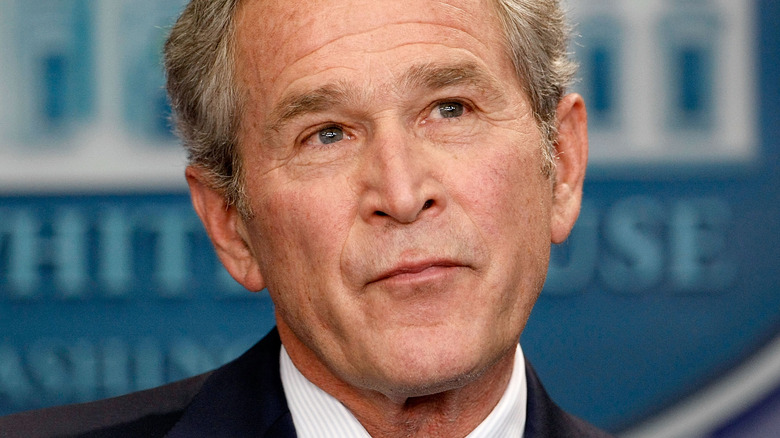 Chip Somodevilla/Getty Images
"NCIS" has been airing on CBS for so long – 20 seasons and counting, to be exact – that three U.S. presidents have finished their terms of office since the "JAG" spin-off started in 2003. The procedural crime drama's first episode premiered during a very different era in American history. 
The United States had recently begun a "Global War on Terror" after the 9/11 terrorist attacks (via The Atlantic). The series' first episode, "Yankee White," thus includes President Bush as a character, as well as references to terrorism and the then-current wars in Afghanistan and Iraq (via PopMatters). The episode's plot kicks off when a Navy Commander carrying the nuclear "football" dies. There doesn't appear to be any foul play at first, but Special Agent Jethro Gibbs (Mark Harmon) eventually discovers a possible attempt on President Bush's life.
President Bush even has the first line ever spoken on the series — yet "NCIS" didn't actually hire a dramatic actor to play the Commander-in-Chief.
NCIS' Bush impersonated him regularly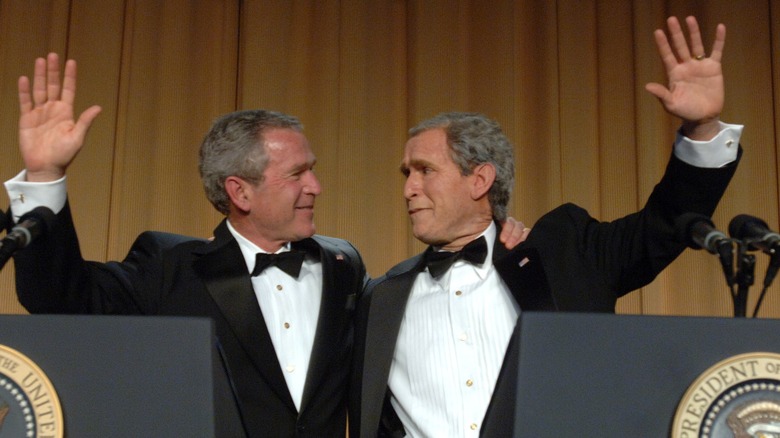 Pool/Getty Images
Comedian Steve Bridges was a man of a thousand impressions, including President Barack Obama, Bill Clinton, Arnold Schwarzenegger, and more. His biggest claim to fame though was impersonating George W. Bush (via The Hollywood Reporter). Bridges not only resembled the President, he even had his Texan drawl down pat. Casting him as Bush then must have seemed like a no-brainer to the "NCIS" producers. However, Bridges only makes a limited appearance in the episode, possibly because of his background in comedy rather than dramatic acting.
Bridges would continue to make appearances as President Bush until his death in 2012, including a double act with the real Commander-in-Chief during the White House Correspondents' Association's annual dinner in 2006 (via BBC News).
On "NCIS," Bush is later shown in pictures with former Secret Service Agent Caitlin Todd (Sasha Alexander). But neither Bridges, nor any other actor, played Bush again in the series. Ultimately, depicting a fictional version of a real president is the kind of creative decision that probably best belongs to a show's messy first episode.