The Special Effects In Chicago Fire's Elevator Episode Made It Really Fun For David Eigenberg
For an actor, each day of shooting is undeniably an adventure. No one knows that better than "Chicago Fire" actor David Eigenberg, who's been bringing the lovable Lieutenant Christopher Hermann to life since 2012. While the show's firehouse setting lends itself to plenty of adventure on its own, audiences never know what to expect from the personal drama between the characters. Thankfully for Eigenberg, his decade in the role has been a positive one.
In an interview with Stage Right Secrets celebrating his 200-episode run on the show, the actor got deep about the experience. "There's really nothing better," Eigenberg stated. With so many dramatic storylines and fun characters to interact with, working on "Chicago Fire" is something of a treat for the veteran actor. "I'd do another 200 episodes if I could, but I can't," he said with a shrug. At least audiences know he'll be around for a while; no need to say goodbye quite yet.
One of Eigenberg's favorites is Season 9's elevator episode, "My Lucky Day." To cut down on costs and hazards during the COVID-19 pandemic (per The Hollywood Reporter), most of the episode takes place in an elevator and relies heavily on a cast of two, Eigenberg's Lieutenant Hermann and Joe Miñoso as firefighter Joe Cruz.
A lot of effects, a lot of focus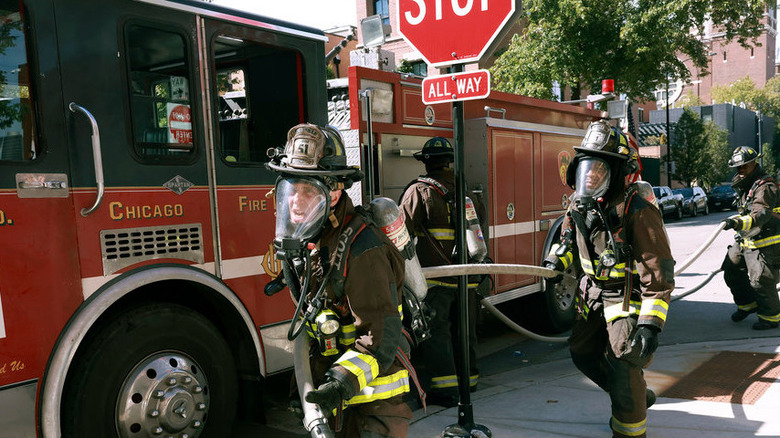 Adrian S Burrows Sr/NBC
David Eigenberg had nothing but positive things to say regarding the taping of "Chicago Fire" Season 9, Episode 5, "My Lucky Day."  Since the crew had to save money for the show's taping, they had to summon a bit of magic themselves, which Eigenberg wholeheartedly enjoyed. "The elevator was really crooked, and the crew had to work around that, and it was a nice story working with Joe Miñoso," he said of the experience. Audiences got to see the two characters swap stories as they tried patiently waited for rescue. Cruz shares some exciting news with Hermann, revealing that he and his wife are expecting.
In the end, the episode is about hope and perseverance, with the two characters gaining a better understanding of each other. "I had a beautiful time doing it," he enthused, expressing his gratitude for working with costar Miñoso.
Cheers to over 200 episodes, and hopefully many more with Eigenberg, who continues to enjoy how much the cast laughs together on set. To hear him tell it, the cast is like a big family. While Eigenberg has acknowledged that he won't be around for Episode 400, there should still plenty of time left to enjoy Lieutenant Christopher Hermann at Firehouse 51.