What Has Dora Madison Been Doing Since Leaving Chicago Fire?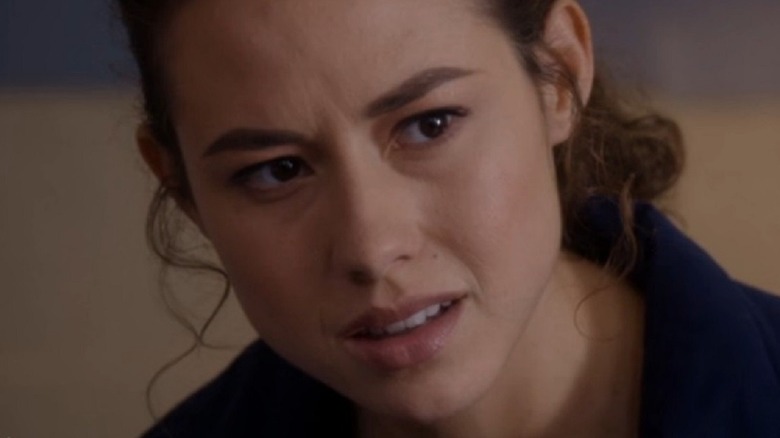 NBC
It's been a while since Jessica "Chili" Chilton exited "Chicago Fire." The character faced a challenging predicament during her run in Seasons 3 and 4; from her introduction, audiences saw her struggle to get comfortable with her new crew at Firehouse 51, and when she was just starting to feel welcome, Chili sees her sister die. While losing a family member is traumatic enough, Chili endures more pain as she turns to destructive coping habits, including excessive drinking. She makes a few critical mistakes on the job, and alcoholism takes over. Chief Wallace Boden (Eamonn Walker) fires her midway through Season 4 after he finds her drinking at work.
While Chili tries earnestly to keep her job, promising to attend rehab, too much damage has been done and the character flees, upset and insisting that her work family couldn't be a support system for her. The show's creators revealed the real reason Chili left "Chicago Fire" was purely a storyline decision and that they "liked the actress a lot."
Though not every "Chicago Fire" fan enjoyed her character on the show, Dora Madison has been involved in a few interesting projects since her character's abrupt exit.
A tortured artist in Bliss
In 2019, Madison strayed away from the medical drama television drama with her starring role in Joe Begos' horror-mystery film, "Bliss."
Madison plays an artist named Dezzy; none of her work is leaving her satisfied or feeling confident, and she's extremely tight for cash, which makes things even more frustrating. Dezzy is at a loss until she tries bliss, a hallucinogen drug made up of cocaine and DMT. While it helps her start painting again, Dezzy starts blacking out and forgetting pieces between her acid trips. While her career starts to flourish, she is discomforted by her blackouts. 
There are a lot of unknown pieces left up for discussion, such as mentions of vampires, as several scenes in the trailer show Dezzy with blood on her face, and various shots of her with weapons in her hands. Bliss makes Dezzy unhinged, and we can't help but feel unsettled as we gaze at her new painting, one entirely made up of what should be red paint, but might actually be blood.
"Bliss" is a drastically different role from Madison's previous stint on "Chicago Fire," which also has an 87% rating on Rotten Tomatoes.
Second and command in VFW
Madison teamed up with director Joe Begos again the same year in a supporting role in the film, "VFW." The film follows Elizabeth (Sierra McCormick) who is on the run from a psychotic gang leader after stealing a stash of drugs from him. Lizard, as is Elizabeth's nickname, shelters herself in a local Veterans of Foreign Wars hang-out, and is protected by a group of old war veterans including Fred Parras (Stephen Lang), Abe Hawkins (Fred Williamson), Walter Reed (William Sadler), Lou Clayton (Martin Kove), Thomas "Z" (George Wendt) and Doug (David Patrick Kelly). 
"VFW" is an intense action thriller, detailing a battle between a group of older war veterans, and a gang called Hypers. Boz (Travis Hammer), the film's main antagonist, is the evil leader responsible for the death of Lizard's sister, and the one after her when she steals Hype from him, the powerfully addictive drug that he uses to manipulate his cohort.
Madison plays Gutter, the second in charge after Boz. Blinded by an insane love and respect for her leader, Gutter meets a rather gruesome end during the film's climax, but she provides an entertaining evil accomplice while she was there.
It's obvious that Madison has an action thriller streak, so fans can only hope they see her in another freaky and thrilling project.