S. Epatha Merkerson Explains How Dick Wolf Created A Great World For One Chicago Crossovers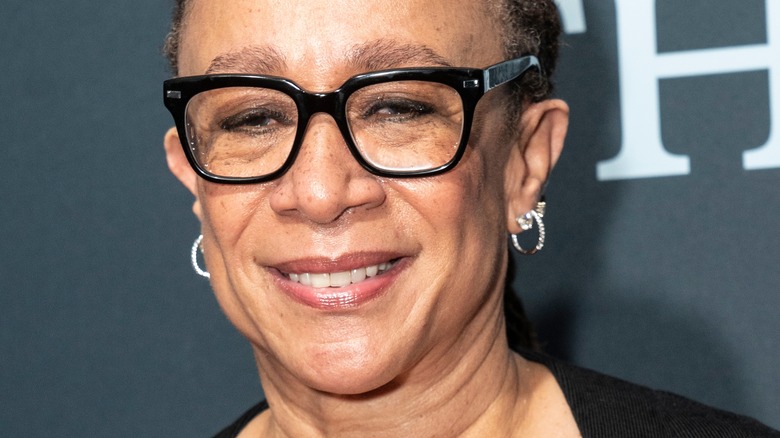 lev radin/Shutterstock
Before constructing the interconnected, crossover-friendly storytelling universe of the various One Chicago series, uber-producer Dick Wolf was best known as the creative force behind cop shows like "Hill Street Blues" and "Law & Order." But in 2012, Wolf decided to try his hand at devising a show about firefighters set within a major urban center. The city he zeroed in on for his new show was Chicago, and "Chicago Fire" became the foundational franchise in a Chi-town episodic TV empire that would eventually expand to include "Chicago P.D" in 2014, "Chicago Med" a year later, and the short-lived "Chicago Justice" in 2017.
Delivering consistently stellar ratings (per The Wrap) for home network NBC, the three continuing One Chicago series all have two elements in common: heroic first responders and a proven narrative formula. That storytelling pattern features a winning combination of adrenaline-fueled action on the front lines of firefighting, law enforcement, and medicine interwoven with compelling interpersonal drama. One of the longest-serving stars in the entire One Chicago slate of shows, S. Epatha Merkerson plays Hospital Administrator Sharon Goodwin on "Chicago Med." Merkerson's long history with the franchise makes her the ideal spokesperson to explain why Dick Wolf's Chicago-verse is the perfect platform for crossover episodes mixing and matching the casts and narratives of all three series.
The franchise is custom-made for crossovers
In an Entertainment Weekly roundtable interview featuring several actors from the One Chicago slate of shows, "Chicago Med" veteran S. Epatha Merkerson and "Chicago Fire" star Miranda Rae Mayo started the crossover discussion when they realized they'd first worked together when they shared a scene on "Chicago Justice." This revelation prompted Merkerson to delve into the reason that she felt the One Chicago series lends itself to interconnected stories in a way that Dick Wolf's "Law & Order" lineup of shows didn't. Referring to the Chicago-verse, Merkerson said, "It's a great world Dick has created and literally I think he tried to do that with 'Law & Order' but it just didn't work." The reason, she felt, had to do with the basic themes of the two different franchises, saying that "Law & Order" focused on homicides, but with the One Chicago shows, "You're dealing with three different segments of a community of first responders that are always dealing with one another."
Meanwhile, Wolf Entertainment director of programming Anastasia Puglisi offered another perspective on what makes the One Chicago world so conducive to crossovers. "It's a huge jigsaw puzzle, but we're all united by the central ethos of all of the Wolf shows; we're depicting the lives of the first responders who run directly into danger when others run away from it," she said (via Wolf Entertainment).