Nicolas Cage's Acting Eccentricities Nearly Got Him Fired From Moonstruck And Peggy Sue Got Married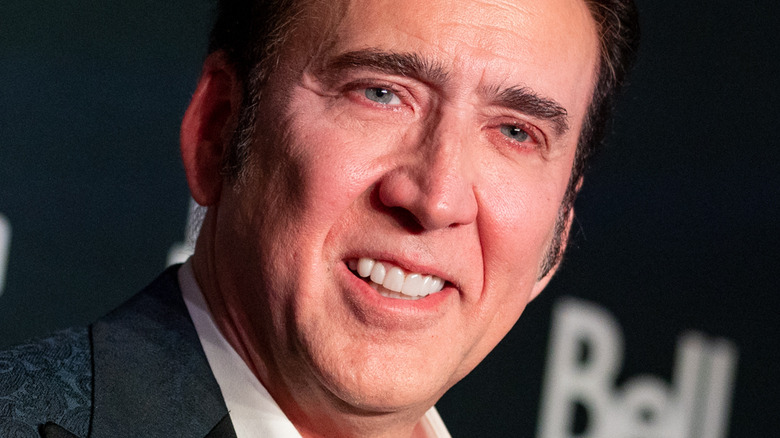 Emma Mcintyre/Getty Images
Nicolas Cage was born into an indelible Hollywood pedigree: he is, after all, the nephew of filmmaking titan Francis Ford Coppola and the "Rocky" franchise's first female lead, Talia Shire. Nevertheless, he proved himself to be a legitimate, Academy Award-winning talent during his four decades in the business. Along with his carefully cultivated craft, Cage won the best actor in a leading role Oscar for his performance in "Leaving Las Vegas," and the thespian has played virtually every role imaginable on the Silver Screen.
From his unforgettably wacky portrayal of the kind-hearted thief turned family man H.I. McDunnough in "Raising Arizona" to the diabolical sociopath Castor Troy in "Face/Off" to his poignant performance as Seth in "City of Angels," there's not much more for Cage to prove. He's even contributed to DC and Marvel projects alike, having voiced both Superman ("Teen Titans Go! To the Movies") and Spider-Man Noir ("Spider-Man: Into the Spider-Verse"). However, Cage still has acting hurdles he wants to clear.
"I haven't done a musical yet," Cage said in an interview with Empire. "I'd like to try that. I'm not much of a singer. I did sing okay in 'Wild At Heart,' I thought, but I've since blown my voice out singing 'Purple Rain' incorrectly in karaoke bars." Even with Cage's masterful acting techniques, and his innate ability to tackle any number of diverse characters, the actor isn't infallible. Did you know Cage's approach to his work in "Moonstruck" and "Peggy Sue Got Married" nearly got him fired?
Cage's behavior almost cost him his roles in Peggy Sue Got Married and Moonstruck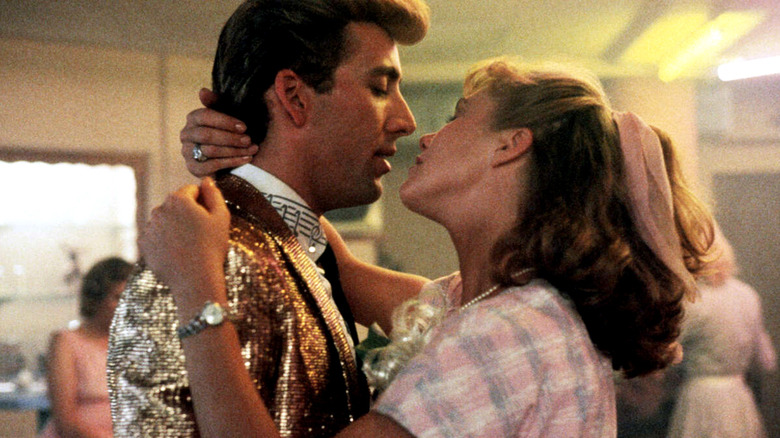 TriStar Pictures
It's hard to imagine an A-list performer with Nicolas Cage's infinite number of movie credits finding himself on a filmmaker's chopping block during a production. But the star of "The Rock," "Con Air," and "National Treasure" found himself in such a predicament not once but twice. The first time Cage was almost fired from the set was when he played the cheating husband, Charlie Bodell, of Kathleen Turner's seemingly time-traveling Peggy Sue in 1986's "Peggy Sue Got Married."
"During the making of 'Peggy Sue Got Married' they flew up from Tri-Star to fire me," Cage revealed in an interview with Empire. "I was approaching the character with a Jerry Lewis attitude in terms of vocals and behaviour." A year later, Cage found himself in danger of being fired again while starring alongside Cher in "Moonstruck." In the romantic comedy, Cage played the integral role of Ronny Cammareri, who is contending for Loretta's (Cher) affections along with his older brother, Johnny (Danny Aiello). 
"Oh, yeah, I almost got fired on 'Moonstruck' because I was trying to play it like Jean Marais in 'Beauty And The Beast,'" Cage said in the same interview. "Norman Jewison [the film's director] called me on Christmas Eve and told me the dailies weren't working. That was pretty scary, so I immediately dropped all that." 
Cage reiterated that he came oh-so-close to being axed on both films, but everything worked out at the end of the day and he didn't get fired after all.