The Darkest Minds: Get Your First Look At Amandla Stenberg's YA Thriller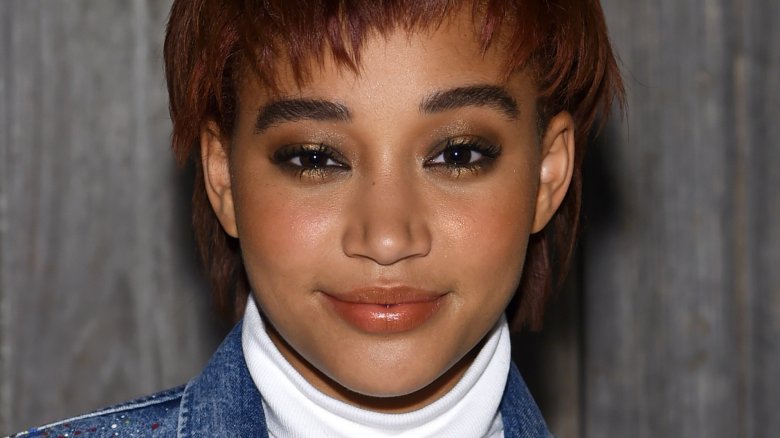 Daniel McFadden/Entertainment Weekly
The first look at The Darkest Minds, 20th Century Fox and director Jennifer Yuh Nelson's dystopian thriller based on Alexandra Bracken's young adult novel of the same name, has arrived. 
Entertainment Weekly unveiled a batch of images from the upcoming film, which stars Amandla Stenberg (The Hunger Games) as Ruby, a 16-year-old whose life was fairly average before a plague struck and killed 98 percent of the world's children. The kids who managed to survive the epidemic emerged from it with super-human abilities, and were subsequently labeled with different colors (like terrorism threat levels) to indicate how dangerous their powers are. 
Director Yuh Nelson gave a run-down of the color coding system: "The first one is green, where they show heightened intelligence. They're super smart, basically savants. Then you have blues that are able to move things telekinetically. Then there are yellows, which are able to basically short out anything that's electric. So they're not good to have around your appliances. Then there are the oranges that are able to control people's minds. And then the reds, [which are fire starters]."
One of the survivors is, of course, Stenberg's Ruby, who was stamped with an "orange" label and placed in an internment camp called Camp Thurmond. There, Ruby befriends Liam (Harris Dickinson), a "blue" who can move things with his mind; Zu (Miya Cech); a "yellow" who can control electricity; and Chubs (Skylan Brooks), a "green" who acts as a strategist to his group of pals. The three teenagers use their abilities to escape from camp and to a world they haven't seen in 10 years. 
"[Ruby] meets this group of kids who completely change her life. They figure out how to survive in this world together," Stenberg told EW. "It activates an independence and she finds a sense of family. That's something that she's wanted so badly, to be close to people."
The snaps show the four super-powered teens looking determined as they stand between railroad tracks, discover a van they name "Blue Betty," and venture through an abandoned shopping mall. 
The Darkest Minds also touts a stellar adult cast, including Mandy Moore (This Is Us) as Cate, the kindly doctor at Camp Thurmond, and Gwendoline Christie (Star Wars: The Last Jedi, Game of Thrones) as Lady Jane, a bounty hunter who is determined to capture Ruby and her crew. The first-look images give us a sneak peek at Moore's character, but Christie's Lady Jane hasn't yet been revealed in photo form. 
The Darkest Minds is set for release on August 3.