NCIS Creator Donald Bellisario's Kids Have Held Roles On Both Sides Of The Camera
Work can be a family affair, especially if you belong to Donald Bellisario's family. The screenwriter and television producer behind "NCIS," "Magnum P.I.," and "JAG" has led a long and successful career that wouldn't be complete without family ties in the mix. 
Donald Bellisario is the proud father of seven children through four marriages, and many of his children followed in his footsteps by staying close to the field of television and going on to act or produce segments for some of his shows. Some of the names will be pretty familiar; Troian, a daughter from his third marriage, is better known for her appearance as Spencer in the teen drama mystery series "Pretty Little Liars." Fans of the long-running "NCIS" series might recall seeing her face in a couple of early episodes as Sarah McGee; she was twenty years old at the time she starred in the show and her character was the younger sister of NCIS special agent Timothy McGee (Sean Murray) who happened to find her fake ID in one of the episodes.
Michael, a son from Bellisario's second marriage, portrayed Charles "Chip" Sterling on "NCIS," following his time on his father's other show, "JAG" as midshipman Mike Roberts. He appeared on that show for ten years in 29 episodes. Charles "Chip" Sterling was a lab assistant to Abby (Pauley Perrette), and ends up being arrested during his appearance on "NCIS."  
While Troian and Michael pivoted toward acting, their siblings flourished in producing. 
More acting and then some producing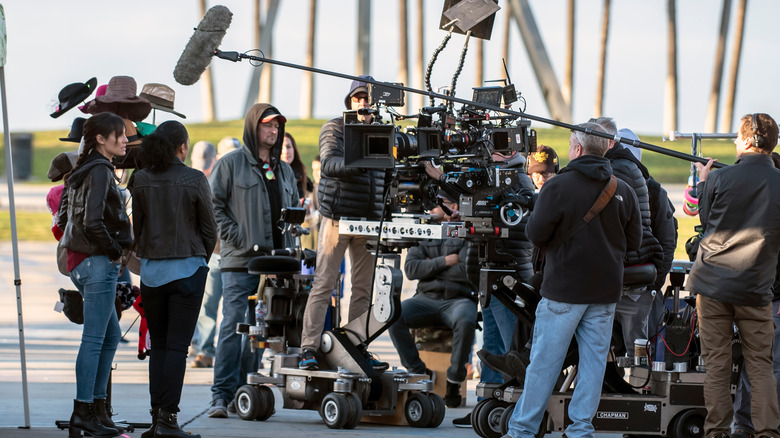 John Dvorak/Shutterstock
Donald Bellisario's three other children within the acting and producing realm are Nicholas, Julie, and David. 
His older children, Julie and David, a son and daughter from his very first marriage, both had a part in producing episodes for "NCIS." Julie stayed for a year between 2008 and 2009, while David worked on "NCIS" from 2003 until 2009, and then transitioned to the spinoff "NCIS: Los Angeles" where he stayed from 2009-2019. David, sadly, passed away in 2020, but Julie moved on to work on the 2011 film "Dimensions" directed by Sloane U'Ren though not much else about her has been known since then. 
Nicholas, Troian's younger brother, played the character Marcus in an episode of his father's show "JAG." The episode he appeared in served as a pilot episode for the later series "NCIS." In that episode, audiences were introduced to Leroy Gibbs (Mark Harmon), Anthony DiNozzo (Michael Weatherly), and Abby Sciuto (Pauley Perrette). 
Donald Bellisario indeed influenced his audiences and television, but also his kids. They might not have discovered acting or producing had it not been for their old man. Fans will continue to enjoy the talent that prevails from this big and happy family; there will be more to enjoy as time goes on.