Mark Hamill Insisted On Changing One Moment In The Last Jedi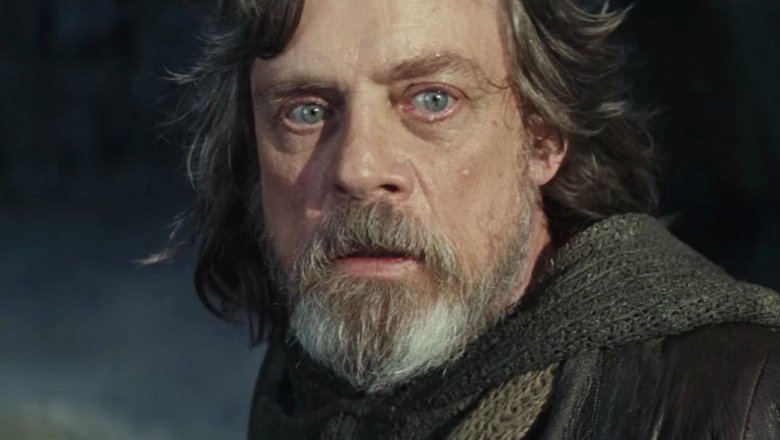 It's hardly a secret that Mark Hamill and Star Wars: The Last Jedi writer-director Rian Johnson disagreed on their visions for Luke Skywalker in the latest saga installment. Being the level-headed men they are, however, Hamill and Johnson never let their creative differences cause a rift between them, and Hamill happily stuck to Johnson's script. Well, with the exception of one small detail, that is. 
During an appearance on Entertainment Tonight, Hamill revealed the moment in The Last Jedi he insisted on changing in the middle of filming. 
As Johnson originally wrote it, the emotional scene in which Luke finally reunites with his long-lost sister Leia (Carrie Fisher) didn't include the Jedi acknowledging his old droid buddy C-3PO. Any Star Wars fan would have found that moment odd, as C-3PO was one of the closest companions Luke ever had. Hamill, arguably the biggest Star Wars fanatic out there, pointed this out to Johnson, hoping he would right the wrong. 
"Initially, I didn't acknowledge [C-3PO]. I walked right past him," Hamill explained. "I said, 'Rian, look it, after all those years of service, even though we haven't been in contact in recent years, [C-3PO] was the closest to a sidekick I had. Harrison [Ford, who plays Han Solo] had Chewie, and I had [R2-D2] and [C-3PO]."
Johnson was completely understanding of Hamill, and agreed that the moment should be changed right then and there. "[Rian's] so accommodating and so collaborative. He said, 'Oh, absolutely, you should go over there,'" said Hamill. "We didn't really have time to script anything, just to acknowledge him, and that's what I did."
To refresh your memory, the scene in question features C-3PO spotting Luke and addressing him with an emotional "Master Luke!" as the Jedi prepares to fight his nefarious nephew, Kylo Ren (Adam Driver). Luke responds to the droid with a cheeky silent wink. Though he didn't actually say anything to C-3PO, Luke answering his pal is important given their intense shared history. 
Some fans probably would've been angry if Johnson didn't include the moment and Luke ignored C-3PO as planned. Something similar happens in The Force Awakens, when Leia embraces Rey (Daisy Ridley) rather than consoling Chewbacca after Han Solo dies. Many fans were upset that director J.J. Abrams sidelined the Wookiee, who was Han's best friend and his longtime Millennium Falcon co-pilot. 
Abrams later admitted that he made a mistake with that scene: "That was probably one of the mistakes I made in that. My thinking at the time was that Chewbacca, despite the pain he was feeling, was focused on trying to save Finn [John Boyega] and getting him taken care of. So I tried to have Chewbacca go off with him and focus on Rey, and then have Rey find Leia and Leia find Rey."
Not everyone loved Star Wars: The Last Jedi, but there's no denying that the small exchange between Luke and C-3PO is one thing the film definitely got right.