The Righteous Gemstones Season 3 - What We Know So Far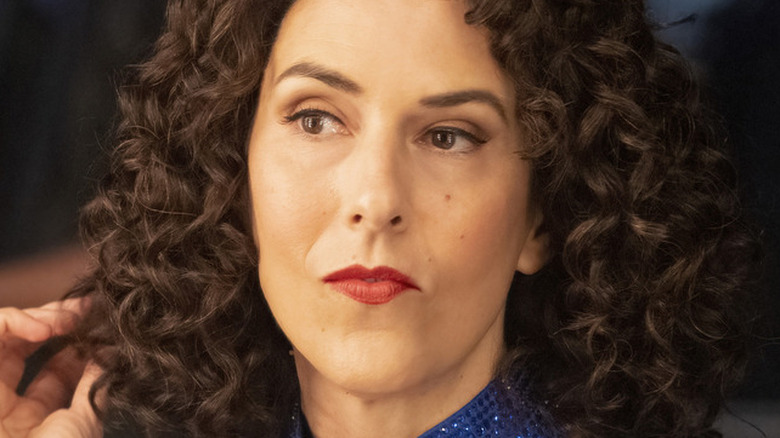 Ryan Green/HBO
Even if you don't regularly attend Sunday mass, "The Righteous Gemstones" is there to give you the main idea of how these mega-churches operate, perhaps with more crimes than what you might see otherwise. For two seasons, fans have tuned into HBO and HBO Max to see family patriarch Dr. Eli Gemstone (John Goodman) try to prepare his three children — Jesse (Danny McBride), Judy (Edi Patterson), and Kelvin (Adam DeVine) — to take over the church one day once he steps down. Of course, as tends to be the case with kids raised in immense wealth, they feel like they should simply be handed nice things, while Eli is a bit more old-fashioned.
Partway into the show's second season, it was picked up for a third (via TV Line), meaning fans could rest easy knowing more Gemstones were on the way. That was in January 2022, so let's see what else we can glean from the next installment of the series so far. 
When will The Righteous Gemstones Season 3 be released?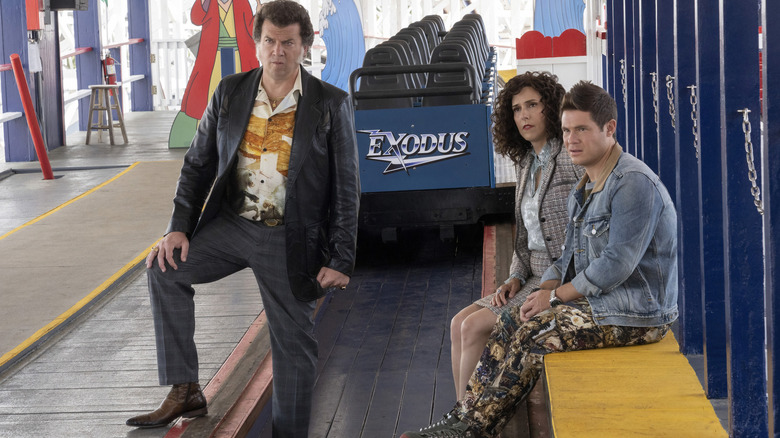 Ryan Green/HBO
Fortunately, fans can be reasonably assured that Season 3 of "The Righteous Gemstones" will come much sooner than Season 2 did in relation to Season 1. The first season of the HBO comedy came out in August 2019. Due in part to the COVID-19 pandemic, the second season didn't come out until January 2022, but as mentioned previously, the third season announcement came in the middle of that season's run. This likely allowed the cast and crew to get started with filming sooner than expected, resulting in a Season 3 that's bound to come out at some point in 2023. 
HBO Max released a video showcasing its upcoming slate of properties releasing in 2023. While the highlights of the trailer are such series as "The Last of Us" and "True Detective: Night Country," it does include some brief clips from the forthcoming season of "The Righteous Gemstones." There's not much to learn from the footage other than the fact the next season will debut on the platform at some point in 2023. Deadline reported that Season 3 episodes of "The Righteous Gemstones" would make their public premiere during the ATX TV Festival in Austin in June 2023. The HBO debut should be just around the corner from that.
What is the plot of The Righteous Gemstones Season 3?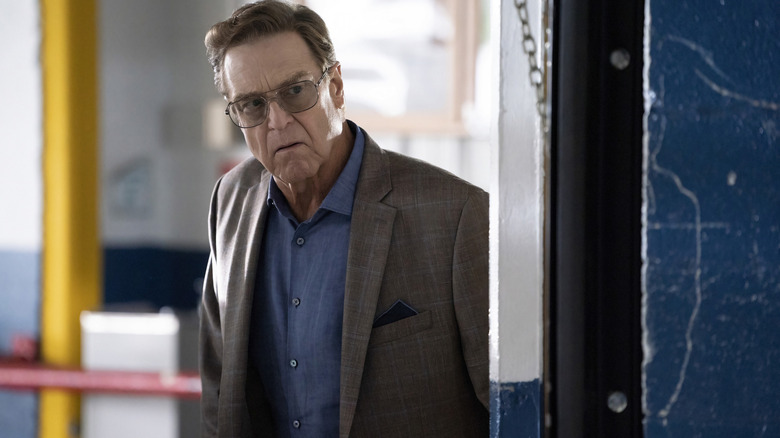 Ryan Green/HBO
"The Righteous Gemstones" Season 2 definitely upped the ante compared to the first season. While the first batch of episodes mainly focused on Jesse and his immoral exploits, the second brought a greater focus to the other siblings. It also introduced a slew of guest stars to help aid the Gemstones in their mission or get in the way. 
We don't know much about the plot of "The Righteous Gemstones" Season 3 at this point, especially since there isn't a trailer out right now, but it's safe to say there are certain plot points from the second season that will influence the next installment. The last time we saw the Gemstones, they had taken complete control over Zion's Landing. They also dispatched Lyle (Eric André) and Lindy (Jessica Lowe) after it was uncovered that they were behind the Cycle Ninjas and the attempt on Jesse's life. 
With Lyle and Lindy out of the picture, there's enough room for more supporting characters to enter the fray. It's possible Zion's Landing could play a role, or (as tends to be the show's specialty) it could go in a completely different direction. We'll just have to wait and see.
Who is starring in The Righteous Gemstones Season 3?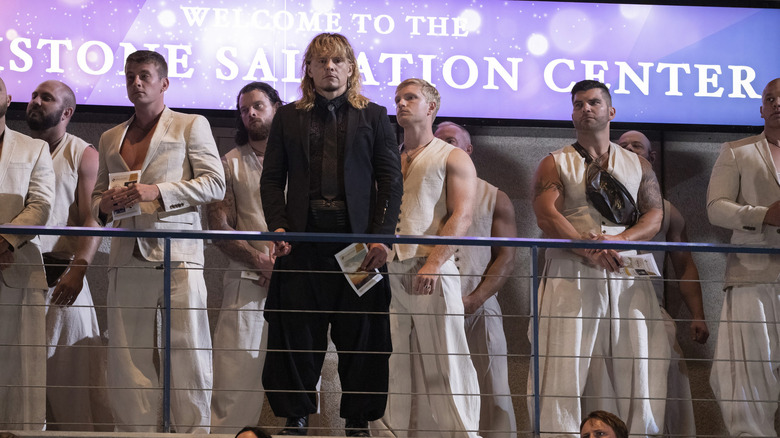 Ryan Green/HBO
One should anticipate the main cast of "The Righteous Gemstones" to return to reprise their roles. In addition to the four primary Gemstone members, that also includes Tony Cavalero as Keefe Chambers, Cassidy Freeman as Amber Gemstone, Skyler Gisondo as Gideon Gemstone, Walton Goggins as Baby Billy Freeman, Valyn Hall as Tiffany Freeman, Tim Baltz as Benjamin Jason "BJ" Barnes, and Gregory Alan Williams as Martin Imari. 
We also know of at least two new faces joining the Gemstones' exploits. Kristen Johnston, best known for her parts in "Mom" and "3rd Rock From the Sun," has been cast in the show in a recurring capacity, but nothing is known about her character at this stage (via Variety). Additionally, the fictional family will be joined by Steve Zahn, who was recently nominated for an Emmy for his work on "The White Lotus" (via The Wrap). It should come as no surprise the show has managed to amass such high-profile comedic talent, and audiences should prepare for plenty of laughs with the Gemstones' next adventure. 
Who is directing The Righteous Gemstones Season 3?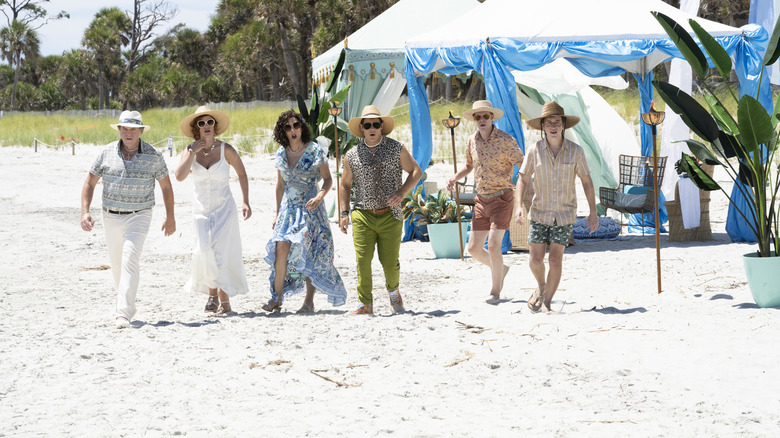 Ryan Green/HBO
Throughout the 18 episodes that comprise the show's first two seasons, there have only been three directors — Danny McBride, David Gordon Green, and Jody Hill. One should anticipate that pattern continuing going into the third season, especially seeing how Hill recently signed a massive deal with HBO to stay within the family. 
In April 2022, The Hollywood Reporter had the exclusive scoop that Hill had signed an overall deal with HBO. The agreement lasts for one year and would give WarnerMedia exclusive rights to anything he wants to make in a directorial or producing capacity. Amy Gravitt, the executive VP of programming for HBO, said in a statement, "Jody has been responsible for some of the hardest laughs on our comedy slate over the past decade. I'm thrilled that he'll be returning to 'The Righteous Gemstones' for Season 3, and am looking forward to the new stories he wants to tell." Considering McBride and Green are also intimately linked with the production, it's safe to say the director's chair will have some familiar faces going into Season 3. 
Where to watch previous seasons of The Righteous Gemstones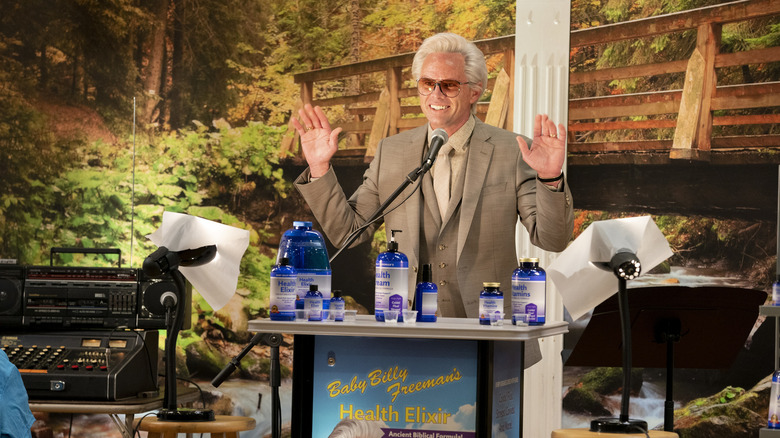 Ryan Green/HBO
The easiest way to catch up with your favorite hypocritical religious family is to subscribe to HBO or HBO Max. The first two seasons are streaming on those platforms in their entirety, and when Season 3 finally debuts, it will release episodes weekly on those services. If you don't feel like purchasing another streamer but still want to be in the know with one of the funniest shows around, you can purchase episodes through a number of platforms. 
Individual episodes are available to buy starting at $1.99 per episode from Vudu, Apple TV, and Prime Video. The first two seasons have also been released on DVD and Blu-Ray, so if you're still into collecting physical media, that's always an option as well. Plus, it's good to have physical copies in case WarnerMedia decides to purge its library further. It's unlikely it would happen to "The Righteous Gemstones," seeing how new episodes are on the way, but that's what we thought about "Minx," and look what happened there. 
What will The Righteous Gemstones Season 3 be rated?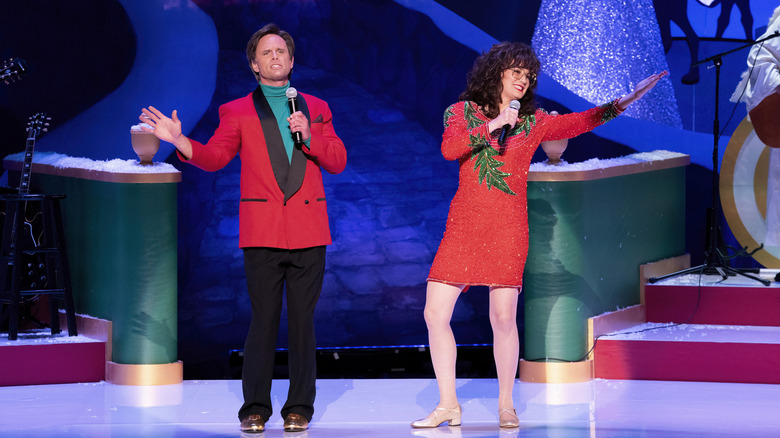 Ryan Green/HBO
The past two seasons of "The Righteous Gemstones" have been rated TV-MA and for good reason. The show regularly dabbles with mature themes, including profanity, nudity, and references to anything and everything taboo. It's honestly to be expected, seeing how Danny McBride's other HBO projects ("Eastbound & Down," "Vice Principals") followed in the same path. 
Suffice it to say, "The Righteous Gemstones" is definitely something you won't want to watch with your kids or parents in the room. Best to wait until everyone else has gone to bed as you silently dampen your uproarious laughter at McBride's antics. There's no reason to suspect that Season 3 will be any different; if anything, it may even go harder than previous seasons. 
There may not be a trailer for "The Righteous Gemstones" Season 3 at this point, but if you've seen even a single episode of the series, it likely doesn't matter. You're probably hooked and waiting on bated breath to learn more of when new episodes will be released.