Who Played April Troost On Law & Order?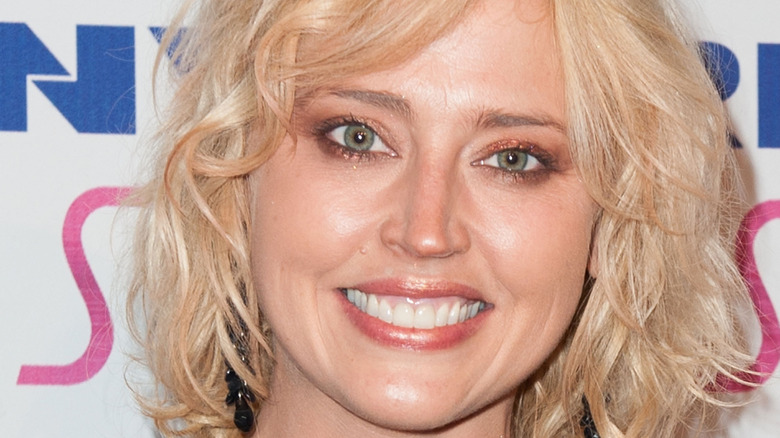 Jennifer Lourie/Getty Images
It truly is hard to believe that a series like "Law & Order," which has been churning out episode after episode since 1990, wasn't an instant hit. In fact, the show was in danger of being canceled if producers didn't make certain changes, based on its initial low ratings. The NBC series, which was originally almost titled "Day And Night," eventually gained more and more popularity. Fans latched on to the unique style of splitting episodes in half, with the first following the law enforcement side of a case and the second, it's eventual courtroom conclusion. The continually growing audience tuned in to not only experience each new case, but to also see the  different actors portraying the suspects. And for a series that has aired more than 450 episodes, that list of guest stars is quite impressive, to say the least.
"Law & Order," which has now lasted over 22 seasons, has seen its fair share of familiar actors. "Stranger Things" star David Harbour played multiple characters, split between the original show and two spinoff series. Another "Stranger Things" performer, Cara Buono, popped up five different times. These are just a few examples of the revolving door of actors who have portrayed one of the show's many fascinating characters, both before and after their careers took off. One of these on-screen performers played a young, unsuspecting con artist on the series, not long after she stepped in front of the camera for director Tim Burton.
The actress starred in a Tim Burton film.
Despite only appearing in just two episodes in the "Law & Order" universe, the character of April Troost got plenty done in her short stint. April is played by Estella Warren, most notably known for portraying the future-Earth-mute, Daena in Tim Burton's "Planet of the Apes" reboot. Her character on "Law & Order" is a seemingly innocent rape victim who's actually a con artist that steals men's sperm to impregnate herself in order to scam desperate couples who are willing to pay a significant fee for a healthy baby. The role not only allowed Warren to step into the shoes of a manipulative criminal, but she also got to work with Lynda Carter, who played her mother on the show.
Before her career took off, Warren definitely proved she had the chops to be in front of the camera. The Canadian-born performer (via TheFamousPeople) kicked off her career as a model, and was featured on covers of magazines like Cosmopolitan, Vogue, and Vanity Fair. Despite Warren moving forward to find success in TV and film over the years, she unfortunately ran into some legal issues. The Huffington Post reported that back in 2011 she was arrested for driving under the influence, reportedly hitting three parked cars. Warren was again arrested in 2017 for domestic violence after she allegedly threw cleaning liquid at her boyfriend during an argument.