That '70s Show Rehearsals Hold A Special Place In Kurtwood Smith's Memory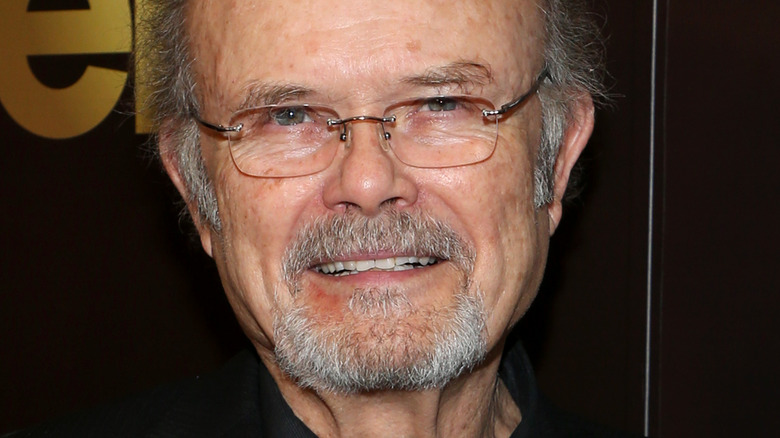 Phillip Faraone/Getty Images
"That '70s Show" — which was created by Bonnie Turner, Terry Turner, and Mark Brazill — is easily considered one of the more popular sitcoms of recent years. Set in, well, the '70s, the series follows a group of teens — Eric Forman (Topher Grace), Donna Pinciotti (Laura Prepon), Michael Kelso (Ashton Kutcher), Jackie Burkhart (Mila Kunis), Steven Hyde (Danny Masterson), and Fez (Wilmer Valderrama) — who are forced to make their own fun seeing as there's not much to do in the (fictional) town of Point Place, Wisconsin. That fun often includes the friend group hanging out in the basement of Eric's parents, Red (Kurtwood Smith) and Kitty (Debra Jo Rupp), and smoking marijuana — although the drug is never said out loud by the characters.
Fans of the show are likely to have a fondness for Smith, who portrayed the grumpy Red, who, despite being hard on Eric and his friends, often showed that he also had a soft side. Smith — alongside Rupp, with whom he has excellent chemistry — was a vital part of the series.
And, as it turns out, the feeling was mutual, as Smith has plenty of fond memories of his time on "That '70s Show."
Smith especially has fond memories of the show's rehearsals
Back in 2014, Kurtwood Smith did a Reddit AMA (ask me anything), in which he answered fan questions about his career — which, of course, includes the eight seasons he spent playing Red on "That '70s Show." When u/Langord asked what Smith most remembers about his time on the sitcom, he had nothing but kind things to say about his experience — especially the rehearsals for the episodes.
Smith wrote, "Probably the rehearsals? We would rehearse a couple days every week, and they were special, especially rehearsing scenes in the kitchen. It was very comfortable and we felt like we were doing fun stuff." The actor then went on to note how different the rehearsals are from the actual shooting on the episodes. In reference to shooting the episodes in front of the live audience, Smith wrote, "It isn't like anything else. Not like doing a play, not like doing a movie, or a normal TV show, because of the audience, and because the audience is very excited, it's kind of like being in a rock show or something, everybody is excited, energy flying all over the place."
Because of the unique energy of filming the episodes in front of an audience, Smith then reiterated the importance of the rehearsals. He concluded, "SO part of the trick of doing that is being able to do what you rehearsed all week while all this craziness is going on all around you!"
Smith was ecstatic to return to playing Red for That '90s Show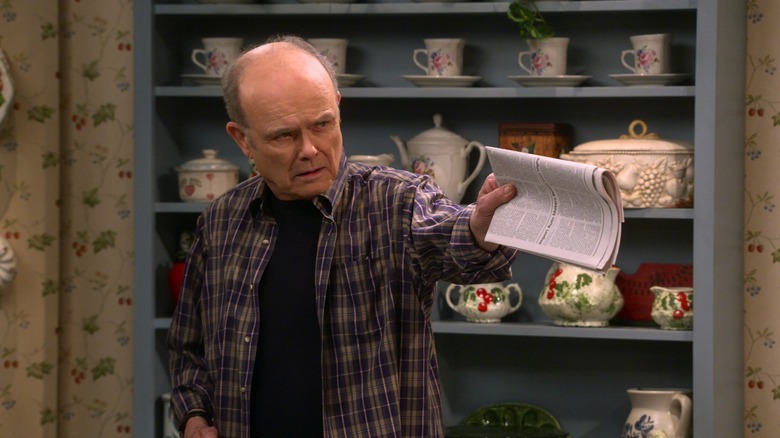 Netflix
Back in October of 2021, Netflix announced the exciting news that "That '70s Show" was being brought back to life in the form of a sequel spinoff titled "That '90s Show" (via Entertainment Weekly). And at the forefront of the revival news was the major detail that Kurtwood Smith and Debra Jo Rupp would be reprising their roles as Red and Kitty Forman as series regulars in the new series.
Months later, in May of 2022, Smith spoke with ComicBook.com about his decision to return to the series, naming two major reasons for wanting to return: playing Red again and working with Rupp again. Smith said, "I can tell you that the big thing for me was getting to play that character again and getting to play that character with Deborah Jo Rupp playing my wife Kitty. Those two things were enough to entice me to want to do the project." Smith then added that working with Greg Mettler, who was a writer on the original series and co-created the revival, was also a big factor in his wanting to return.
Additionally, Smith had nothing but praise for the upcoming new show, revealing that they had completed the first two episodes at the time of the interview. He added, "The response has been terrific [so far]. So I think you're going to be very happy."