Who Played Andrea Fermi On Law & Order?
"Law & Order" and all of its various spin-offs have certainly seen quite a few actors show up as guest stars during the decades the shows have been airing. Some were already well-established actors when they agreed to appear, and even won Emmy awards for their appearances, such as Ellen Burstyn and Cynthia Nixon. But for many more, an appearance on "Law & Order" meant that your career was on its way up. 
The early seasons of "Law & Order" didn't see any famous cameos, but there were plenty of appearances by actors who would later become better known to audiences, such as Frances Conroy, William H. Macy, and Philip Seymour Hoffman. "It's a credit again to the writers that I think there is almost a path for doing the 'Law & Orders,'" creator Dick Wolf told The Futon Critic about their luck with guest stars. "It's not like 'Oh my god, he's doing episodic television now?' But when people show up, they know that it's not going to damage their ability to still be on the big screen for roles or is going to preclude or pigeonhole them into a category that they had not been in before. And that is very advantageous."
With so many guest stars, it may be hard for fans to remember everyone who appeared on the show. For example, for those that remember the intense storyline from "Out of Control" in Season 2, you may be trying to remember who played Andrea Fermi.
Noelle Parker played Andrea Fermi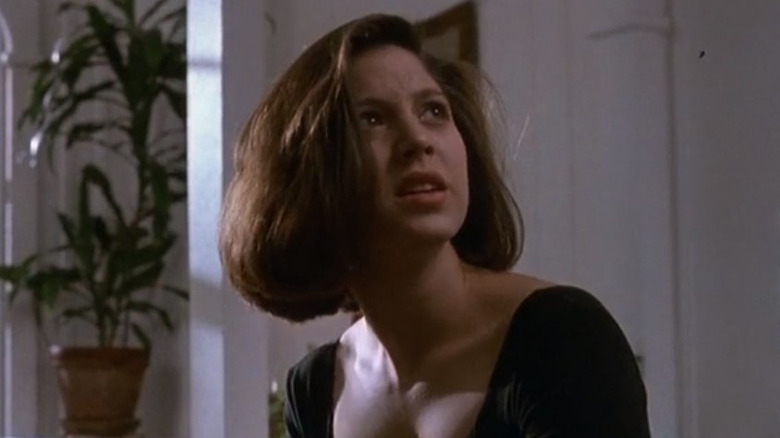 NBC
In "Law & Order" Season 2, Episode 8, Noelle Parker plays Andrea Fermi, a student who accuses two fraternity brothers of raping her at a party. But after digging into her past and discovering discrepancies in her story, many involved with the case begin questioning the accuracy of her story and sympathizing with the men she's accusing. Parker plays a distraught, confused, and frustrated girl who realizes she doesn't make the perfect victim, but insists she's telling the truth.
Before appearing in "Law & Order," Parker was best known for her role as Harmony in "Ernest Saves Christmas." After playing Andrea Fermi, she played Amy Fisher in "Amy Fisher: My Story," and took over from Ashley Judd in the role of Reed Halsey in the series "Sisters." She also appeared as a guest star in shows such as "NYPD Blue" and "Touched by an Angel."
While her last film was 2018's "We Only Know So Much," in which she was also a producer (via IMDb), it seems Parker has embarked on a new path. In March 2022, the East Hampton Star announced that Parker was teaching a six-week acting workshop called "The Art of Making Choices" at the Bay Street Theater. According to her Instagram, she also recently had spinal surgery, and we wish her a speedy recovery.
If you or anyone you know has been a victim of sexual assault, help is available. Visit the Rape, Abuse & Incest National Network website or contact RAINN's National Helpline at 1-800-656-HOPE (4673).